Alex Murty on why Sosig – Joking Hazard's first family-friendly game – marks an exciting new chapter for the company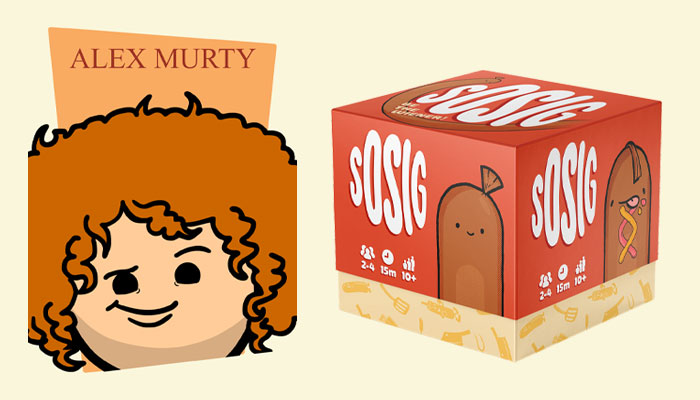 Alex, it's great to connect. Joking Hazard's latest launch is the wonderfully spelt Sosig. Why is this an exciting one for the company?
Sosig is our first family friendly game! I've been playing it lots with my eight-year-old daughter… I wouldn't be able to do that with Joking Hazard!
Ha! And how does it play?
The aim of this 2-4 player game is to complete Sosig – or sausage – orders by playing cards and creating sosigs of different shapes and sizes. But watch out for those mystery meat cards, because someone might use them to chomp or burn your sosig and ruin your order! The game ends when you either run out of sosig head or sosig body cards, and then everybody adds up their points and someone is crowned the winner… Or weiner! It's super fun and super easy to play. You can learn it in five minutes and finish it within 20.
And Sosig is an inventor item, right? How did you come across it?
Yes! There's actually a funny story around this… We nearly didn't sign this game because we nearly didn't see it!
The game was designed by Jason Hibbert who signed up to pitch a different game to us at the UK Games Expo speed dating event. Publishers get to see the pitch decks and sell sheets of everyone who applies, but only a handful of games get selected for the event – unfortunately Jason didn't make it through the selection process.
Oh!
Oh indeed! Regardless, his game was on our short list of pitches that we wanted to hear, so we contacted him anyway and arranged to meet outside the official event at one of the UK Games Expo coffee spots. Jason showed us the game, we played a quick round and while it was good, we felt it wasn't quite right for us… But then, just as the meeting was ending and almost as an afterthought, he pulled out a prototype of Sosig – we immediately fell in love.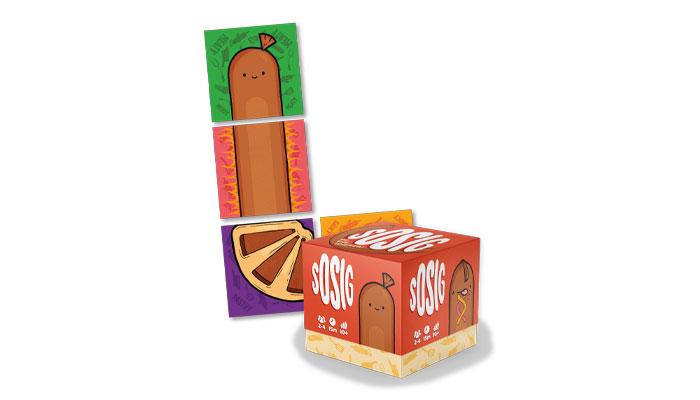 Wow! So the game he pitched wasn't right, the meeting is wrapping up, but he takes a chance on showing you one more game.
And it paid off! We immediately knew this was the game we wanted. It was just so damn cute! Jason has been an absolute joy to work with and we are very glad we booked that coffee – and that he surprised us by whipping out his Sosig!
Ha! And we were doing so well on the innuendo front Alex. Almost made it three minutes without a cheeky sosig reference.
Apologies!
All bets are off now! So, did Sosig transform much from what you saw at UK Games Expo and what we have here now?
The game has changed very little. The artwork already looked like a family friendly version of Cyanide & Happiness and the game loop and mechanic was already nailed down and working perfectly. We worked with his artist to make a couple of tweaks to the cards and the box, and we also rewrote the rules in our own style… But the finished product is incredibly similar to that first prototype we were shown.
As well as being your first family friendly game, you've opted to veer from your usual crowdfunding route to market for Sosig. Why?
You're right, this is a big departure to what we have done previously. Joking Hazard, Trial By Trolly and Master Dater were all launched with a crowdfunding campaign and retail at around £25. Sosig is our first straight to retail game and it will also cost £7.99.
Those three crowdfunding campaigns were all incredibly successful and raised a lot of money for us, but we really want to step up as publisher and start regularly releasing games. We want to build 'Joking Hazard Games' into a household name. Our aim is to start releasing three or four games every year and it's just not practical doing multiple crowdfunding projects in such quick succession, so we needed to look at another model.
For the past 12 months, I've been working with the team to build a global distribution network and we're now ready to start feeding those distributors and retail partners with lots of lovely new games.
All sounds very exciting. You mentioned the £7.99 price tag as also being something of a departure. What shaped that decision?
This happened for two reasons. Firstly, we all love small box card games – it's what we play at home and it's what we love being pitched by designers. In fact, Sosig is so small it can sit in the palm of your hand.
Secondly, we understand it's tough out there for consumers at the moment. The cost-of-living crisis is very real and hitting everyone hard, so we want to offer affordable games that still look awesome and are fun to play. Games are for everyone, and we want to prove that a lower price point doesn't have to mean a compromise on quality.
Do you think you'll dip back into crowdfunding for future projects?
This broadening of our approach doesn't mean we won't ever revisit crowdfunding again. If the right project comes along, then we'd love to do another one. But, anyone who's run one before knows, they take a lot out of you and we definitely need a rest from them.
Right now, we are having a lot of fun making small box card games and we have a bunch in development that are scheduled to be released over the next 18 months.
We'll keep an eye out for those. In the meantime, when does Sosig land?
October – just in time for the holiday season! We think Sosig is the perfect size and price to be this year's big – little – stocking filler. Manufacturing has begun and we've already taken orders from our distribution and retail partners, so we're all set to go. We're really excited to begin this new chapter in Joking Hazard Games history.
Alex, this has been great. Before I let you go, I wanted to ask how you got into the games industry?
I've always loved playing games, but I started in the industry about three years ago when I joined the online retailer Zatu Games. For the couple of years that I was there, I got to experience lots of different aspects of the industry, but the bit I loved most was working directly with publishers and helping them bring their games to the UK market. When I got the opportunity to actually work for one, I jumped at the chance. I love this industry and the people involved – it's collaborative, friendly and lots of fun!
Absolutely. Thanks again Alex and good luck with Sosig.
–
To stay in the loop with the latest news, interviews and features from the world of toy and game design, sign up to our weekly newsletter here