Art of Asmodee: Z-Man Games' visual-creative team talk passion, positivity and Pandemic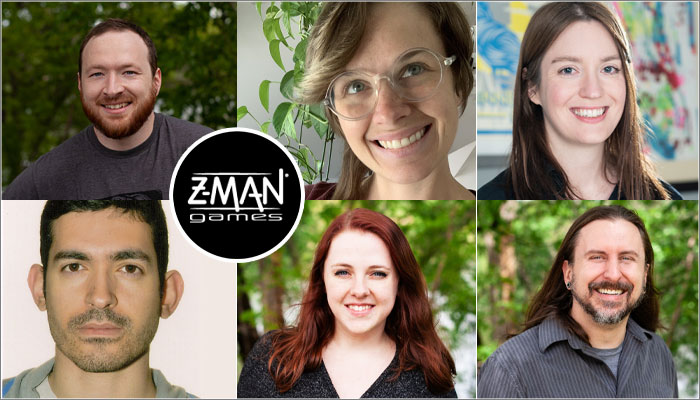 Our Art of Asmodee series looks at how the various studios within Asmodee tackle art direction for their games.
This week, we're catching up with Z-Man Games, the studio behind the smash-hit Pandemic series, as well as other beloved tabletop titles like Carcassone, Love Letter and Stone Age.
We caught up with visual-creative team at Z-Man Games – including Dan Gerlach, Jasmine Radue, Monica Helland, Atha Kanaani, Bree Lindsoe and Samuel R Shimota – to learn more about what guides to the studio's approach to art and graphic design.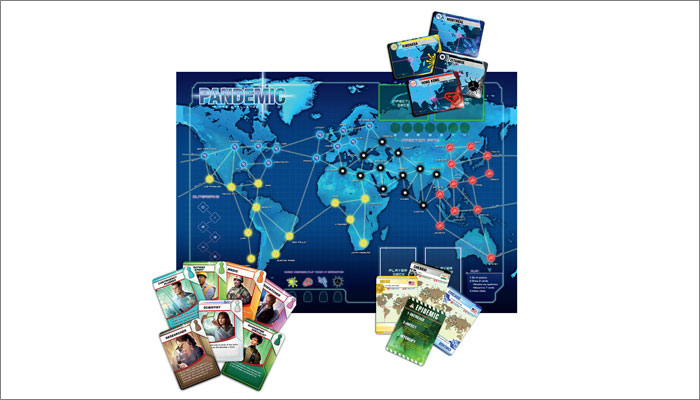 How did you get started in the tabletop space?
Dan Gerlach (Graphic Designer): I was fortunate enough to have a friend in the industry who opened a door for me, all I had to do was walk through and not trip!
Jasmine Radue (Graphic Designer): I took an internship with Fantasy Flight Games in their marketing department. From there I was hired full time and eventually transitioned to Z-Man Games as a product graphic designer.
Monica Helland (Senior Graphic Designer): I started working on tabletop games in spring 2014 as a graphic designer at Fantasy Flight Games. I was drawn to Fantasy Flight because I loved playing a variety of video games and thought working in the gaming space would be very cool and interesting. Working at Fantasy Flight really expanded my knowledge to how many different types of board games there are.
Atha Kanaani (Staff Illustrator): Knowing nothing about the board game space, I did a search to list all the French publishers I could find on the internet. I had very little response and I was looking for collaborations that would allow me to make a living. Suffice to say that it is not easy in France – one editor actually told me 'here, the illustrators work out of passion, not for money!' Eventually I joined Filosofia full time, then the company was then bought by Asmodée and Steve Kimball gave me the chance to be a part of the new Z-Man team, where I work remotely from France.
Bree Lindsoe (Assistant Art Director): I first got into tabletop gaming through my friends. It was through them that I also learned there are several board game companies throughout the twin cities. After graduating college I decided to look into creative jobs at Z-Man because I thought the projects would be very exciting to work on.
Samuel R. Shimota (Managing Art Director): In 2012, I was playing men's roller derby in the twin cities. A derby-community acquaintance posted on social media that his employer, Fantasy Flight Games, was looking for a Marketing Graphic Designer. I had grown up playing board games with my grandparents, and always dreamed of working in the gaming industry, so I jumped at the chance to apply and was fortunate to get hired.
While in the Marketing department, I honed my illustrative skills freelancing some LCG artwork with the FFG art department. A few years later, I transferred into the Development Graphic Design team–working on games full time! Since then, I have held Senior Graphic Designer positions with Windrider Games and Z-Man Games, and am presently leading the visual-creative team at Z-Man.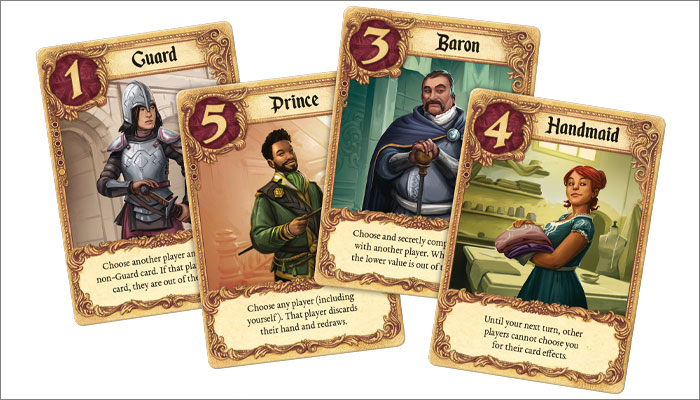 How important would you say the art is to the success of a game?
DG: I think the art plays a huge role in the initial reception of the game. If it looks good, many people will buy it. Game mechanics are more important for the longevity and critical reception of a game. The ultimate combination is when both form and function merge into a cohesive product that both works and looks amazing. That is the zenith we are constantly striving for.
BL: I agree – art can really boost the success of a game. If you have great art in your game, it can attract people to be interested in your product at first glance. When I first see a game that has really cool art in it, I always want pick it up and learn more about it.
SS: Art and graphic design are very important, but I will say that a fun, drab-looking game will beat out a beautiful, 'un-fun' game any day of the week. Ultimately, I believe that the art and graphic design should ideally feel integral to the mechanics, and vice versa. In terms of commercial success, presentation and beauty will capture peoples' attention, and the mechanics will determine whether people want to play again. These things all contribute together toward the success of a tabletop game!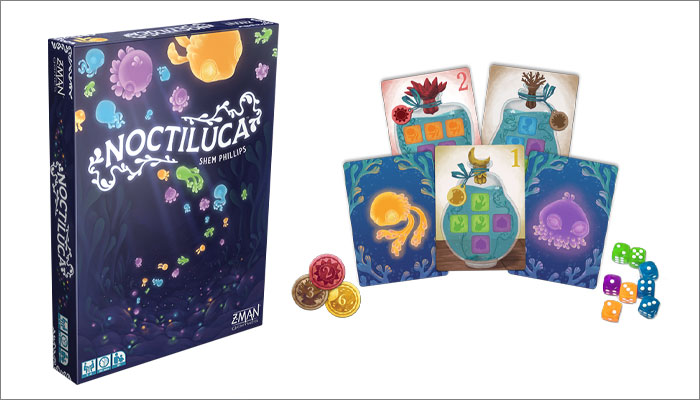 What guides your approach to creating great visuals for games? And what helps fuel your creativity?
DG: Making sure to evaluate all angles before approaching a task. This is a constant struggle for me, as I am inherently results-driven; coming from a long line of production type jobs. Also working with a great team that can help pull me out of creative slumps is paramount.
JR: Personally, I always try to keep the big picture in mind when I am creating. There are so many small pieces that go into making a game, it's easy to get caught up in one component that eventually will just be a small piece of the larger experience. If one piece is visually distinct in a way that doesn't fit with the rest of the game, it will stick out like a sore thumb. Making sure to dive deep and be thoughtful about your idea is crucial, but that is almost worthless if you are not collaborating with the rest of the team. So many good ideas are generated from thoughtful critique with our team.
AK: To fuel my creativity, I tend to be interested in a lot of different subjects. I like to discover how things works, all the subjects connected. I also try to mix my passion for the world with my illustrations. I would like to be able to transfer the energy I feel when I learn something new to the viewers, who see my illustrations and feel motivated to discover the world and all its beauty and magic.
BL: I like to keep an open mind and not get too attached to how something looks in the moment so that it has the possibility to grow into something that might be more successful. Feedback is also very important to my creative process; people will inherently view things different than me and that's a good thing.
MH: When it comes to graphic design, my creative approach is guided by playtesting the game and fully understanding the theme the game designer is going for. This will then start my research and initial mock-up of game components.
SS: I am guided by a passion for collaborating with others, to create quality experiences from top-to-bottom. I am consistently amazed by what creative people can accomplish when they put their heads together. Core pillars of this process include positivity, sincerity, humility, research, exploration and shared experiences.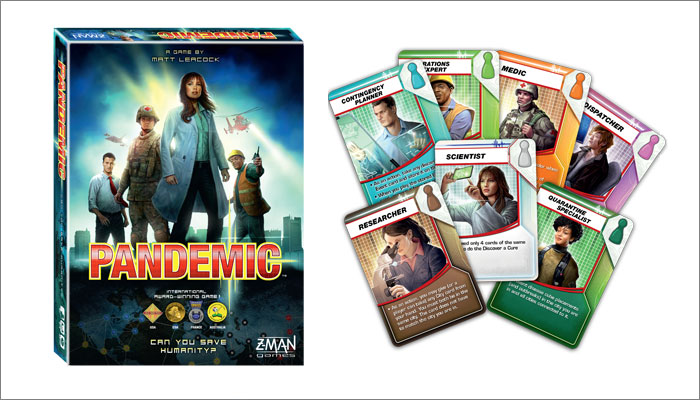 Your games span eras, genres and licences, so is there any attempt to create a 'Z-Man' style that spans all your games or is the art tackled on purely a game-by-game basis?
DG: When most people think Z-Man they undoubtably think of Pandemic. With Pandemic there is for sure a style and brand to maintain and curate, but Z-Man tends to wear a few different hats when it comes to game styles. So overall our branding stays pretty cohesive across our product lines. As far as art style, I think it's important to explore.
AK: For me, the visual art is done on a game-by-game basis. But one thing that can be recurrent in our games is the dedication to make them accessible to the most people possible and as cultural friendly as we can. We tend to put a lot of different kinds of people in our games. That was something I wasn't too sensitive about before working with my US team, but reading comments from people who are happy to see them represented in a game made me understand how important it is. So if I have to find a name for the Z-Man games style, I would say that it's "inclusive."
SS: Generally, art and graphic design are approached on a game-by-game basis. There are definitely consistency points that span all of our games; notably in packaging and presentation, and a broad expectation of high quality. A particular game line should be internally consistent, as well, but we try to keep our approach varied – for our own sanity's sake as much as anything else!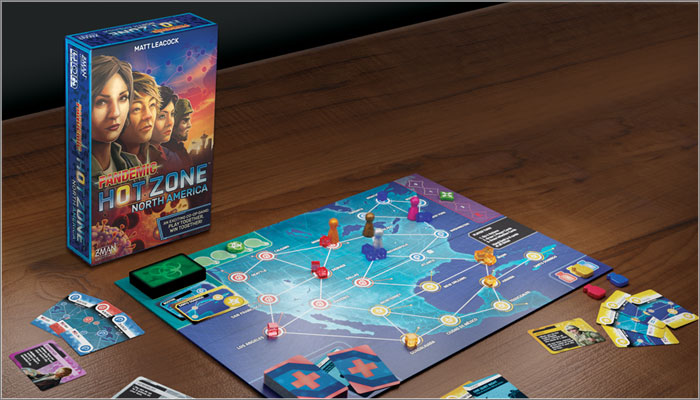 For any artists or illustrators reading this and thinking 'I'd love to work with these guys!', what would you say is key to creating artwork for your studio?
DG: Play lots of games and look at how the mechanics and art interact. Take notes about what works and what doesn't. As I write this I realise I need to better about those exact things! Also gracefully taking, and really understanding criticism is so important in this industry.
JR: Taking time to understand the feel and style of the game we are working on is very important. Bringing to the table lots of ideas and sketches. Being able to pivot and adapt quickly is also a valuable skill for this industry. We want to make games that people are passionate about. If you as an artist are passionate about what you create, that will shine through to the players.
AK: You should know your fundamentals for drawing correctly, learn how it works to make a tabletop game and most of all, be open to critics because you will have to change a lot of things. And of course, take a chance by sending your portfolio, nothing ever happen if you don't take action!
BL: Yes, do reach out to us so that we know who you are, that you're interested in working with us, and so we can archive your portfolio! As for subject matter, our freelance jobs tend to lean towards character art and 3D sculpts for plastic pieces.
MH: I would say having a passion for gaming and a dedication to great design is key for creating artwork at our studio. Our artist and graphic designers all enjoy playing games and creating artwork that is both beautiful and almost more importantly functional. The relationship and communication we have with our game designers and producers is also very important to creating the game artwork.
SS: Absolutely, it's passion, above all else! I believe this core virtue helps everything else fall into place. When I hire staff, or freelancers, I am always looking for people who are passionate about what they do. This shows in their commitment to developing and understanding the fundamentals of a craft, their choice of theme and content, their ability to see work through to the end, their ability to grow, and their prolificness. Love it, live it, and do it as much as possible!
—-
To stay in the loop with the latest news, interviews and features from the world of toy and game design, sign up to our weekly newsletter here