Barry & Jason Games' Barry McLaughlin and Jason Lautenschleger on the launch of their new creative studio

Barry McLaughlin and Jason Lautenschleger are the team behind Barry & Jason Games and Entertainment – a games publisher whose portfolio includes Game Night in a Can, Dr Biscuits Radical Road Trip and Anchorman: The Game.
This year marks a big moment for the firm as it transitions from a games manufacturer into a creative studio. We caught up with Barry and Jason to find out what prompted the change in direction – and how they're looking to collaborate with toy and game companies on new concepts.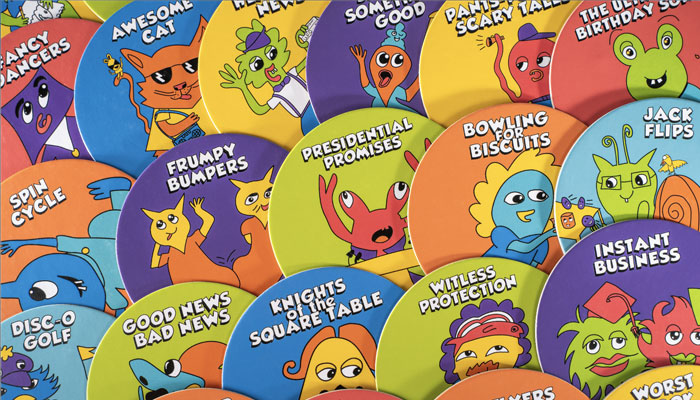 Guys, it's always great to catch up. Before we dive into your exciting news, how has the past year been for you?
Barry McLaughlin: Nice to chat with you Billy! This past year has been a whole lot of Snakes and Ladders of Creative Thinking. Is it ok if I just answer your questions by plugging your awesome book?
Ha! Of course, with that out the way we can wrap things up now! But no, please continue!
BM: Well, in other news, we got our first game into Target – Anchorman: The Game! – so that has been awesome. And we just launched our 5th Anniversary Game Night in a Can, with a bunch of new games and all new art from my wife Jade Wolf.
Jason Lautenschleger: We feel like the art and design of this version truly represent the creative fun that the game incites. And we were so relieved that, despite all the shipping madness, it actually arrived in the US in time for the holidays!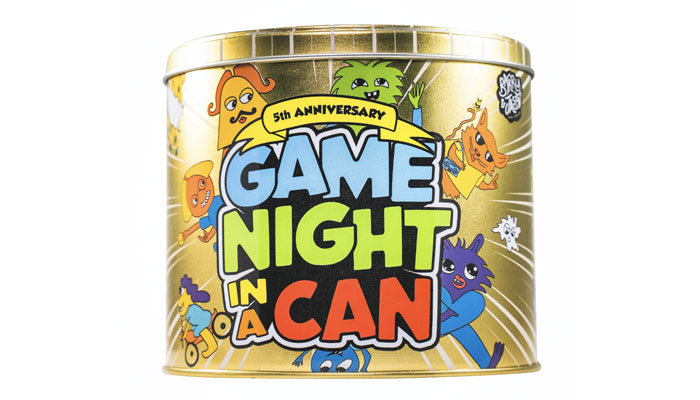 Let's talk about some big news from you guys; you've transitioned from a games manufacturer and into a creative studio. What prompted the move?
BM: Cue the trumpets and elephants… Will there be a parade for our big news? Thanks Billy, we're very excited about this shift in focus. It came about for a number of different reasons.
We have a lot of fantastic ideas that are just waiting for us to develop them, but as a very small manufacturer we could only make a couple of them actually happen each year. But as inventors in a creative studio, we can bring so many more of them to life!
Along with the increasing amount of logistical and financial headaches – I'm looking at you, global supply chain – the decision to transition was pretty easy.
JL: The other thing we're excited about is the number of creative collaborations this move will yield. We've met so many talented people and great companies in the industry and this is really the only way we saw to work with all of them.
And is the studio going under a different name – Jason & Barry Games perhaps…?
JL: As far as the name, I'll proudly be keeping my second billing status – plus, Barry's name puts us higher on alphabetical lists. I will say we also have this really funny – to us, anyway! – idea of creating a fake rival company called Booby & Jerkson, our evil doppelgängers who only make hugely-successful poop-themed party games. So keep an eye out for those idiots as well!
Funny you mention Booby & Jerkson; we're interviewing them next week! So, what sorts of services are you offering as the creative studio? Are you focused mainly on toys and games or are you casting the net wider?
BM: We have four main arms of the studio, though to answer your second question they are all game-related. The first arm is our classic Inventor Track, where we create ideas and pitch them to toy and game companies.
The second is where those same companies come to us to help develop their existing properties, or any other areas that need a little Barry & Jason Goose Juice®.
The third arm of our studio is all about game shows. We just developed a show pitch with BBC Studios, and we're now onto our next project that we can't talk about yet but I am verrrrrry excited about.
We are also helping toy companies turn their IP into pitch-ready game show concepts. Jason's experience developing the competition show Songland and selling it to NBC is definitely a feather in our cap… We share a cap, FYI!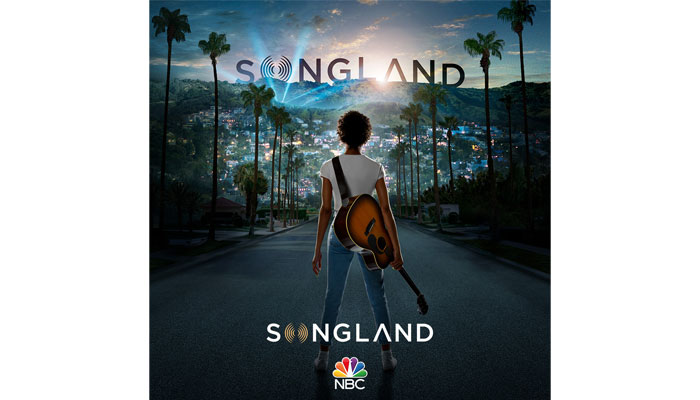 And the fourth arm is all about live events that help spark creativity for businesses. We've hosted hundreds of live game nights, and now we're taking those experiences and turning them into super fun brain-boosting events that help open up the creative channels for companies of all sizes.
Our clients for this so far have included CES, Marriott, Barnes & Noble, Pop Sugar, and Adam Levine. We hosted one of the most epic 40th birthday parties of all time!
JL: Yeah, four arms and one cap. We're basically a fancy half-octopus – a new company name if I ever heard one!
So to recap those arms, that covers inventing, design work, TV game show development and live events – busy times!
JL: Yes, and that fourth arm – which we're calling Professional Play – is particularly rewarding for us because we feel that our games have cracked the code to inciting creativity. We can't wait to share our proven hypothesis that a) everyone is creative and b) games are the absolute best way to coax that creativity out. And by all means, try the Barry & Jason Goose Juice®. It's damn delicious.
I have a glass of the stuff right here – very moreish. Now, the first arm you mentioned was the inventing part of the studio. For any interested companies reading, what sort of things do you see yourselves inventing?
BM: We will definitely keep inventing party games, travel games and board games, but we have some innovative ideas around outdoor games, sustainable collectibles, and more.
We're open to seeing all kinds of different briefs, though it's good to know up front that we dance in the world of silliness, creativity, and laughter. So if your brief is about a boring game for fuddy duddies, we're probably not your guys.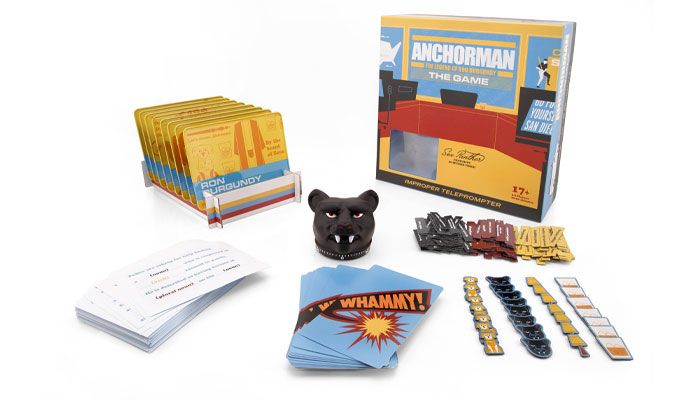 And for inventors reading, are you guys open to collaborations?
BM: We have so many ideas of our own that we're developing at the moment, we don't even have time to collaborate in that specific way quite yet. But when we do, we like working with people who are not afraid to throw out crazy ideas, and who share our ethos of "best idea wins," no matter who came up with it.
JL: How did Barry just mention 'briefs' twice and not underwear once? You think you know a guy… But yes, we say "best idea wins" a lot, but the important thing is that we mean it every time. It's fun being on a winning team.
Fuddy duddies aside, if a company wants to make contact with your creative studio, what's the best means of reaching out?
JL: Email us at fun@barryandjason.com or send a raven.
Last question before we wrap up – what's the most interesting thing on your desk?
BM: A stack of board games! Currently that includes a few of our top secret prototypes (not pictured!), as well as The Golden Ticket Game, Hues & Cues, A Game of Cat & Mouth, Trivial Pursuit, Horrified, Chameleon, Anchorman, and the best dreidel action game around, Spinagogue. The best part about working in this industry is that playing games is part of the job!

JL: Someday we won't share a desk and I'll have my own answer to this question. I will add that these days the most interesting thing on our desk is often the person we're Zooming with – but we can't wait to do it more in person!
Guys, as always this has been fun. A big congrats on the new creative studio; I'm already looking forward to our next catch up! Speak soon.
—
To stay in the loop with the latest news, interviews and features from the world of toy and game design, sign up to our weekly newsletter here