Exploding Kittens co-creator Elan Lee on Kickstarter, "failing fast" and the differences between digital and physical gaming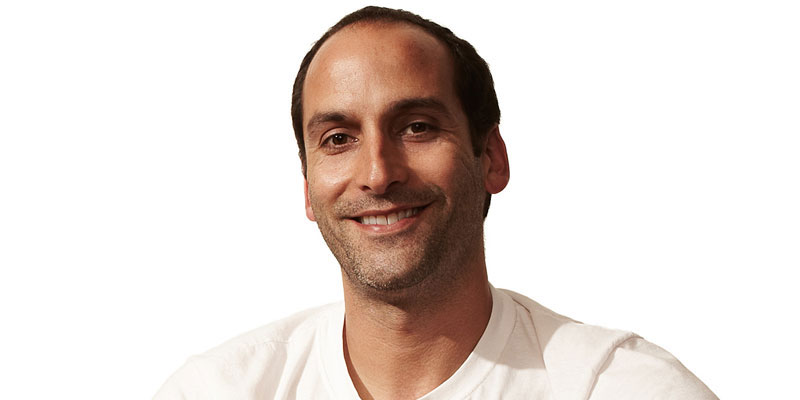 In 2015, Elan Lee saw 219,382 backers pledge over $8m on Kickstarter to make his card game, Exploding Kittens, a reality. He had taken the game, co-designed with The Oatmeal's Matthew Inman, to the crowdfunding platform to see if anyone thought it was a good idea. 30 days later, it had made history as the most backed Kickstarter campaign of all time.
In October last year, Lee and Inman returned to Kickstarter with their latest creation, Bears Vs Babies, a card game where players build monsters who go to war with 'horrible, awful babies'. The game raised over $500,000 within 30 minutes of the project being live, and ended its run with 85,581 backers having pledged $3,215,679 (becoming the sixth most backed Kickstarter campaign of all time).
Ahead of Bears Vs Babies landing in the hands of backers this June, Mojo Nation caught up with Elan Lee to discuss his creative process, the benefits of using Kickstarter and why Exploding Kittens being a physical game makes it so much better than a digital one.
How did you first get into the world of game design?
Games were just the thing I did instead of studying in school. Games were the things that robbed me of basic hygiene, an education, and any chance of ever getting a date.  Today, they're slowly paying me back.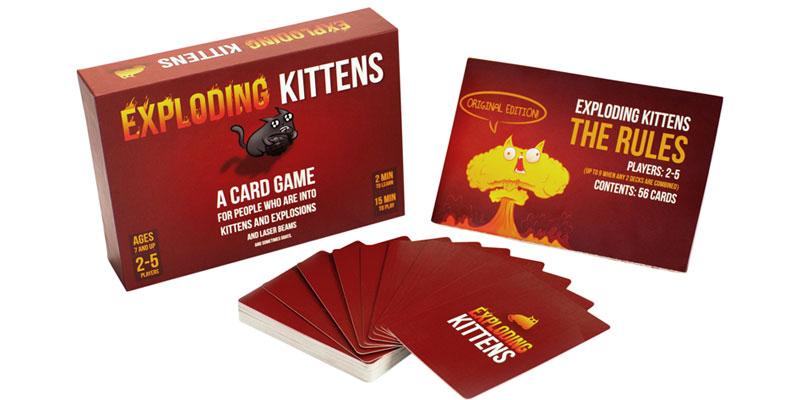 Can you talk us through the design process behind Exploding Kittens and how the collaboration with The Oatmeal's Matthew Inman came about?
Two years ago, I quit my job at Xbox. I needed a break from digital design and wanted to work on something more social; something that friends and family could play together in the same room.
I designed a simple card game with my buddy Shane Small and we called it Bomb Squad. The idea was simple: Russian Roulette with a deck of cards. We used a standard deck of poker cards and wrote the word 'bomb' on each of the jokers. We would take turns drawing cards until someone drew a bomb and the other person would win the game. Every other card in the deck lessened the chances of drawing a bomb by skipping a turn, peeking at a card before drawing it, or reshuffling the deck.
As simple as the game was, it was great fun and we played it constantly.
Through a mutual friend I met Matt (The Oatmeal) and showed him the game. We played for a few hours and then he looked at me and said two ridiculous/amazing/brilliant things:
1) "This game is really fun and I'd like to join your team to help finish the game design and illustrate the cards."
2) "The game has no soul. Being scared of drawing a bomb is obvious and boring.  What if instead, the thing you were most nervous about drawing was an adorable little kitten? We could call the game Exploding Kittens."
And just like that, Exploding Kittens was born.
We launched the game on Kickstarter about two months later with the goal of raising only $10,000 for what we thought would be a simple little weekend project.
30 days, nearly $9m and numerous broken crowdfunding records later, we had ourselves new full time jobs.
"I'M ADDICTED TO CROWDFUNDING. YOU KNOW WHEN YOU WATCH A JAMES BOND MOVIE, AND HE GOES TO VISIT Q IN THE LAB TO GET OUTFITTED WITH LASER CUTTING CONTACT LENSES AND A WALKING STICK THAT CAN HYPNOTIZE SHARKS? WELL, WE ALL HAVE ACCESS TO THAT LAB.  IT'S CALLED KICKSTARTER."
ELAN LEE, EXPLODING KITTENS

Why opt for Kickstarter?
Kickstarter has changed everything in the board game business.
It used to be that giant game publishers had to do their best to pick the best ideas out there and bring them to market. They would sometimes invest hundreds of thousands of dollars in game concepts that never found an audience. Or pass on games that were destined to be huge successes. That's not from any lack of skill, that's because predicting the future is a really tough job.
Then Kickstarter came around. Suddenly game designers could put their ideas out into the world and search for an audience before any serious money was spent.  The bad ideas went back to the drawing board with nothing really lost, and the good ideas were born with a built in audience anxious to play and spread the word.
We went to Kickstarter because we suck at predicting the future. We wanted to see if real audiences thought our game was a good idea and would love it as much as we did. If they didn't, we'd just move on to something else. If they did like it, we'd publish the game and start a small business.
What we didn't anticipate was option 3: Starting one of the most successful card game studios on the planet in 30 days.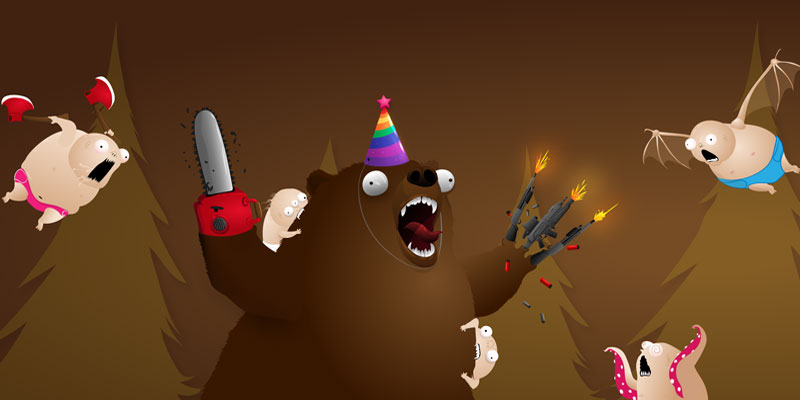 Where did the concept for your latest game, Bears V Babies, come from?
Matt is one of the most talented artists I've ever met. One day he showed up at my house with a deck of cards he'd drawn himself. Each card had a body part scribbled on it.  Heads, torsos, arms, etc all fit together to create custom Oatmeal creatures in variations that were equal parts hilarious and horrible. He told me he really wanted to make a game where his audience would get to create their own creatures using his art but couldn't find a way to build a game mechanic around it.
Over the next few weeks, we poured countless mechanics into the cards using the mantra 'fail fast'.  For us this meant that most of things we were about to try were going to fail, we just had to get through them as quickly as possible to eventually get to the success hidden in there somewhere. After a bunch of experimenting, we had that EUREKA! moment and the game came to life.
Your background pre-Kittens/Bears was in video game design and 'alternative reality' games. Is there much of a crossover in terms of the creative process between your work in video games and your recent work in card games?
There's a ton of crossover in experience design, storytelling, ramp up, mechanics, etc.  But that's not the interesting question to ask. The interesting question is about the differences between the two platforms.
There's so much I have to say about card games that have to accommodate any number of players or player skill levels without being able to change the cards that come in the box. As opposed to a video game that has the luxury of being able to change every aspect of the game dynamically to keep itself balanced.
I could talk about the horrible instruction manuals that ship with board games that often discourage players from ever trying a game, where video games include tutorial levels that teach players while they're playing and offer tips based on areas particular players are struggling.
I could go on and on about the challenges of a physical game that can only ever be as good as the components in the box at the time you send it to manufacturing, instead of ever updating or patching bugs… but instead I want to tell you about why Exploding Kittens being a physical game makes it so much better than a digital one.
It's because digital games are designed to be entertaining, and Exploding Kittens is designed to make the people you're playing with entertaining.
Every card and every interaction is designed to create a relationship between you and someone else at the table. You might help them, betray them, share some knowledge, or thwart their plans. There's no way to play our games by yourself because, more than being games, they are mechanisms to make people interact.
"WHEN WE WORK WITH TRADITIONAL PARTNERS, WE GET CHASTISED FOR HOW EXPENSIVE IT IS TO PRODUCE OUR BOX (IT MEOWS EVERY TIME YOU OPEN IT) OR THE COMPLICATIONS IN STORING BEARS VS BABIES (THE BOX IS COMPLETELY COVERED IN FUR, SO THERE'S A HUGE 'SHEDDING CONCERN' WITH MOST WAREHOUSES). WE USED TO SPEND A LOT OF TIME TRYING TO EXPLAIN WHY THESE THINGS WERE SO IMPORTANT TO US AND WHY THEY WERE WORTH FIGHTING FOR. BUT AFTER ENOUGH BLANK STARES OR CONDESCENDING FROWNS, WE JUST KEEP DOING WHAT WE'RE DOING WITHOUT WORRYING TOO MUCH ABOUT BEING "PART OF THE GAME SPACE."
ELAN LEE, EXPLODING KITTENS

Do you play many games? Which ones are you a fan of?
I play tons of games. Our whole company shuts down every Friday for four hours to play games. It's mandatory. I back enough games on Kickstarter that one or two show up every week so we have an endless supply of games to try. We play, then critique, then talk about new designs that have been inspired by the experience we just had.
I'm not going to mention any by name because I'll only end up disappointing my friends that I don't mention, but if the question is really about finding new amazing games to try, the best bet is to go to any local game store (or conference) that has a space where you can try games out over a drink (at this point, every city has at least one).  Then ask someone who works there for two games: 1) The game most checked out. 2) The game they wish was most checked out.
When we last spoke, you told me you that despite the success of Exploding Kittens, you didn't feel like part of the toy or game space because it was so traditional; something you guys aren't. Two successful games in, has that feeling changed?
That feeling is largely unchanged. When we work with traditional partners, we get chastised for how expensive it is to produce our box (it meows every time you open it) or the complications in storing Bears vs Babies (the box is completely covered in fur, so there's a huge 'shedding concern' with most warehouses).
We used to spend a lot of time trying to explain why these things were so important to us and why they were worth fighting for. But after enough blank stares or condescending frowns, we just keep doing what we're doing without worrying too much about being "part of the game space".
Looking ahead, are there more games in the tank from you and Matt?
We have two prototypes being furiously tested right now. I'm in love with both of them. Our biggest problem is figuring out how to launch new products without distracting our own audience from our other games.
We also have one more game that that's very much in the 'failing' part of 'fail fast'.

Finally, can you talk us through your 'Elan Backs Everything' project?
I'm addicted to crowdfunding. You know when you watch a James Bond movie, and he goes to visit Q in the lab to get outfitted with laser cutting contact lenses and a walking stick that can hypnotize sharks? Well, we all have access to that lab.  It's called Kickstarter.
Elan Backs Everything is a blog I post to Twitter and Facebook chronicling the insane projects I back on Kickstarter. I've backed an umbrella that's an engine on a stick that blows the rain out of your way as you walk (and presumably onto everyone else), I've backed an endless desktop slinky treadmill, and a pair of headphones that produces sound by vibrating your skull.
I write the blog because it would be a crime not to.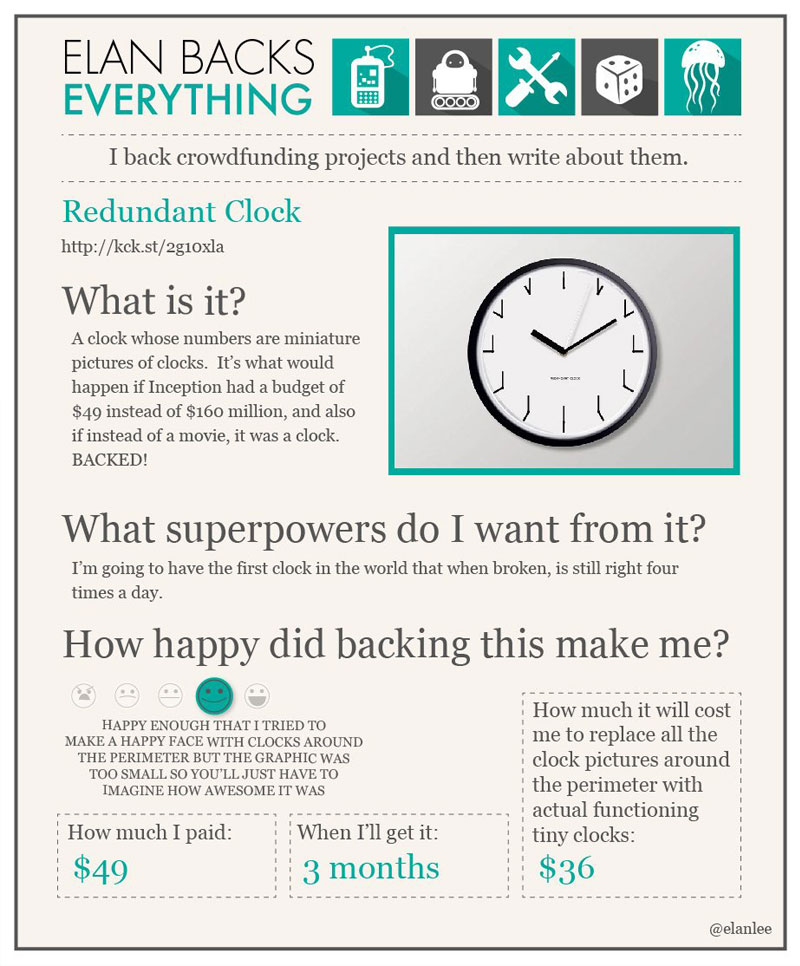 Save