Gutterhead Games' Zak Walton on creativity and competition in the adult party games space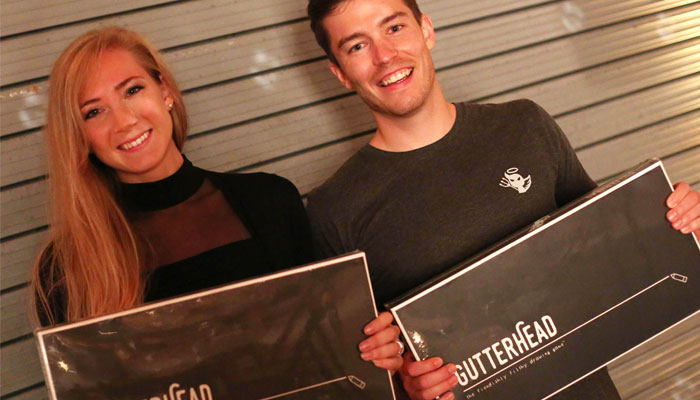 It's New Year's Eve. Your plans to go out have been scuppered as both you and your partner's cars have broken down. What do you do? If you're Zak and Kate Walton, you crack open the prosecco and invent a new adult party game.
The result of said night was Gutterhead, a party game described as the naughty love child of Cards Against Humanity and Pictionary. Teams compete head-to-head, with players drawing the filthy word on their card while their teammates try to guess; there's even a set of drinking game rules for those looking for a boozier game night.
We caught up with Zak Walton to find out more about his journey with Gutterhead to date, and what to expect from Gutterhead Games' upcoming title, Trunk of Drunk.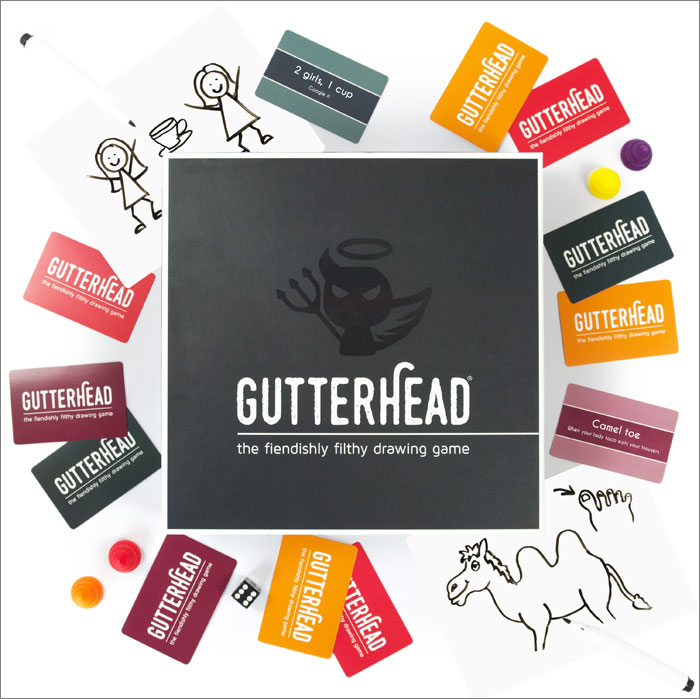 Where did the idea for Gutterhead come from?
Gutterhead is the fiendishly filthy brainchild of my wife, Kate, and I. The idea came about on New Year's Eve 2016 when our plans to go to a friends' party were quashed by the simultaneous breakdown of both of our cars. As a result, we were stranded in our apartment and had no other option but to get drunk on cheap prosecco and invent the next adult party game!
Did you have any experience in the game world prior to launching?
We had no prior experience in the game world before we created Gutterhead. Kate's background is architecture and mine is finance. Although this means we have the numbers and design bases covered, there has still been a very steep learning curve. However, through a combination of hard work, determination, a bit of luck and support from various incredibly helpful members of the gaming community, we've managed to navigate our way through the successful launch of Gutterhead and onto our second release, Trunk of Drunk.
What was the moment that you knew it had commercial potential rather than just being an idea for something to play with mates and family?
For me, there are three pivotal moments which stand out in my mind:
• Our launch party in August 2017, when we had 60 people all playing Gutterhead and the laughter in the room was deafening.
• When we received our first major piece of organic media coverage from UNILAD (38m followers) in September 2017. The response we received was amazing with thousands of reposts, comments and likes; not to mention our first 500 sales and a few new retail deals.
• Landing our first major distribution deal with VR in Australia. For me, this really cemented the commercial potential of Gutterhead.
What do you make of creativity in the adult game space, and how does Gutterhead stand out?
There is a lot of creativity and competition in the adult party game space at the moment. I feel what makes Gutterhead stand out is that it does the basics right. What I mean by this is:
a) It's simple to learn – we knew we needed to appeal to non-gamers and gamers alike so we designed the rules to be learnt in 90 seconds.
b) It keeps everyone engaged and involved all the time. Unlike Pictionary, Gutterhead is an all-play whereby all teams draw head-to-head. This keeps engagement up and adds to the competitive element.
c) Raucous laughter from start to finish – who wouldn't find drawing 'morning glory' funny?
d) Excellent repeat playability. Many adult party games are reliant on having large stacks of hilarious cards to make the players laugh. Although we have these cards too, in Gutterhead, the humour is created by the player through the process of interpreting and drawing the cards and by their teammates when they begin calling out ridiculous guesses. This means the game remains fresh, even if the same card comes around twice.
What's next for Gutter Games? Are new games on the way?
We've got a lot going on at the moment with our expansion into new markets in Europe, the US and Canada, the release of a new edition of Gutterhead in a more compact format, the launch of the Gutterhead Expansion pack and the launch of our next game Trunk of Drunk; a compilation of the 8 Greatest Drinking Games due to launch this July. It's the perfect freshers gift for anyone heading off to Uni this September.
In addition, we are also working on a few exciting product ideas for 2019. More on that later though!