Hasbro adapts Trivial Pursuit for Amazon Alexa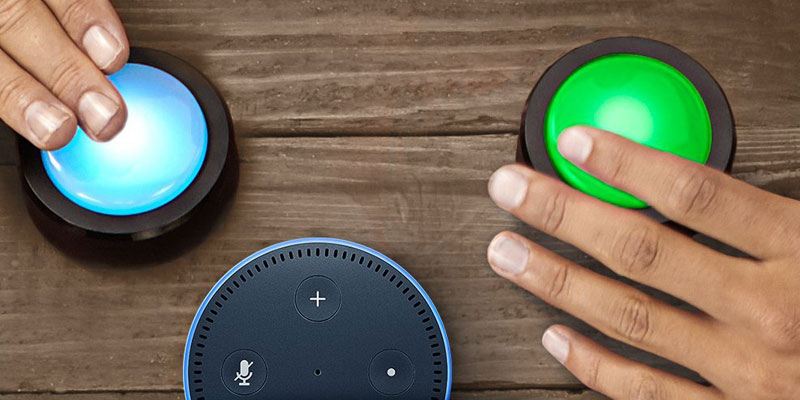 Hasbro has launched Trivial Pursuit Tap, an interactive game that utilises Amazon Alexa and Amazon's new line of Echo Buttons.
With Trivial Pursuit Tap, gamers can engage with a game show-style competition via Amazon Alexa, with the Echo Buttons acting as the buzzers; lighting up and assigning different colours for each player.
Quizzers compete to be the first to buzz in and answer questions from one of six categories. If you answer correctly, you can push your luck and attempt more questions.
Each Echo Button connects via Bluetooth to a customers' compatible Echo device. The buttons illuminate and can be pressed to trigger a variety of multiplayer and single-player game experiences.
"This transformative, in-home technology will make Trivial Pursuit more animated and exciting than ever," said Jonathan Berkowitz, senior vice president of marketing for Hasbro Gaming.
"At Hasbro Gaming, we're consistently working with the best minds both inside the company and beyond to create the world's best – and most unique – play experiences for our fans across the globe, and we're confident this collaboration with Amazon will do just that."
Scott Van Vliet, director, Amazon Alexa, added: "We're excited that customers can now play the iconic Trivial Pursuit game with Alexa. With Echo Buttons, game night can feel like a game show – and Alexa is the host. We can't wait for customers to start playing."
Initially, Trivial Pursuit Tap will launch in the U.S., UK and Germany. Amazon Echo buttons will be available as 2-packs for £19.99 and up to four buttons can be connected to a compatible Echo device.