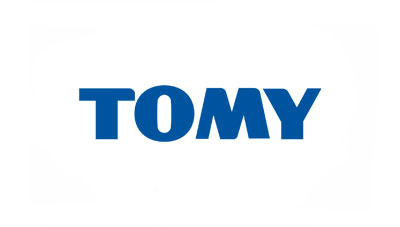 | | |
| --- | --- |
| Job Title: | Product/Industrial Designer – Toy Brands |
| Company: | TOMY |
| Location: | Weybridge, Surrey |
| Salary: | £attractive |
| Apply Via: | Click here |
Job Description
TOMY has an outstanding opportunity for a full-time Product Industrial Designer to join our award-winning Toy Design Team in Weybridge, Surrey. This role would suit an energetic, playful and passionate individual with 2+ years of professional product/industrial design experience. The role includes working on well-loved brands such as Toomies, TOMY Games (Screwball Scramble, Pop Up Pirate and more), Aquadoodle, Megasketcher, a range of exciting licensed properties, as well as our fantastic new brands that are still in the making! Working closely with the Senior Designer and our teams throughout TOMY, the successful candidate will develop world-class toys and contribute to creating fun and rewarding play experiences that make the world smile!
The Role:
• Drive multiple products from conception through to production, working closely with our project managers, engineers, marketing and product integrity teams to do so
• Create, invent and design excellent toy products against marketing strategy
• Adapt to new trends and technologies within the field of toy development
• Generate and present new product concepts regularly and be able to respond positively to feedback from peers
• Create and drive the creation of materials such as sketches, models, renderings, and 3D files to communicate concepts
• Manage art, design and electronic assets through to production
• Build product specifications for new products
• Maintain expert and up to date knowledge within the core toy categories, understanding the latest trends for children
• Work closely and build relationships with internal and external team members
• Complete the development of design projects on time with the necessary documentation
• Lead and be a part of regular calls and video conferences with our TOMY Hong Kong Team
Person Specification:
• A minimum of 2 years product design experience, preferably within the toy industry. Outstanding post-graduates will also be considered
• Educated to degree level (or equivalent qualification) in Product/Industrial/Toy Design
• Excellent design communication skills (sketching, ideation, presentation), with high proficiency in Adobe CC and at least one industry standard 3D program such as Solidworks or Fusion 360
• Proficient in Apple Mac hardware and software
• Ability to visualise concepts and 'kit bash' models in a fast, efficient manner
• A natural presenter with expertise in using Keynote/PowerPoint
• Ability to create, edit and animate product videos
• Capable of working on multiple projects at the same time with a well organised and professional approach
• Clear and concise written and verbal communication skills
• A great problem solver and strategic thinker
• Ability to adapt to a variety of different types of design work and willingness to learn new skills every day
• A true team player that enjoys and excels in working with a wide group of people
• A 'playing to win' attitude
Desirable Skills/Experience:
• Experience in multidisciplinary toy design is desirable
• A basic knowledge of mechanisms and electronic development
• A good knowledge of materials and manufacturing process, especially for plastics
Additional Requirements:
All applicants must submit a CV and portfolio of their best work by PDF or similar document to recruitment@tomy.com. Please ensure that your portfolio includes a variety of work including elements such as: research, sketching, concept development, CAD development, rendering, and final presentation boards.
We are looking for people who are passionate about being part of a diverse team, where different backgrounds, experience and opinions are valued and incorporated into our daily work. We want to welcome people into our company that like to collaborate, take on challenges and value a wide variety of global views about consumers, brands, processes and products.