Lucky Egg's Luke Shelley, Albert Sowerby-Davies and Emily Brinkley on creating games that catch the eye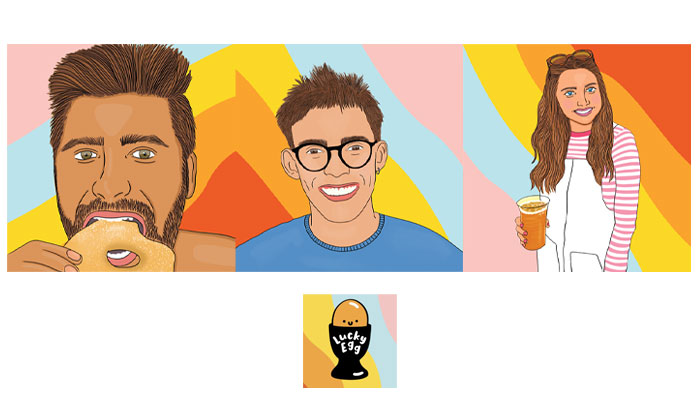 Guys, it's great to connect. Luke, to kick us off, talk us through how you came to launch Lucky Egg?
Luke Shelley, Co-Founder, Lucky Egg: Hey, it's great to connect! Myself and my business partner Marcus launched Lucky Egg because we have a history of creating fun experiences for consumers. We do this through our products at Central 23 – our sister company – and have brought this ethos over to Lucky Egg.
We have a very creative and talented team. We also invest heavily into the small details to ensure our customers receive an 'out of this world' experience. It's still very early days for Lucky Egg and our main focus is to keep improving! There will be lots more to see!
And have you always been a fan of games?
LS: I enjoyed games growing up! My passion lies in creating incredibly fun experiences for consumers! We are doing that through games and we play games pretty much all the time now to make sure ours are up there with the best.
You mentioned also running Central 23 – do the businesses inform each other in any way?
We have learned a lot from Central 23. This includes things like manufacturing, logistics, distribution and the creative side of things. All of these lessons are helping build the foundations of Lucky Egg.
Your first game was Sloshed – a drinking game – and that was followed up by Bake It Happen – family-friendly card game. Was this a deliberate change in direction?
LS: Yes, our first game was a drinking game and we did a lot of playtests! Moving on from a drinking game to a family friendly game was both a deliberate change in direction and also proof that Lucky Egg is here to deliver products to many different demographics.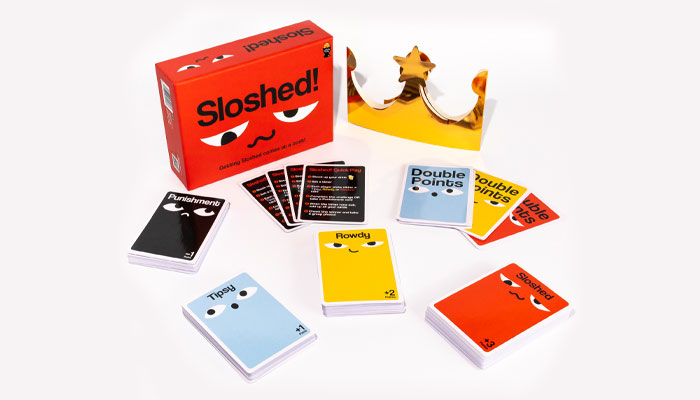 There are issues when it comes to drinking games. You can't advertise them in some places online as they go against certain advertising polices – excessive drinking. The more family friendly retailers aren't interested in stocking drinking games either.
We always wanted to appeal to a broader audience which is why we have now released Bake it Happen, Partners in Crime and are launching four more games over the next few months. Some are aimed at family and younger kids, some are aimed at adults – and none are drinking games! We just want to build products that create super fun experiences for consumers, however old those consumers may be.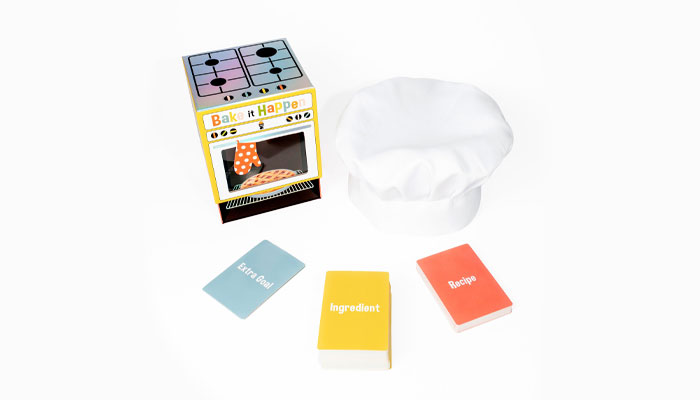 Talk us through your creative process. What do the first few steps look like for you and the team when creating a new game?
LS: I'm going to leave this answer to the most creative side of our team. Albert who is leading new product development and Emily who brings those products to life visually.
Albert Sowerby-Davies, Head of Product Development, Lucky Egg: Each game is different. Sometimes we'll start with a theme, and other times we'll start with a mechanic, and other times we'll start with something visual.
Throughout the creative process, we'll do a lot of brainstorming sessions and playtests. Our playtesters are the best ever. We always enjoy playing our games with them, and they always highlight what's good about our games and the issues with them.
Until the very last moment, there's plenty of back and forth between the visual design team and the game designers in the office. We want all our games to look as fun as they are to play!
Emily Brinkley, Head of Design, Lucky Egg: There's a lot of mood boarding at the beginning of each game to figure out a clear visual theme and direction. Some game designs develop very organically right from the start with a simple idea, and others require a lot more time to find a style and design concept that works. The box design is usually our starting point, as our aim is to make our games stand out on the shelf and be as fun and engaging as possible.
Once a clear design idea is established, I dive straight into designing the logo, cards, instructions and any other assets required. Designs change drastically from early stages to the final result… We usually end up with about 10 to 20 design revisions before finally sending it to print. You'll normally find me tweaking designs moments before a deadline just to make sure everything is absolutely perfect!
Let's dive into one of your recent games – Bake It Happen. How did this one come about?
LS: On Bake it Happen we worked with Matt Fantastic – a game designer in the US – to bring this project to life. We looked around at popular concepts and Great British Bake Off came to mind; everyone loves baking! So, we decided to create a baking game. We wanted something fast paced, fun and suitable for all ages.
We try to create games that stand out on a shelf, so we spend a huge amount of time on design and packaging. Bake it Happen comes in a game box that looks like an oven and even has a window into a pie being baked!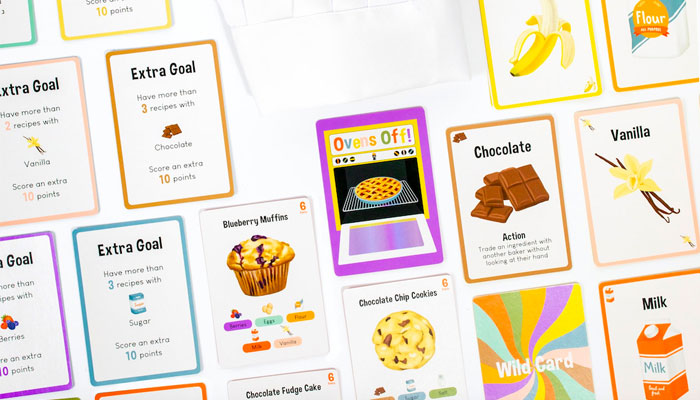 Looking ahead, what's next for Lucky Egg?
LS: We want to become one of the bigger players in the toy and game space. We will do this by continuously improving our products and delivering even more 'out of this world' experiences to consumers.
There may be inventors reading interested in chatting – do you work with inventors? Or is that something you're looking to get more involved in?
LS: We will have launched around 10 games by the end of 2022 and in 2023 we want to double that output. We have designed quite a few of our new games in house and we worked with inventors to create the others. We definitely want to work with more inventors!
We run playtesting sessions in our offices to determine whether new games are right for us and we have fun doing it! If you're reading this and are an inventor, get in touch, we would love to chat!
Last question: How do you fuel your creativity? What helps you have ideas?
LS: Surrounding ourselves with really creative people. The only time we seem to be in a creative lull is when we don't have people to bounce are ideas off. Oh, and we also play a ridiculous amount of games!!
–
To stay in the loop with the latest news, interviews and features from the world of toy and game design, sign up to our weekly newsletter here