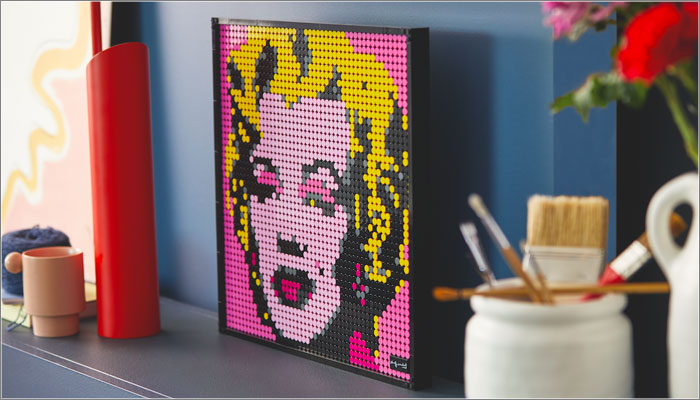 LEGO has debuted a new line called LEGO Art, that allows adults to create wall art out of LEGO.
The four new LEGO Art sets are designed with adults in mind, and allow fans to create artwork featuring Warhol's Marilyn Monroe, The Beatles and iconic characters from Star Wars and the Marvel Universe.
Each set come with a signature tile unique, a hanging element to make them easy to hang up and switch around and even a bespoke soundtrack to listen to while building.
Featuring anecdotes from the creators of Iron Man and Star Wars, and those closest to the stories of Andy Warhol and the Beatles, the soundtracks dive deep into the inspiration behind each design to help adults 'fully immerse themselves in the building experience'.
"We know adults are always trying to destress after a day at work, and we thought, what better way to help them switch off than by encouraging them to explore their favourite passion in a new creative way?" said Louise Elizabeth Bontoft, Senior Design Director at the LEGO Group.
"With these wider ranging designs, we believe that we can inspire film fans, music lovers and art and design aficionados to immerse themselves in a world of art and creativity linked to their idols. Through this new experience, we believe adults can unwind, engage in a mindful building activity and ultimately create a beautiful piece of wall art that perfectly reflects their personality."
These new wall art sets are the second 2D tile creative concept to be announced by the LEGO Group this year, following the launch of LEGO DOTS, a new theme that offers children a new way to express themselves inspired by arts and crafts.
The sets will be available from August 1st and the range includes:
LEGO Andy Warhol's Marilyn Monroe – Pop art admirers can now recreate Andy Warhol's famous bright pink screenprint of Marilyn Monroe from 1967, or reimagine it in three different colours using LEGO tiles.
LEGO The Beatles – Music lovers can bring Beatle-fandom into the home with a LEGO portrait of their favourite band member. Each set can be used to create four unique portraits or fans can collect all four and display the full band side-by-side.
LEGO Marvel Studios Iron Man – Super Hero fans can decide between powering their hero up with the MARK III, the HULKBUSTER MARK I or the MARK LXXXV with this 3-in-1 set.
LEGO Star Wars The Sith – Celebrate iconic villains from a galaxy far, far away with this 3-in-1 portrait set. Choose between portraits that pay tribute to the Sith, with Darth Vader, Darth Maul or Kylo Ren, or take the artwork to the next level by combining three sets into an ultimate Darth Vader wall piece.
—-
To stay in the loop with the latest news, interviews and features from the world of toy and game design, sign up to our weekly newsletter here