Product developer Emily Charles on working for Gibsons, Nora the dog and the one thing inventors must have

As product development  manager at Gibsons, Emily Charles is both hugely creative and exceptionally organised, a rare but winning combination in getting the right product to market.
Despite only returning from maternity leave in early 2019, she pulled together more products for launch in 2020 than was believed possible, and has signed a raft of new and exciting licenses in the games and puzzle categories.
We caught up with Emily to learn more about what her role at Gibsons entails and what inventors need to know about pitching concepts to the firm.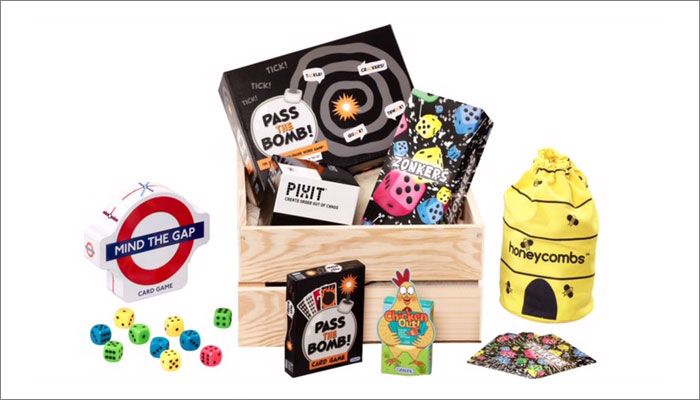 Emily Charles, thanks for doing this; we've wanted to catch up for ages! Let's do the obvious questions first… What was your favourite toy growing up?
Oh! This is a tough one for me because there were so many good ones. If I had to pick a favourite it would have to be DUPLO, and LEGO as I grew up… But loads of my best memories involve building my own little houses, towns and train tracks out of DUPLO and then spending hours playing "pretend". It lasts so well – my mum still has it all and my son now plays with it.
And how did you get to be working in this industry?
It was a bit of a happy accident really. I started my career as a buyer's admin assistant at a costume-jewellery business. I worked my way up in that company to become a product developer on the licensing team and had the opportunity to work with some of the biggest entertainment licenses, creating hair accessories and dress-up jewellery for kids.
That led me into the brand-licensing world where I did a stint on the other side of the approval process. I was a product-development manager at a licensing agency; that's where I first came into contact with Gibsons. It was invaluable as an experience, but it didn't take me long to realise that I missed the hands-on creative-development process of making new things. I went in search of a new product-development role and that's how I landed at Gibsons. I've always loved puzzles and games and was able to adapt my project-management and development skills to the new product area quite quickly.
And you've been at Gibsons for three years… How does it feel to be part of an organisation with a 100-year history?
I can honestly say that it's a privilege to be part of the Gibsons team. I'm always proud to tell people that I work for a company with such a great reputation. What I love the most, though, is that although we have this long, successful history, we're always planning for the future and our focus is always on how we can be better.
This might sound odd, but product development always feels like a very vague term! What do you do on a day-to-day basis?
How long have you got?! Essentially I'm a project manager, but quite a creative one. I work with the rest of the team to plan and source new products for Gibsons. With games – which can be complicated – I then manage the process through design, prototyping, playtesting, sampling and production.
I also work with the inventors to fine tune ideas, make prototype samples, arrange playtests and then brief a graphic designer to bring the components and packaging to life. Everything I do is in collaboration with one or more people, and often with third parties outside Gibsons.
We work with quite a few brands so part of my job involves negotiating licensing contracts and managing the approval process. I spend a lot of time on the phone and sending emails, but I also love getting my scissors and glue out and having an arts-and-crafts session to mock up new products. Seeing ideas come to life is my favourite thing.
Gibsons also does a lot of jigsaws… How do you keep that market fresh?
With the puzzles, my job involves working with artists and art agencies to create the puzzle images, then briefing a graphic designer to create the packaging. I have to pass the credit for the majority of our core "Blue Box" puzzle images to our Business Development Director, Geoff Lee.
Okay… Move the spotlight: tell us about Geoff!
Geoff has worked at Gibsons for over 20 years now. He's cultivated fantastic relationships with a variety of artists and art agencies to make sure we get the best images. We like to give our artists a lot of freedom to come up with ideas themselves rather than sending out specific briefs.
So they have a lot of freedom, but presumably you sometimes say: "Let's do this; we think it'll sell!"?
The best puzzle images usually come from artists painting things they love… We do have regular idea sessions to come up with new puzzle images though. Also our sales and marketing teams often suggest subjects they think would appeal to customers, or that they've spotted out in the world, so it's a really collaborative process.
We digressed – you were telling us about your role in jigsaws…
Yes; my side of the puzzles business is less-traditional: branded items, gifts, special packaging and our new contemporary White Logo puzzle range. I look out for trends in fashion, toys, retail, current events, social media and all sorts of other places for inspiration. I've loved working on the White Logo collection as it's given me the opportunity to work with up-and-coming artists, and source images from places that you wouldn't automatically think of for puzzles.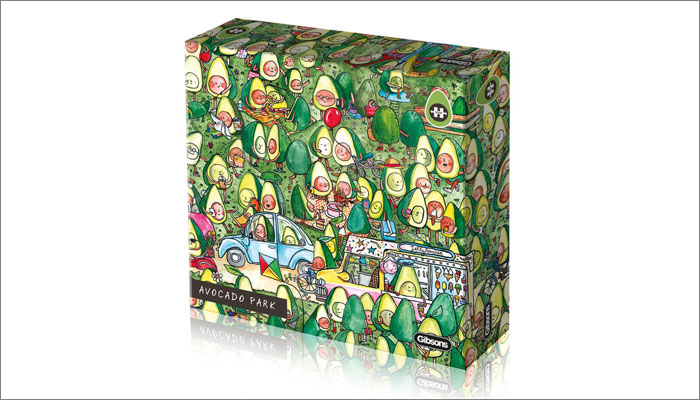 I'm especially proud of our jigsaw puzzle Christmas calendar; we first released one in 2018. It was an idea that the team had been wanting to produce for a couple of years and hadn't been able to find a way to make it work. Bringing that to life and winning a Gift of the Year award was a big highlight for me, and we've got even bigger plans for the 2020 version! I guess it's a case of that old cliché of thinking outside the box and not being afraid to try something that hasn't been done before.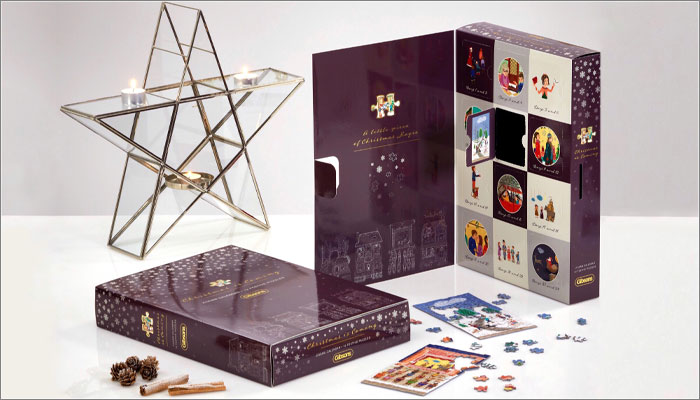 Sounds great! And on that note, Gibsons recently signed up for the Mojo Nation Pitch. What motivates that?
We've been really impressed with everything we've heard about the event from the last couple of years and just knew it was something we wanted to be involved in. We're releasing more games this year than we have in a long time and we know how important it is to keep things fresh. We're hoping that the Mojo Pitch will be a great source of new product ideas for the future to keep the momentum going.
Having seen people pitch to you, we know you're tactful when an idea isn't right for Gibsons… Is there anything that makes ideas a definite no, though?
I like to keep an open mind as much as possible: you never know what the next big thing's going to be. Gibsons is a family business though, aiming to entertain all generations – so we stay clear of anything too controversial. We don't mind straying across the lines of cheeky – you might pick up on that if you look back on our product history – but outright rude or outrageous ideas aren't for us.
And when you think somebody might be on to something, what do you do? What's your process for fully developing an idea?
Every project is different so I might approach them all in slightly different ways. In general, I start by doing some competitor research to make sure there's nothing too similar already available and see where it fits in with the rest of the Gibsons range. I then do some internal playtesting with the rest of the team to make sure they agree that it's as good as I think it is. If it passes that test, then I do some more playtesting with a wider variety of people and start thinking about how it could be packed, branded and marketed, and for which of our customers it might be a good fit.
So the order, generally, is: market research, internal playtesting, external playtesting; packing, marketing, then how you'll sell it – and to whom?
Yes. Once we have those elements roughly in place, our sales team usually checks in with some trusted key buyers to get their thoughts and gauge interest, and I start the physical sourcing process. If that all goes well we move forward with contracts, white sampling and graphic design.
White sampling, did you say there? What the deuce is that?
A white sample is what we get from our factories during the costing process. Once I'm happy with a planned specification and cost price, I ask for an unprinted sample of the box and any internal components. It allows me to check that I'm happy with the size, shape and quality of all the parts before we start the graphic-design process.
Where are the inventors during all this?
I work really closely with the inventors throughout. I want to make sure they're included and happy with how the idea develops. We continue playtesting throughout the design process to make sure it all works and especially to ensure that the rules do their job.
And if you could wave a magic wand and communicate just one thing to every inventor you meet in this role, what would it be?
A prototype is a must! It's surprising how many people send in game ideas with a simple typed document, and try to communicate their idea with nothing more than words. It's so hard to understand a game without playing it…
So you might have come up with an idea in your head but until you've made it into a real thing, and played it with a variety of real people to test it out, you really don't know if it'll work. I'd also recommend play testing with lots of different people from outside your immediate circle. Friends and family tend to be too kind and don't give you an objective view of your idea. Honest strangers are ideal play testers!
Now, Emily: you once described yourself as a, "Half-pint-sized competitive nightmare". How so?
Nice to see someone's spotted the Meet the Team section of our new website!
Yes – sadly that's the full extent of our research, though!
Well… The "half-pint" part is because I'm only 5'1" tall. It was actually my husband who suggested that part of my bio… The "competitive nightmare" part is because I can be competitive to a fault. I grew up in a super-competitive family; we even had a family trophy that we'd team up and compete for on family holidays, so it was ingrained in me from a young age. I try to channel the monster into sensible outlets like playing hockey at the weekend but it can be useful professionally too.
I don't believe there's any point in doing something unless you're going to do it to the best of your ability. So a lot of the time I'm competing with myself to do something better than last time and that's what drives me. It's not all about winning against another person – although that's fun too!
But if we described you as the second most-competitive person we know, would that be an insult? Would you be saying, "WTF?! Who's the first?"
Yes, I'd probably ask you to prove it! No, to be honest I'm aware of when it's a fault, and I try to curb it and use it in a positive way. I introduced an annual Gibsons Christmas quiz in 2017 and volunteered to be the quiz master rather than joining in because I know I'd take it too seriously!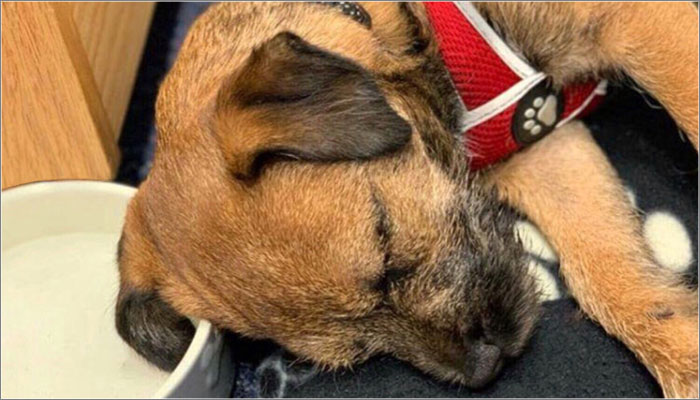 Noted. And you hereby have an official, open invite to join Mojo Nation's team at all future quizzes! While we're on the subject of winning: your boss, Kate Gibson, won a 2019 Sutton Women Mean Business Award – Employer of the Year. How come? What makes Gibsons an award-winning employer?
Kate – and the rest of the management team at Gibsons – really, truly cares about their employees. They look after us professionally, mentally and physically and understand the demands of life outside work. We have a lunchtime running club, a weekly Pilates class and meditation sessions and they're always thinking up new ways to improve life at Gibsons. They listen to us and show us how valued we are all the time. The culture at Gibsons is the best I've ever experienced and it's a pleasure to go to work! We even have an office dog, Nora, who comes to visit once a week.
And it's an incredibly cute dog! Nora aside – what would you say is the oddest thing on your desk, or in your office?
Right now, Deej, it's your "golf ball in a jar" business card!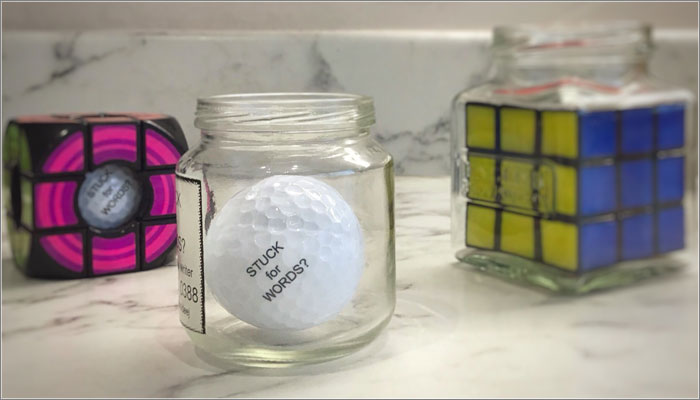 You know, I only asked that question in the hope you'd say that!
I still don't understand how you get a golf ball in a jar that size – and I'm not sure what to do with it except look at it and wonder every now and then. Please put me out of my misery and tell me how you did it?
But that would rob you of the wonder! So… Impossible objects and Nora aside, what would be oddest thing?!
Generally, there'll be some sort of hand-crafted sample that I've cobbled together out of card and tape because I've had a crazy idea for a new product!
Brilliant! There we go; that was fun – thank you. And we're not kidding about the quiz team, either… A competitive nightmare is exactly what we need!
—–
To stay in the loop with the latest news, interviews and features from the world of toy and game design, sign up to our weekly newsletter here