Reach Robotics' Silas Adekunle on why MekaMon V2 is "so much more than an RC robot"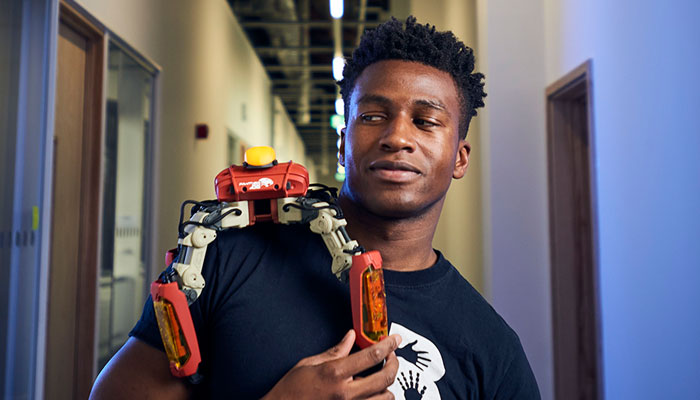 Since launching in 2013, Bristol-based Reach Robotics has aimed to bring high-end robotics and augmented reality to mainstream gaming audiences and provide the tools for future robotics and STEM education.
For the past four years, founder and CEO Silas Adekunle, alongside co-founders John Rees and Chris Beck, have been developing MekaMon, the world's first gaming robot.
MekaMon launched in November 2017, bringing the real and virtual worlds together for next level gaming, with cutting-edge robotics and augmented reality. Last month saw the company debut MekaMon V2, a revamp benefitting from an expansive software overhaul and hardware updates, resulting in what Adekunle deems a "completely new experience"
We caught up with Adekunle to learn more about the development process behind MekaMon V2, and what the future holds for Reach's platform for play, experimentation and learning.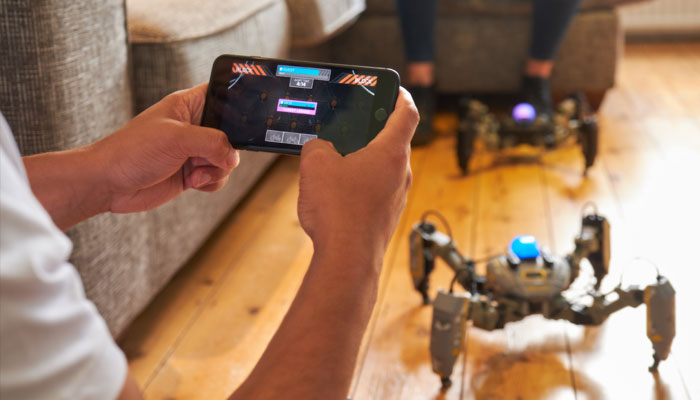 How has 2018 been for Reach Robotics?
It's been a huge year for us. Since launching V1 in November 2017, we have been working to improve the user experience and bring MekaMon to a wider audience. This lead to the launch of V2 in October of this year. We're now available on Apple across Europe, the US, Canada and UAE, as well as Amazon in several territories. Now physical stores in Europe and the US are stocking MekaMon (in addition to Apple) meaning we've achieved our widest ever distribution.
We've also seen some changes in the office. After moving to larger premises, we've been able to expand, growing 129% since this time last year.
What fresh features does MekaMon V2 boast?
It's a completely new experience. We've overhauled the app – including the user interface, improved AR gaming and introduced a new AR mode, which means you can play with a virtual MekaMon, regardless of whether you have bought a physical robot yet.
MekaMon itself is sturdier, and we've improved the character engine so it will react to its environment independent of the app. If you remove shields, tap it, add guns – it will react. This all combines to give it a sense of personality that people are really responding to – it's so much more than a remote-controlled robot!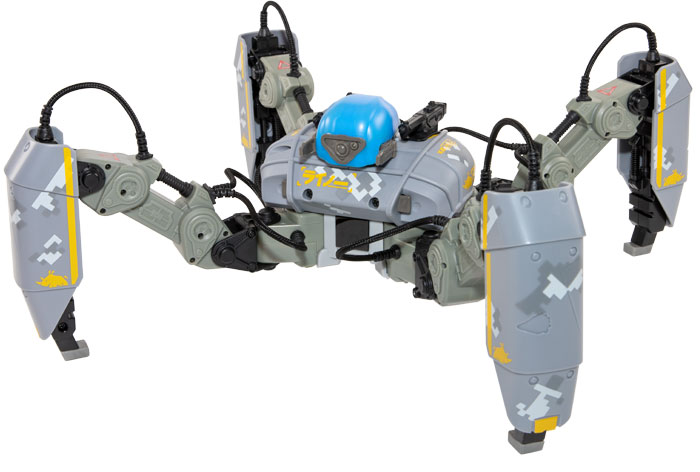 Can you talk us through some of the key design decisions you had to make re: V2?
Arguable the biggest change we made was adaptations to allow for markless VR. Anyone familiar with V1 will remember that it required a matt in order to build AR environments – this is no longer the case. The glowing head on top of MekaMon is how the app locates the robot and allows it to interact with AR foes and environments.
Other significant design decisions were within the app itself. We stripped back the UI to make it sharper and more intuitive. We want MekaMon to as accessible as possible; we can't expect all users to be able to circumnavigate complex menus and game settings.
On a cosmetic note, we introduced a grey MekaMon – giving us a trio of colours and an instantly visible point of difference for V2.
How do you and the R&D team at Reach Robotics stay creative?
Play is probably a big part of it. They're working closely with the hardware team on ensuring MekaMon is performing at the level we want it to, but they also have the freedom to push those boundaries beyond what we're currently sharing with users.
So that can mean all sorts of random experiments, hotwired MekaMon over their desks and some really ambitious ideas that we're aware could take months or even years to realise.
What does 2019 have in store for Reach Robotics?
We're still working on the launch of V2 so that's our focus and the moment. As we go into 2019, we'll be aiming to get MekaMon into the hands of more people and developing the app further with new games and features.
The beauty of having a physical product linked to a mobile game is that we can push through software and firmware updates as we go – enriching the gaming experience and ensuring that MekaMon is more than a toy, rather a platform for play, experimentation and learning.
How do you assess creativity into the tech toy/consumer robotics space at present?
There has been a real acceleration in consumer robotics the past few years. As people become used to robots in every day life, it is natural that this technology becomes a bigger feature of the toy and consumer technology sector.
I think the key to success in the market is to offer a product at an accessible price point with multiple layers of interaction – that is the central challenge to consumer robotics today and one that I hope we are rising to.
Without giving a robot a purpose – be that learning, gaming or creating (ideally all three!) – it would be all too easy for a product to fall into the novelty category. That is what drives our creativity at Reach – the desire to bring something to market that users will enjoy long after those first few hours of play.