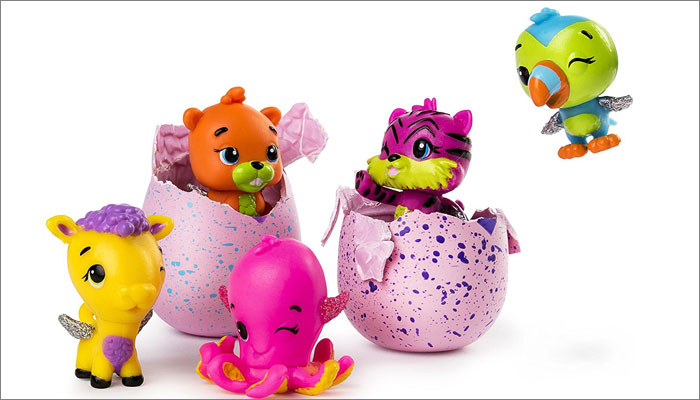 Spin Master has detailed its financial results for the Q1 2018, with revenue hitting $285.7m, an increase of 25.5 per cent from Q1 2017.
This was driven by sales of Hatchimals, Luvabella and the games portfolio, offsetting declines in Air Hogs and Zoomer.
"Spin Master delivered very strong Q1 2018 financial results characterised by record revenue and profitability," said Ronnen Harary, Spin Master's chairman and co-CEO.
"Our results not only reflect our innovative products and brands resonating with consumers but they are also a testament to the team's effort in effectively managing the business through the industry-wide disruption caused by the Toys R Us US liquidation.
"Our entertainment properties continue to be major drivers of growth and we have some exciting new themes, formats and content to introduce in 2018 and 2019. We are particularly pleased to have closed the Gund acquisition, and are looking forward to driving Gund's global growth potential as well as leveraging its plush expertize in Spin Master's business."
Territory-wise, gross product sales increased 19.5 per cent in North America, 33.4 per cent in Europe and 49.8 per cent in the Rest of World. International gross product sales on a combined basis were 35.9 per cent of total gross, increasing from 32.5 per cent in Q1 2017.

Gross product sales in the Activities, Games & Puzzles and Fun Furniture segments increased 20 per cent in Q1, primarily driven by sales of the Cool Maker branded products, Kinetic Sand, and the Games portfolio, offset by decreases in Rube Goldberg, Bunchems and Build-A-Bear products.
Gross product sales in the Remote Control and Interactive Characters segment increased 95.9 per cent in Q1, primarily due to sales of Hatchimals Colleggtibles and Luvabella, offsetting a decline in Air Hogs and Zoomer.
Gross product sales in the Boys Action and High-Tech Construction segment increased  27.1 per cent in Q1, primarily due to increased in sales of Tech Deck as well as Flush Force, offset by decreased sales of Minecraft and Pirates of the Caribbean licensed products.
Elsewhere, sales in the Pre-School and Girls segment decreased 2.5 per cent in Q1, from higher sales of PAW Patrol more than offset by lower sales of Teletubbies and Power Puff Girls licensed products.
As a result of Toys R Us conducting a wind-down of its US business and liquidation of inventory in all of its US and UK stores, Spin Master recorded a bad debt expense of $15.2m, which is included in administrative expenses.
"Despite current industry volatility caused by Toys R Us, we remain focused on the execution of our key growth strategies as we navigate the shifting retail landscape," added Ben Gadbois, Spin Master's president and COO.