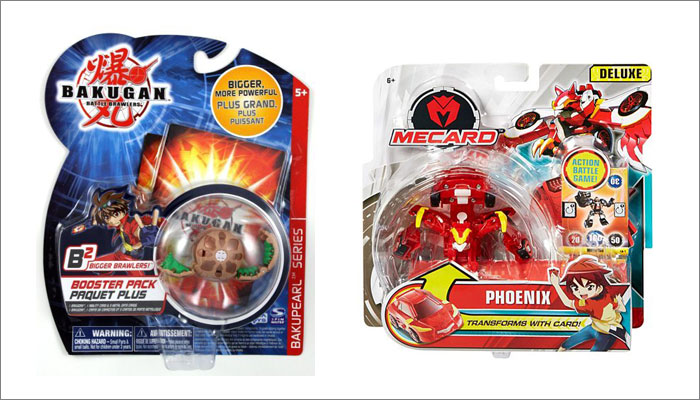 Spin Master is suing Mattel over the sale and marketing of its Mecard branded toys.
Specifically, Spin Master claims Mattel's Mecard toys infringe on at least two of Spin Master's patents associated with its Bakugan toys.
In proceedings recently filed by Spin Master, it alleged that Mattel's Mecard toys infringe at least two of Spin Master's US patents, which cover the transformation mechanism. Spin Master alleges Mattel has used its patented technology in its Mecard toys to create dynamic toy transformations.
Based on public information, in 2016 Mattel – through a foreign corporation – bought an interest in SonoKong Co Ltd, who licenses the allegedly infringing Mecard toys to Mattel. Sonokong was a former Korean distributor of the Bakugan toys.
"Spin Master has been recognised over the years by organisations such as the Toy Industry Association, as one of the industry's most innovative companies," said Ben Gadbois, Spin Master's global president and chief operating officer.
"We go to great lengths to protect and enforce our intellectual property against others who try to unfairly capitalise on our innovation. It is unfortunate when our competitors do not respect our intellectual property rights or do not invest in their own innovation."
The US lawsuit follows three other ongoing patent suits involving the Bakugan technology and Mecard toys filed in 2017 against Mattel in Canada, Mexico and Australia.
Ronnen Harary, Spin Master's co-chief executive officer and co-founder, added: "Bakugan was a global toy phenomenon and we have taken, and continue to take, great care to protect our innovative transforming technology in most major territories around the world.
"We plan to relaunch the Bakugan property globally in 2019 and we believe our patents protect the technology behind the product. Spin Master expects its competitors to respect Spin Master's intellectual property and we will take forceful steps if we believe our rights are being infringed."