Sweet Spot Studio's Jon Vanderbeek on looping trains, crawling geckos and hovering slugs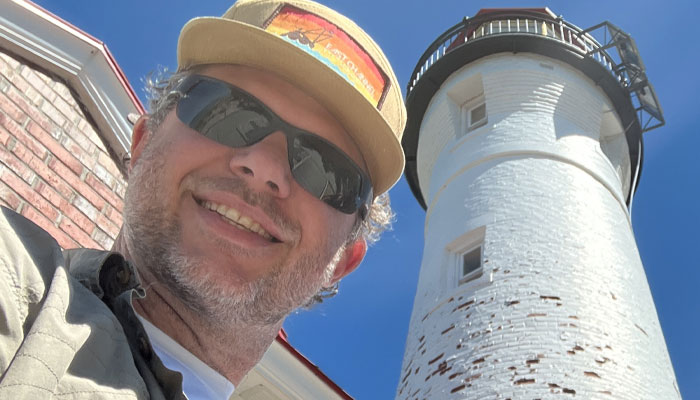 Jon, it's always great to catch up. We haven't interviewed you for quite a while, so to start with, what have you been up to?
The best way to describe what I've been doing lately is: 'Everything I've been doing for the last 10 years – but more of it!' In the last five years we've doubled our gross volume and it's coming from a lot of sources, which is great.
On the work-for-hire side, we're supporting some of the top brands out there, like Akedo, Paw Patrol, Star Wars and Marvel. On the invention side, we've worked on wheeled toys, animatronics… The Thomas & Friends Launch & Loop Maintenance Yard that we got the Play Creators Award nomination for. It all centres on performance. As inventors, we try to constantly crank out stuff that's important to the business.
You mentioned the Thomas & Friends Launch & Loop Maintenance Yard. It's a terrific bit of kit! Can you tell us a little about what prompted that creation?
We wanted to try and make Thomas do something he hadn't done before… And selling a loop to Mattel is kind of funny when you think about it because they've been doing loops with Hot Wheels for almost a century! How do you license a loop to Mattel?! Well, it's down to the way we did it.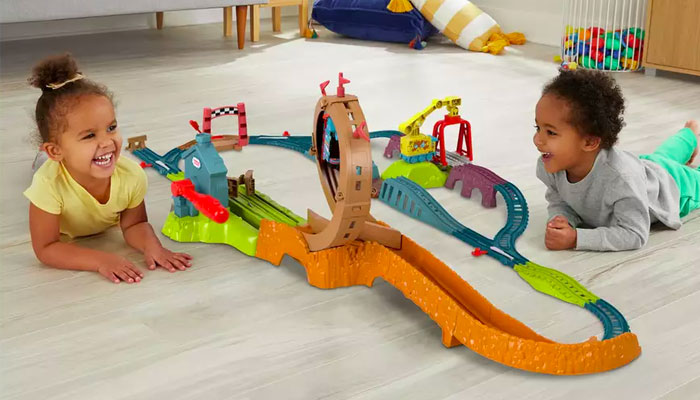 Let's dig into that… How did you do it!?
We made an in-line launcher. Thomas is motorised so there's traction on the track. At the beginning of the track on the loop, there had to be no traction, but it had to gain traction at some point through the loop – around ¾ of the way round – otherwise it gets chaotic! It then had to slow down and drive normal again. We're good at nuancing these kinds of things and making them work.
And it was always a Thomas idea?
Yes, I made it specifically for that brand. They hadn't done a loop for Thomas and we figured out a way for them to do it. That was my past business model. I've sold things to Nerf that way – "Hey, you haven't done a flat piston before? It could fit in your pocket if you made it flat." We sold that because it was a cool mechanism, and in the past we've made cool features that nicely fit in brand gaps.
Great stuff. And folks can check out the Thomas item in action in the video above. Now, you said "past business model." What's changed?
What I'm doing now is taking more of a visionary approach… It's a layer on top of the feature-based inventor approach. I'm doing lots more stop-motion video and conceptual stuff, whereas in the past, I'd jump straight into the model shop.
When you sit down to invent something, how does that process begin?
It can start from a few different places. We could pick a theme and start from there… Like 'Let's do slugs!' That's a good idea actually! We'd then look at the history of slugs, what's been done and what hasn't been done. Is there a cool feature there? Is there longevity there? Would the market care? Do kids care? Do mums care?
Then we'd look at the mechanism… Does it hover? Great, we've got hovering slugs! Then it's about the experience. So, it's what's the thing, what does it do and then how will that make a kid crack up laughing or provoke a 'wow' response.
Amazing! What a blueprint!
Hopefully, in 75 years' time I'll still making money on Hovering Slugs!
I can say I was there at its conception! From hovering slugs to crawling geckos. You created Let's Go Gecko for Goliath's Animagic brand. How did that come about?
That was our Covid project. For me, everything stopped in March 2020 for about a month, and that was enough time for me to bang that out with KID Group and Vivid/Goliath.
When I was a kid, I'd play with hamsters and they'd crawl across your hands, and I'd never had a toy that did that. It's hard to do it for real, and we did it using an off-road driving capability on the Gecko's chest. It can crawl across crinkled blankets, or your hand… From a mechanical perspective, it's an off-road vehicle gecko!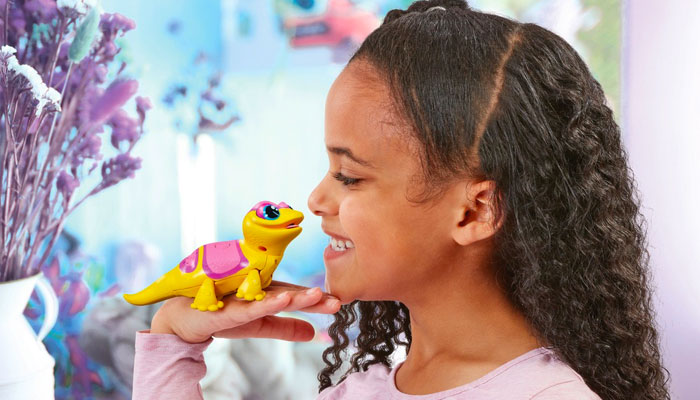 You mention that was a partnership with KID Group. How important are those kinds of collaborations for you, as a smaller studio?
In our world, if you've got a few people, you're small. If you've got 10 or so, you're pretty big, and if you have 20 or more, you're huge.
I don't want to condescend other ways of doing business, but I've hired bigger companies out for services and I've had experiences where you don't get the best guy on the job. What's wonderful about these sorts of companies is that you have permanent people on staff, but there are weaknesses that come with that… So I've built my business model around having experts all over the country. The downside is that I don't own them, but I don't want to own creative people, I want to produce them.
When we started the business 16 years, we started using a network of experts. We have three electronics engineers because when you have a business model like us, you need everything in triples because one guy might not be available! I've developed a lot of loyalty over the years with this network and it's a wonderful resource of artists, designers and engineers… People like Versadyne, who we share the Play Creators Award nomination for the Thomas item. He's wonderfully skilled technician; just a brilliant guy.
Great stuff. And as well as working with freelancers, you're also starting to bolster your in-house team too, right?
Yes, and this is quite new, with Julien Seafort and Stacy Will. I'm also buying a new building next summer; it'll be my dream shop. It's next to a park, right by sand dunes. It's a pretty cool spot. By the time I move in there, we'll have five bodies. Nothing will really change, but we'll scale a little bit. We want to be more shoulder-to-shoulder with the likes of BMT, IDEO, Fuse and Bang Zoom. That's my ambition.
It's sounds like an incredibly exciting time. You mentioned Julien and Stacy. Where did you find them? Is it tough to unearth great new toy design talent?
I live in the state that made the automobile industry, and you have a lot of skillsets here in Michigan. There's a lot of people here that know how to make stuff. You also have 'toy nerds' and crafty maker-type people out there. I'm always looking around and I've found some folks around here who are genuinely more into toy culture than me. I'm more into mechanical culture, shop culture; I love to build stuff.
Stacy was working at a factory, but she's super skilled and I've been delighted to bring her into the toy business. She was already making Iron Man masks out of EVA foam and painting D&D figures. Then there's Julien. He asked me for an internship when he was 15 and had an early love for 3D printing. He's always been willing to be a good assistant and help me out too, which has been great.
I've been developing Stacy and Julien to understand the toy business in the way I do. As you know, it can take 10 years of experience in this industry to be able to tell what a good idea is, but Julien has been here five years already and he comes up with good ideas. He then shows these ideas straight to someone like Hasbro… I'm not shielding the relationships. I'm not secretive about this kind of thing like some of the Chicago inventors of the past were.
You mentioned Michigan being a good place to find talented makers. Is there anything about your immediate surroundings that helps fuel your creativity?
Oh, absolutely. Place and people are key. There's a lot of nature here. If you look at a satellite map, you can see how surrounded by nature we are. That's why we moved here. I looked at a satellite map and searched for woods and open spaces. Every day I go on the sand dunes along Lake Michigan. It's beautiful and is perfect for anyone that's creative.
My place here is very healing; it's an incubator for me, my spirit and my soul. That's what my company is too – it's my passion.
Jon, this has been great. Before we wrap up, for any companies out there that haven't worked with you before, what should they look to you for?
I want to do the next ambitious toy project with them. We're known for being able to execute and get things far along and physical. Same goes for collaborations with other inventor groups. We want to work with companies that are looking to come up with the next Furby – we're always trying it!
Could be the hovering slugs…
Could be!
Thanks again Jon. Speak soon!
–
To stay in the loop with the latest news, interviews and features from the world of toy and game design, sign up to our weekly newsletter here