Tackling the issue of arranged marriages – with a board game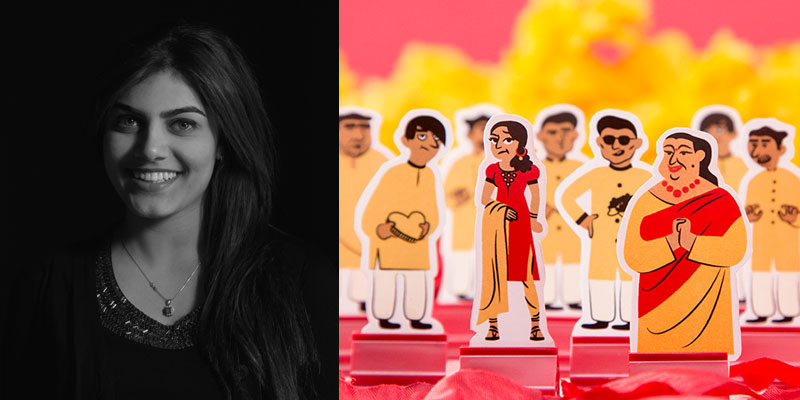 Hi, my name is Nashra Balagamwala. I'm an experiential designer based in New York City, currently working in the game and event industry. Prior to living in New York, I studied at the Rhode Island School of Design and worked for Hasbro, Inc.
I've been experimenting with 'designing games' since I was a child. My cousin and I would buy several games, throw out the rules and try to come up with our own versions of the game. As I grew older, I realised I was very interested in the medium, and took a class on Game Design and I've spent the past three years designing games independently, as well as working with some game design companies.
Recently, I designed a game titled Arranged. The inspiration behind creating Arranged was my own journey and struggle to avoid getting an arranged marriage, as well as watching my friends get forced into loveless marriages with strangers their family picked for them.
Their husband is usually chosen on the basis of his wealth and social status, or sometimes, even as part of a business deal. The woman's role in these types of marriages is just as superficial. They have to present themselves as being the perfect bride at all times, which leads to using things such as skin whitening creams and diet pills.
The culture of arranged marriages is still very prevalent in South-Asian societies and most women cannot fight against it because they aren't educated enough to be able to provide for themselves.
I think the first step to fixing any problem is to acknowledge that there is a problem to begin with, and to have a conversation about it. Arranged masks the darkness of this topic, and provides a platform for people to be able to discuss these issues in a very light-hearted setting.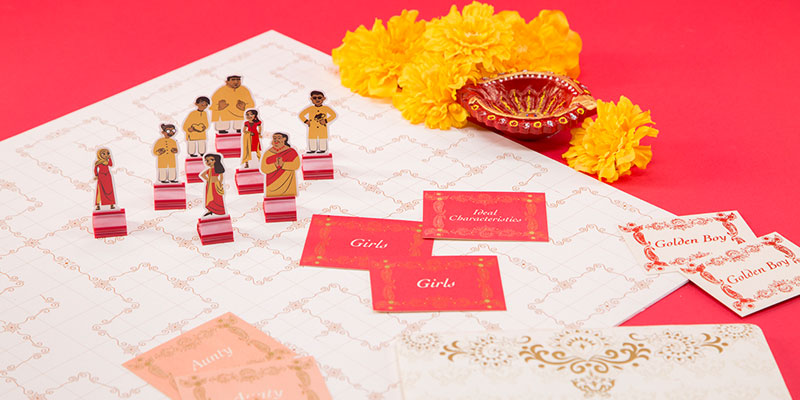 The gameplay:
The gameplay involves a matchmaker trying to get the teenage girls married off to any and every boy she can find, while they try to run away from her and a loveless marriage. There are three female protagonists and one 'Rishta Aunty' (i.e. the matchmaker).
The Aunty's goal is to get all the girls married off. She moves closer to them as she learns about things such as their ability to cook, the amount of dowry they'll bring in and whether or not they have 'child bearing hips'.
The girls spend their time coming up with creative ways to avoid getting hitched by the aunty. They can do so by talking about having a career, gaining weight, being seen in the mall with boys, or several other things that every other society would consider normal, but are seen as disgraceful in South Asian culture. Occasionally, they might find out things about the aunty, such as the fact that she has a 23 year old unmarried daughter, and use that to blackmail her into moving away from them.
At some point during the game, the Aunty comes across the Golden Boy. The green-eyed, light skinned, CEO of a business with a foreign passport. This is when the entire game dynamic switches around, as it turns into a rat race to get married to the dreamy Mr. Right.
The girls then start to make their way towards the aunty by flaunting their talents, such as the fact that they pray five times a day, or only have female friends.
Only one girl makes it in time to marry this Golden Boy, and the rest are hitched off to the mama's boys and womanisers who believe that they're God's gift to humanity.
It is best played with three to four players.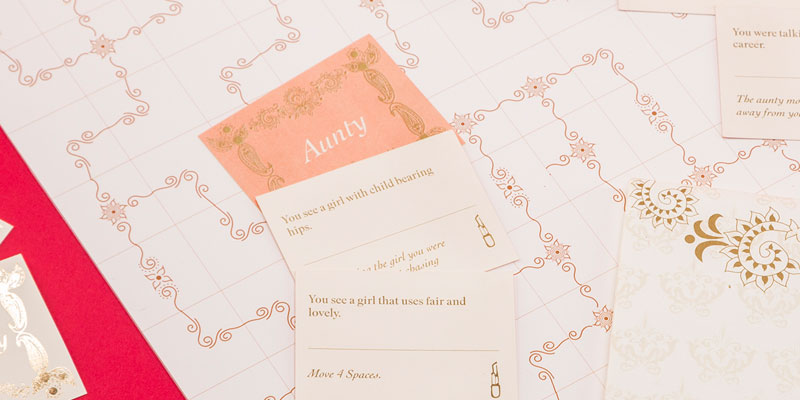 Who I'm doing this for:
I'm doing this for all the women out there in abusive and loveless marriages.
For the women who were forced into marrying a man twice their age.
Although a game cannot change the world, I am hopeful that by discussing the problems these societies face, they might start to realise how flawed these norms are and eventually work towards fixing it.
I also believe that this game will provide women with creative ways to avoid their own arranged marriages as well as empower them to not be afraid to pursue things such as an education, a career or a love marriage.
Nashra Balagamwala's Arranged! is currently raising funds on Kickstarter. Check out the campaign here.