Tourmaline founders talk blending tangible and digital realms with Oniri Islands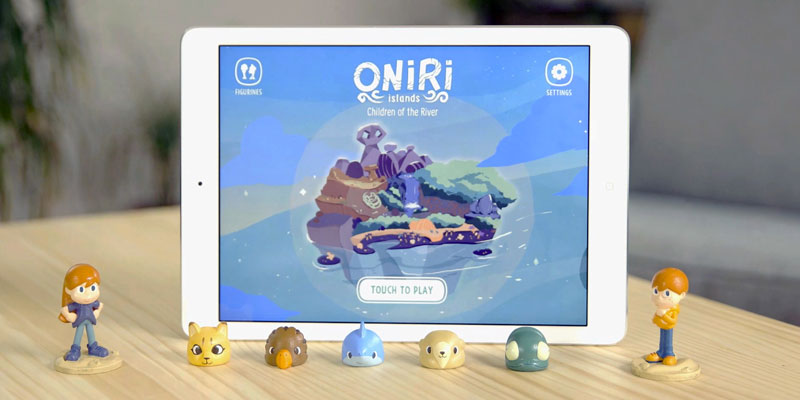 Camille Attard and Marion Bareil met at Gobelins School of Design (Paris, France) where they studied interaction design and created a digital board game prototype.
Over the years they kept experimenting in physical and digital gaming set ups as Camille worked as a freelance game designer and Marion graduated from the HEAD School of Design in Geneva. From their mutual passion emerged the creation of Tourmaline Studio, dedicated to the creation of new gaming experiences through hybrid products.
Mojo Nation caught up with Tourmaline's two co-founders to talk about the development process behind their latest creation, Oniri Islands: Children of the River, a toys-to-life adventure for tablets that saw 352 backers pledge CHF 31,331 on Kickstarter to help bring this project to life.
Where did the concept for Oniri Islands come from?
Oniri Islands is an adventure and exploration game, with something quite unique: the characters are two smart toys coming to life on your tablet. We are passionate about board games and video games and we studied interaction design, so the perspective of mixing these two worlds always fascinated us and drove us in our project somehow.
"WE ARE PASSIONATE ABOUT BOARD GAMES AND VIDEO GAMES AND WE STUDIED INTERACTION DESIGN, SO THE PERSPECTIVE OF MIXING THESE TWO WORLDS ALWAYS FASCINATED US."
CAMILLE ATTARD, TOURMALINE STUDIO

The game brings a new way to tell and play a story. The game reacts in real time to the presence of the toys put on the screen. Unlike most toys-to-life console-based games, where you unlock contents by placing the toy on a portal, we dive into something different. You actually play with the toys as they are the game controllers.
We also developed a unique cooperative game-play for friends and families to share and enjoy together. This is something our playtesters (both kids and parents) really appreciate. It creates a bonding moment like a bedtime story to play.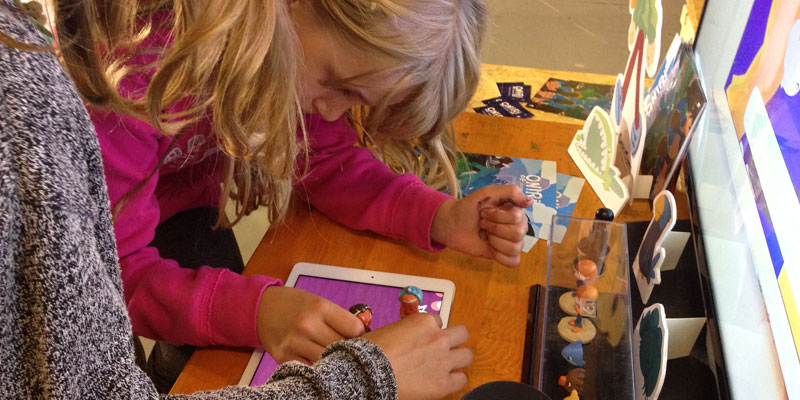 Can you talk us through some of the key design choices behind the game?
Some of our design choices were lead by this unusual setup: moving figurines on a tablet and interact with the game with toys as game controllers.
The camera view influenced how the game was made. To create an immersive universe from a top-down view, we made the game in 3D with a low-poly cell shading look. 2D illustrations are also part of the game as narrative little cut-scenes. The UI is discrete and very simple as we want players to focus on narration and exploration.
Another thing we noticed when we made our first playtests in festival: people wanted to interact exclusively with the toys and not with their fingers, so we designed as much interaction with the objects as possible.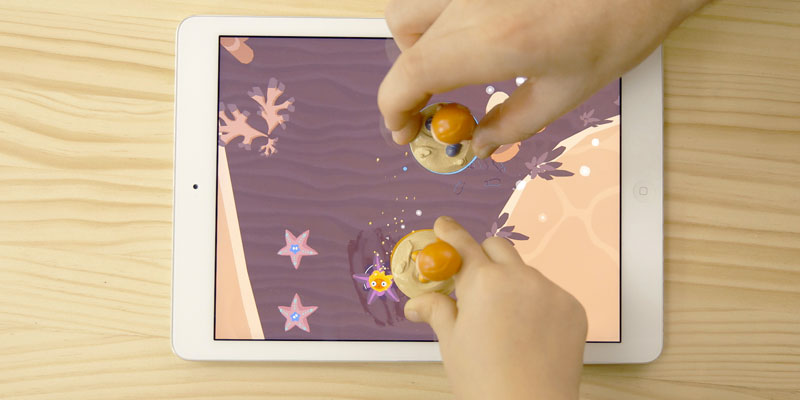 How did the development process work across the digital game and the physical toys? Do you have different teams specialising on either side?
We are all experts in gaming but we needed different fields of expertise for this project.
On one side, we have to develop all the digital content (the app) so we have game designers, a programmer, a narrative designer, 2D and 3D artists, a sound designer and a music composer.
On the other side we need to design, produce and distribute the connected toys so we are working with toy designers and with a game manufacturer.
Why opt to launch Oniri via Kickstarter?
The major reason to be on Kickstarter is that we need the funds to manufacture toys for mass production. We need to produce a minimum of 1,500 game boxes to make the first batch.
Oniri Islands is a game out of the box. We are very few people to creating games with physical objects. Toys-to-life games are mainly produced by big companies. We are asking our community to back us to support an independent studio focused on bringing a game of quality and uniqueness.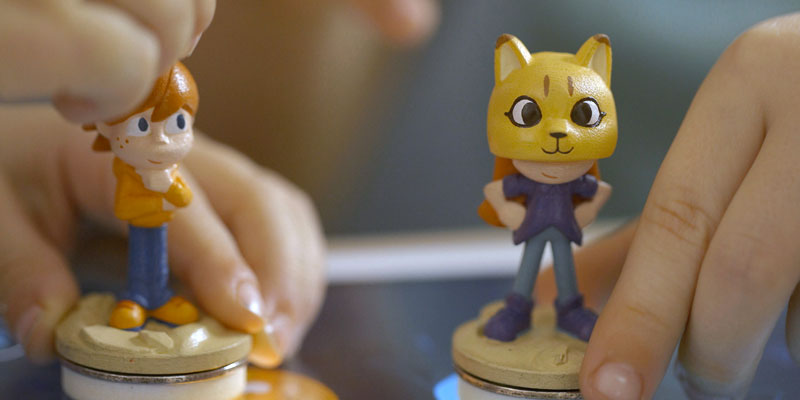 Are there further add-ons in development for the world of Oniri?
Oniri Islands: Children of the River will be the first step to our franchise development. We plan to release more content for the game with new chapters and masks to come. This will give us the time to prepare new games using the same Oniri universe.
Have you got other toy and games (both tech-focused or board game) in the pipeline?
Oniri Islands is our first toys-to-life, but we already worked on games with unusual setups. We really love blending tangible and digital realms.
Monster Chef, for instance, is a gruesome cooking party game. The goal is to cook a recipe together in a limited time with the highest score. Each player has a device: an iPad for the chef and iPhones for the cooks who follow her or his instructions.
We also worked on Intraland, a computer game about Internet Neutrality; you play with the keyboard, a paper manual and a UV lamp. To go forward in the story, the player has to read the manual. Or we also developed Mist Raiders, an interactive board game on tablet, where players can control their ship with their smartphone.
You can find all our work on our website, www.tourmaline-studio.com.
Save
Save
Save
Save
Save
Save