2018 TAGIE Awards finalists revealed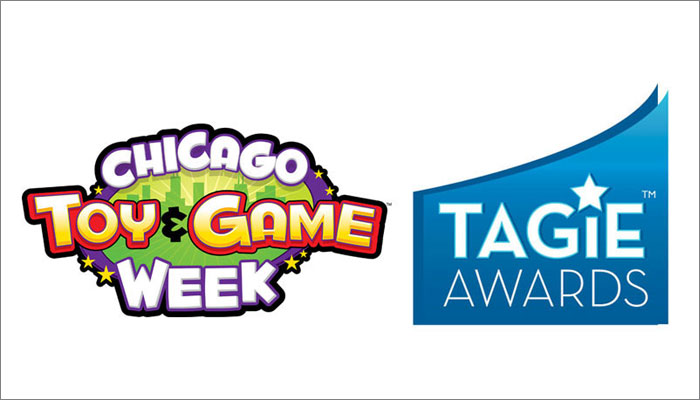 The finalists for the 2018 Toy & Game Innovation Awards have been unveiled.
The TAGIEs celebrate the best and brightest innovators, designers and marketers in the toy and game industry.
"The TAGIE Awards recognize individuals and teams from around the world that bring ideas for toys and games to life," said Mary Couzin, founder and chief executive officer, Chicago Toy & Game Group.
"This year's nominees represent a broad cross section of the industry, including heavy hitters and upstarts alike."
The finalists are as follows:
Toy Innovator of the Year
Bang Zoom for Lil' Gleemerz by Mattel
David Fuhrer, Richard Kimbrough, DiscoNifty​ for Twisty Petz by Spin Master
Latham Gaines – Power Dough by Canal Toys
Shoot The Moon for NERF Laser Ops by Hasbro
Sydney Wiseman for Fingerlings by WowWee
Game Innovator of the Year
Bang Zoom for Chow Crown from Hasbro
Don Ullman and Bob Driscoll for Don't Step In It by Hasbro
Jeff Foxworthy for Relative Insanity from PlayMonster
Rob Daviau and Justin D. Jacobson for Fireball Island: The Curse of Vul-Kar by Restoration Games
Seven Towns for Greedy Granny by Goliath Games
Young Inventor of the Year
Ethan Klein for House Architecture Set by 3duxdesign
Harper Miller for The Dream Pillow by Architec® Brands
Michael Nixon for The Amazing Annoyatron by EduKits International
Rising Star Innovator of the Year
Adam Borton for Flushin' Frenzy by Mattel
Art, Joe & Jim Seymour for Circuit Blox, Power Blox and Story Blox by eblox
Daryl Andrews for The Oregon Trail by Pressman Toy/Goliath Games
Jeff Lai for Maki Stack by Blue Orange
Jillian Lakritz for Yoee Baby Original Line: Puppy, Kitty, Fox, Lion, Monkey, Bunny
Krissa Watry for playPORTAL by Dynepic
Nick Metzler Hail Hydra for Spin Master
Marissa Louie for Animoodles: Iris Unicorn, Hazel Sloth, Randy Orangutan, Brady Lion, Miguel Frog, Sophie Elephant
Innovative Art and Visuals of the Year
Elan Lee and Matt Inman of Exploding Kittens for Bears vs Babies
Geizi Guevara, Mike Freeth, Patrick Murray, Chris Wickman of Spin Master for The Cat Game
Jakks Pacific for Fan Heads
Prospero Hall for Disney Villainous by WonderForge
Sabrina Miramon (Illustration), Chris D'Angelo, Greg Stata, Kelly Miele (Graphic/Packaging Design) and Kathy Beyerle (Product Design) of ThinkFun for Shadows in the Forest
Innovative Marketing Team of the Year
JMP Creative's Social Media Team for Orbeez Wow World Campaign with Maya Toys
PlayMonster 5 Second Rule Marketing Team for 5 Second Rule
Lee Parkhurst, Jennifer Jens, Sunny Choi, Nicole Younger of Educational Insights for Sculptapalooza's Online Campaign
Hasbro Marketing and Rhett and Link for their online Influencer video campaign
Sydney Wiseman for Fingerlings by WowWee
In addition to the winners determined through nominations and public voting, a panel of industry experts selected the follwing honourees for the evening:
Start-Up Award: Thijmen de Schipper and  Jochem van Rijn, YULU Toys
Inventor Advocacy Award: Mike Meyers, Retired as Senior VP Hasbro Games
Lifetime Achievement: David Small and Paul Rago, Shoot the  Moon
To vote for TAGIE Award finalists visit www.chitag.com/2018-tagie-finalists-reveal. You have until October 31st to vote.
Winners will be revealed Friday, November 16th, 2018 at the TAGIEs ceremony and gala, held annually during Chicago Toy & Game Week (ChiTAG).