Aardman teams with Vine Lab on limited edition model celebrating 25th anniversary of Wallace & Gromit: A Close Shave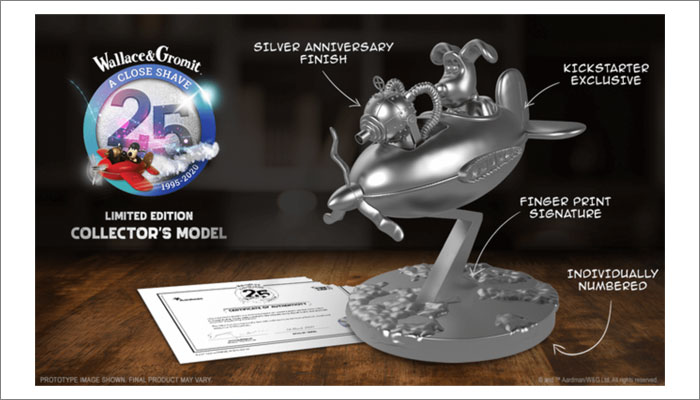 Aardman has teamed up with Vine Lab to launch a limited edition model celebrating the 25th anniversary of Wallace & Gromit: A Close Shave.
The detailed, silver-effect model depicts the moment that Gromit flies into the air in his sidecar plane, and features limited edition numbering and a special Aardman fingerprint signature.
The project has launched via Kickstarter, and in a nod to the film's original release date, there will be just 1,995 models available.
"We are really excited to have teamed up with The Vine Lab to create a very special 25th anniversary collectable," said Merlin Crossingham, Creative Director of Wallace & Gromit.
"It's obvious to us that the team at The Vine Lab are huge fans of our work and they have crammed in all of the amazing detail we expect from our models into this collectable and the packaging. We are so pleased to offer something truly unique to our fans and would love for them to get involved in this once-in-a-lifetime experience."
Ian Downes, Director at Start Licensing – Aardman's licensing agent – added: "Platforms like Kickstarter are opening up new opportunities in licensing. They provide a gateway through to fans and consumers that might be difficult to reach otherwise. It is exciting to be able to work with creative teams who have a vision around well known IP; being able to work with creatives like the Vine Lab allows fresh thinking to take place.
"Clearly we are all in challenging and changing times – one thing that rights owners and licensing agents can do at the moment is engage with a wider pool of partners to explore new ideas. This combined with a willingness to use platforms like Kickstarter should provide new momentum for IP owners."
Early-bird prices for the model start at £225, and come complete with white handling gloves, a certificate of authenticity, a storyboard print, behind-the-scenes art cards, and an acknowledgement in the end credits. In addition, there are five deluxe packages available for £2,500, which include an illustration signed by Nick Park, The Making Of book signed by Merlin Crossingham, and the opportunity to receive an Aardman model of yourself, along with all of the exclusive content included within the other packages.
"From a team perspective, everyone here at The Vine Lab has a real love for Aardman – especially Wallace & Gromit," said Emma Beeson, Co-Founder of Vine Lab.
"Knowing that the 25th Anniversary was coming up, it was, pardon the pun, a kickstarter to our thoughts on how we would like to see it celebrated! We have been working all year on this limited edition collectable which has been created to celebrate the 25th Anniversary of Wallace & Gromit: A Close Shave. We're really proud to be offering fans a rare opportunity to secure a part of history in the form of this Kickstarter exclusive model.
"One of the real benefits of launching on the Kickstarter platform is that we have not been tied into the traditional seasonal timelines for product development. This has meant we've had the luxury of spending more time on the model which has ensured an amazing level of detail.  There's a great video that shows some of the process on our Kickstarter page which fans can view here."
In the creation of the model, Jon Morse, Senior Designer at Vine Lab, said: "We started by watching the film – a lot! – to select a couple of really iconic moments. We finally settled on the end of Gromit's flight scene as the perfect scene as it's here that the tables turn against the film's villain, Preston. The sequence also includes everything we love about the dynamic duo; Suspense, action and a little bit of humour too!
"From initial sketches we've been constantly referencing behind-the-scenes photographs from the original production and Aardman's creative team have had regular input to ensure everything is accurate. Our digital sculpt has been tweaked, tweaked some more, and tweaked again until we were happy enough to output a 3D white resin prototype which we have checked for scale and the level of detailing. Once the Kickstarter has funded we will be continuing development and sharing with the fans!"
The campaign is live on Kickstarter until 26th November 26th and you can check out the project here.
—-
To stay in the loop with the latest news, interviews and features from the world of toy and game design, sign up to our weekly newsletter here