Adam Ashley on developing Goodtimer, an interactive toy that promotes healthy habits and good choices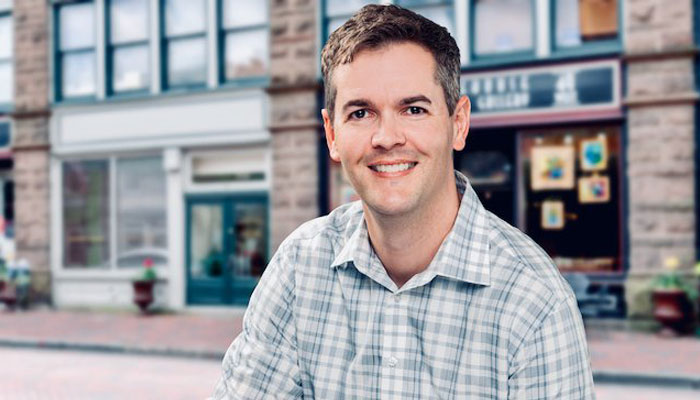 Adam, it's great to connect. Before we dive into all things Goodtimer, do you have a background in design?
Yes. As a kid, I remember always having the spirit of an inventor. I loved creating things out of LEGO and playing in the woods. I was actually scared of the dark as a kid and didn't like that dark walk from turning the light off to my bed – so I created a mechanism that allowed me to turn the light off from my bed!
A nice idea!
I thought so! As I grew up, I gravitated towards STEM fields. I was fortunate to go to a public high school that had a pretty good tech department. As soon as I started taking pre-engineering classes, I knew that's what I wanted to do.
I went to Virginia Tech, a very good engineering school here in the US, and graduated with a degree in Ocean Engineering. After I graduated, I started my career as a Naval Architect designing ships for the US Navy and the Coast Guard. Then a good friend of mine had this idea that the e-reader was going to change the book industry in much the same way that the iPod had changed the music industry… And this was pre-Kindle!
Interesting. And that took you away from ship design?
Yes. He and I co-founded a business called M-Edge Accessories. We started making innovative accessories to enhance the e-reading experience and the business was an incredible success story. The company grew to around $40m in annual revenue and 90 employees. At one point we ranked at number 91 on Inc Magazine's Fastest Growing Companies list. We sold that business in 2014.
Let's talk about Goodtimer – an interactive educational toy that promotes healthy habits. Where did the idea for the toy come from?
Well, my wife and I had two young children. Our kids are smart, healthy and neurotypical but we had many of the normal parenting challenges. Getting the kids to eat their vegetables… Staying in bed after lights out… Sibling rivalry was a big challenge for us. We read a lot of great parenting books – some of which contradict each other – but when I was looking at the market, I found toys to help kids sleep and learn their ABCs… But I was surprised that there were very few products that helped parents promote good choices?
We had tried time outs but we didn't like constantly feeling like the 'bad guys', so we thought about a game where kids earned Good Time for making good choices. That when came up with the idea for Goodtimer.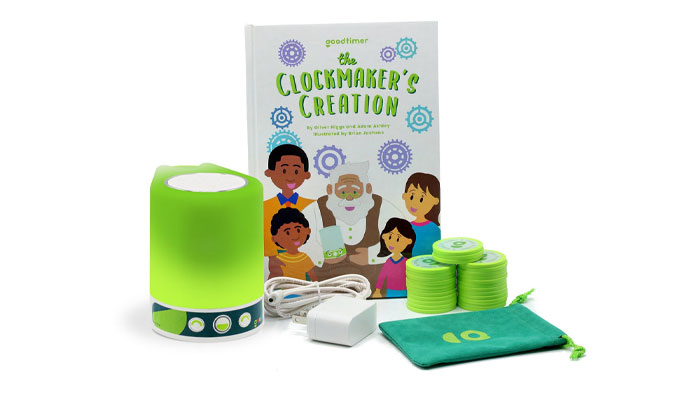 For anyone who hasn't seen Goodtimer in action, how does it actually work?
We often describe Goodtimer as a behaviour chart reimagined for modern families. Behavioural psychologists and parenting experts have done research for decades, and there's tonnes of research that shows positive reinforcement is the best approach to long term behaviour improvement. The carrot is more effective than the stick.
We also discovered, that three elements need to be present for this approach to work. The first is setting clear expectations. Behaviour charts are great for young kids because there's usually a visual representation for what the expectation is for them. Our answer to that is the Goodtimer children's book – The Clockmaker's Creation. It's essentially the Goodtimer instruction manual but I hate instruction manuals, so we've delivered it in the form of a children's book.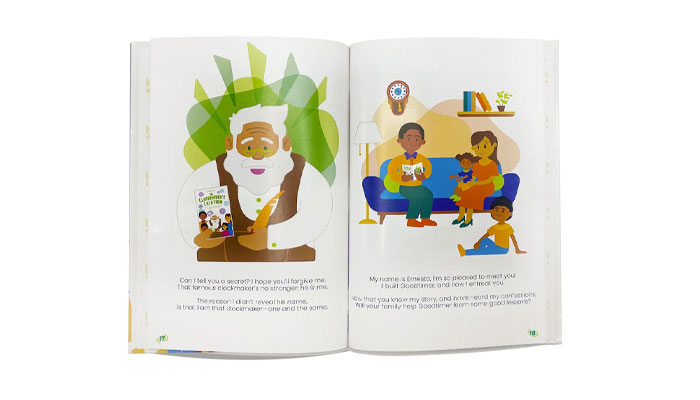 It's a fun read about a master clockmaker who invents a little clock to be his companion, but it misbehaves and he can't figure out how to make it behave. So, he sends it out into the world to live with your family to learn what good choices look like. As you read the book, you establish your family's house rules. These can be simple things like 'Be kind' or 'Make healthy choices'. Then once everyone understands the house rules, as long as kids are making good choices, Goodtimer stays on. It's a glowing, talking reminder that your kids are good people. That's really powerful.
Nice. You mentioned other elements…
Yes! The other element is positive reinforcement when good behaviour occurs. That's tough… As busy parents, when our kids are behaving, sometimes we ignore it and just pay attention to them when they act up. Unfortunately, when parents give attention to negative behaviour, that behaviour is reinforced and more likely to occur in the future.
And how is good behaviour rewarded through Goodtimer?
There are 12 segments on Goodtimer that, one-by-one, light up throughout the day. When all of the segments are glowing, it does a celebration and tells kids that they've earned a token. Kids take a token out of Goodtimer dispenser and store it in a little pouch we provide. Kids can then spend the tokens according to how parents have filled out the Token Incentive Worksheet. For example, it might be that for two tokens they can have an extra 15 minutes of screentime.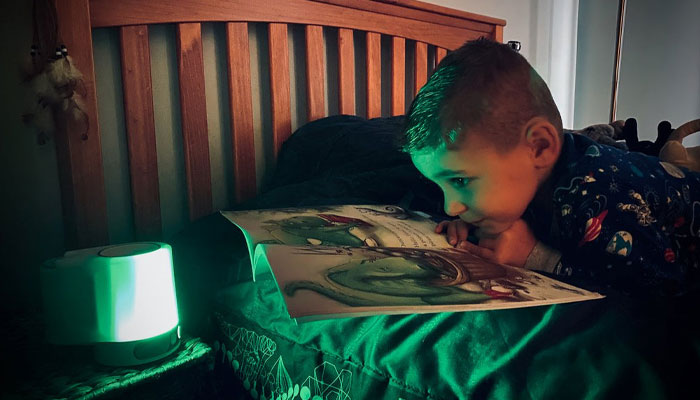 That said, we know need there to be consequences for bad choices, but we didn't want those to be punishments. When Goodtimer is right side up, it's building up Good Time and filling those 12 segments. But when you flip Goodtimer over, it pauses Good Time and says a phrase like 'You can do better!' For example, if one of your house rules is "be a first-time listener" and parents ask their kids to go up for bed and they refuse, then the parents would instruct their child to flip their Goodtimer over pausing Good Time.
Parents might say "You can take your time and Goodtimer will remain off, or you can brush your teeth and we'll flip Goodtimer back on. You choose…" It's incredible what can be done when you empower kids like that with a choice. It flips a 'time out' on its head and means parents aren't the bad guys anymore – and nether is Goodtimer. There's no bad guy!
The idea is establishing the boundaries, setting expectations and providing positive reinforcement throughout the day. You then empower them, through this token economy, to make positive decisions. It's a product that's fun for kids and easy for parents to use.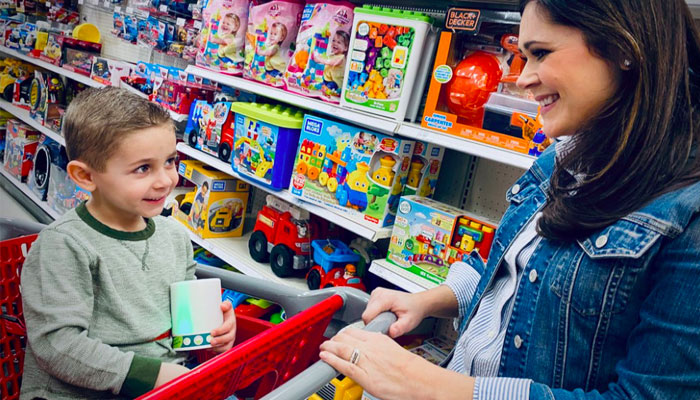 And Goodtimer is available now?
Yes. We first launched a Kickstarter back in 2018. That was about market validation and deep customer discovery. It was a great learning experience and ultimately it led us to simplifying the concept to what we have today. We launched this version of Goodtimer in 2019 and our primary go to market strategy was direct to consumer to our website. We also have a presence on amazon and we're exploring new distribution options this year.
The product feels like it would lend itself well to licensing, with characters voicing Goodtimer and artwork on the unit itself. Is that an avenue you're keen to explore?
Absolutely. Every Goodtime is completely white – it's a big empty canvas. A lot of kids do already customise it, but the idea that a brand like Sesame Street could do a Cookie Monster version is really cool. It could even utilise Cookie Monster's voice and teach kids about being patient.
The tokens too! At the moment, they have Goodtimer branding on, but that's a branding opportunity. Could we partner with LEGO so that ten Goodtimer tokens gets you a LEGO set? There are opportunities to tie our token economy to brands. We'd just want to make sure the values of the brand align with our own.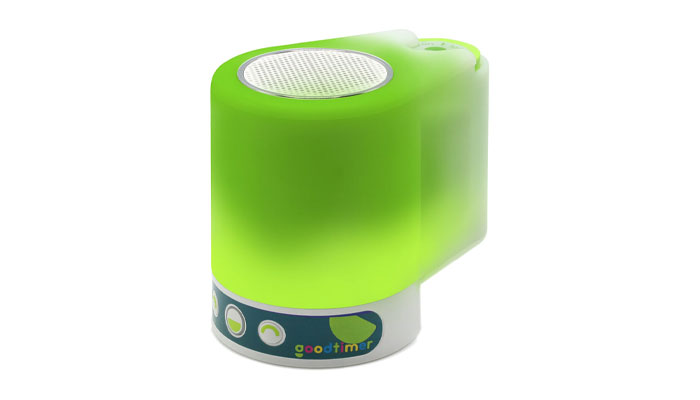 Absolutely. And Cookie Monster is a great shout – I can totally see that! Away from licensing, what does the future hold for Goodtimer?
Our product roadmap includes lots more products to help kids of all ages learn healthy habits, from infancy to adulthood – including an app.
We designed Goodtimer to be a universal positive reinforcement platform because each family's core values are different. That's why we keep our house rules and token worksheets blank for parents to fill out. But with a Goodtimer app, parents will be able to input information about their child and get an even more customised solution. With the Goodtimer app, the product will be able evolve with the child as they get older helping them learn and grow as the reach new developmental milestones.
Do keep us posted on that! One last question: how do you fuel your creativity? What helps you have ideas?
For me, the best way to create new products is to listen to your customers at every opportunity. Whenever we answer a question that a customer has, we get a few new insights about their experience with the product and the challenges they are facing. Customer discovery should never stop. It's important to always be searching for pain points and then get creative about how to make those pain points better. We embrace a philosophy and learn and grow, of continuous improvement.
Thanks for taking time out for this Adam. And anyone interested in Goodtimer can find out more at https://gogoodtimer.com/.
–
To stay in the loop with the latest news, interviews and features from the world of toy and game design, sign up to our weekly newsletter here