Adam Borton on why toy design is one of the most challenging areas a product designer can tackle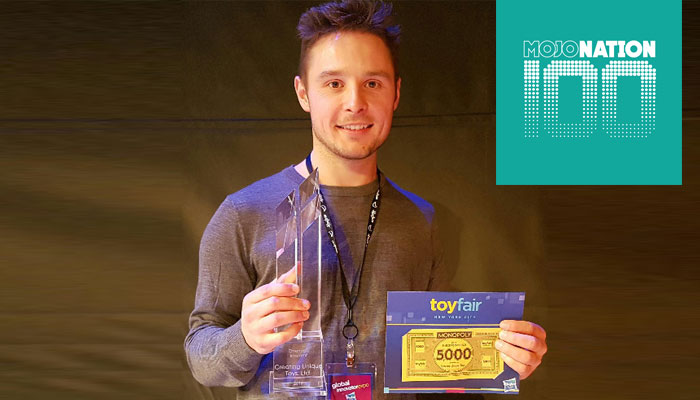 As nominations are open for the 2019 edition of the Mojo Nation 100 – a listing of 100 figures in toy and game design that have had a great year – we're speaking with some of those who made it into the book earlier this year.
Adam Borton is director at toy invention studio, Creating Unique Toys, and made it into the Rising Star category of the Mojo Nation 100 earlier this year after enjoying a stellar last 12 months. Named Hasbro's Emerging Inventor of the Year in 2017, Borton has since signed inventions with Zuru and Mattel, including the firm's Flushin Frenzy game, for which he's been nominated for a Rising Star award at next month's TAGIE Awards.
We caught up with Borton to find out how he got his start in toy design, and why it remains one of the most rewarding – and challenging – spaces for a product designer to ply their trade.
How did you get your start in the world of toys and game design?
I gained experience designing and making a pre-school toy in my final year at Bournemouth University. This gave me a general grounding in the basics but I realize now how little I really knew!
After graduation, I took a break to see a bit of the world by coaching football in the USA and then I went to the London Toy Fair with my portfolio and showed it to anyone who would listen!
I was lucky enough to get some freelance work and then a job with Mookie Toys as a Product Designer. I was also fortunate to get a boss in Guy Orr at Mookie who gave me the freedom to be really creative, push into new categories and take on more responsibility to design and manage the whole toy design process.
How do you stay creative?
I feel like one of my strengths is having a naturally vivid imagination but part of running a business involves having to do the boring stuff (like accounting!) as well as the fun stuff – so you have to be able to rapidly switch between the business side and the toy and game inventing side.
In order to do this quickly and efficiently, I've got lots of toy and game reference pictures and videos stored on my computer, which are within easy reach for some inspiration. I also have numerous relevant websites bookmarked.
I try to play with toys and games as often as possible, but that's easier said than done when there are 3D printers going wrong! When they're working, 3D printers help me physically brainstorm unique solutions to problems that otherwise would have been extremely difficult to solve just in my head or on paper.
What makes this industry a great one for designers to work in?
For me, it's the perfect job. I get to create cool stuff all the time and the business side also fascinates me, so no matter how experienced I get, I'm always learning. The variety and constant challenges stop me from getting bored!
I genuinely think the toy industry is one of the most challenging there is for a product or industrial designer – you have to be able to draw, 3D model and make working prototypes, all to a high level – plus the sculptural shapes that toys take mean that it's harder than just sketching a vacuum cleaner or toaster!
From a design point of view, is the world of toys and games in a good place creatively at present?
I think so – today's computers and phones make it easier than ever to make something, make a video of it and sell it. The toy and game industry has traditionally been quite closed-off to newcomers but now you don't necessarily need to have the best contacts to make it.
People are proving that there are other ways to show the world your idea – and the best ones are becoming huge successes. Platforms like Kickstarter have allowed big hits like Cards Against Humanity and Goldieblox – they demonstrated their ideas to the end consumer before heavy investment spending on tooling and manufacturing runs.
For designers that are just graduating or are thinking about the toy industry, if you want to work as a toy designer for a big company I'd suggest learning how to draw digitally and being able to 3D model – sites such as Artstation set the bar pretty high and have great examples of what it will take.
To nominate a designer for a spot in the 2019 edition of the Mojo Nation 100, click here  for all the information.