Alexis Yavne – Design Manager for Girls Interactive at Spin Master – unwraps the development process behind Present Pets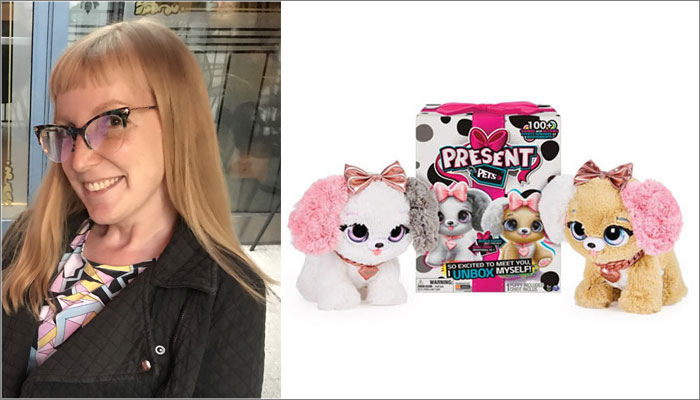 Alexis Yavne is the Design Manager for Girls Interactive at Spin Master, and has spent ten years in the industry, having previously worked at the likes of Fisher-Price, KIDesigns Inc and Commonwealth Toy & Novelty.
One of her team's recent creations is Present Pets, a new line of interactive plush puppies that unbox themselves. With the brand popping up on many 'Top Toys for Christmas' lists, we caught up with Alexis to learn more about the development process behind the launch.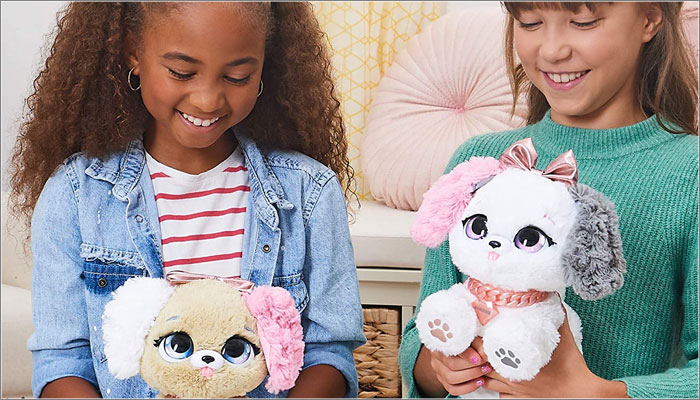 Hi Alexis; so first up, what first attracted you to a career in design? And was toys always the goal or were there any other industries in contention?
I originally planned to follow an academic path at Northeastern University, despite the persistent suggestions of my art teachers and friends to pursue design. However, I ended up spending more time at Mass Art than at my own university and ultimately decided to follow my heart and study illustration at The Fashion Institute of Technology.
I have always loved to draw and quickly realised that I needed a creative career. At the time, I did not even know that toy design was a possibility!
So how did toys get on your radar?
When I attended F.I.T.'s senior show and saw the presentation from the Toy Design students, I was hooked! Toy design provided the perfect marriage between my love of both art and critical thinking. To me, there is nothing that holds my attention more than designing and nothing as gratifying as creating physical products.
You've been designing in the toy space for around ten years, but to look back for a moment, what was the first toy you worked on?
The first toy I ever worked on was a singing birthday doll for Dora the explorer, I was an intern at Nickelodeon at the time. However, the first toy I really owned the design on was the Angry Birds plush toy line. My boss asked me if I had ever heard of Angry Birds, I had not, and he casually mentioned that we had the master plush license. I was the only designer at the small company and the project exploded, it was a really amazing opportunity.
Has your approach to design has changed much from then to how you work now at Spin Master?
Absolutely! I have a much richer understanding of the business side of product development, as well as a much bigger catalogue in my brain of features, materials and competitive products. My designs are informed from bigger picture thinking and it enables me to dig deeper.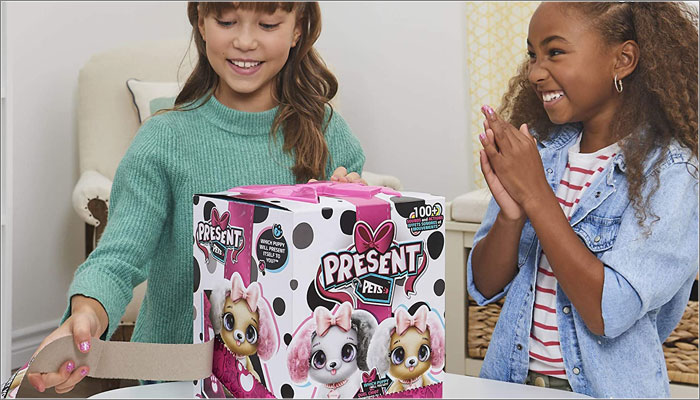 Now, we should talk about of your products that has landed on lots of retailer 'top toys for Christmas' lists; Spin Master's Present Pets. Where did that initial idea for this spark from?
Credit is owed to Spin Master's VP of Product Development Dave McDonald, as it was his original concept. The toy was inspired by the childhood dream of receiving an adorable puppy that pops out of a bow-topped box on Christmas morning combined with the viral sensation of unboxing.
From a technical standpoint, it sounds like quite a feat! If I'm right, when a child pulls the oversized gift tag on the Present Pets box, the plush pup inside starts to bark and paw its way out of the box. After about two minutes, the front of the box topples down revealing a new pup! How did you do and your team manage it?!
The unboxing itself was no easy feat and the engineering team deserves loads of praise for it. The entire toy operates on one motor, which is truly magic. The puppies themselves were also quite the journey and I went through dozens of iterations on the design. We wanted to develop an iconic look with a fashion overlay; every fabric choice and small detail was chosen with great care.
Additionally, it was challenging to arrive at the final motions and play pattern of the puppy; these features were redesigned over and over again before landing on the right combination. I wanted to make sure there was a meaningful play pattern after the unboxing – why do I want to play with this not just today, but tomorrow and the next day? Why do I love this puppy?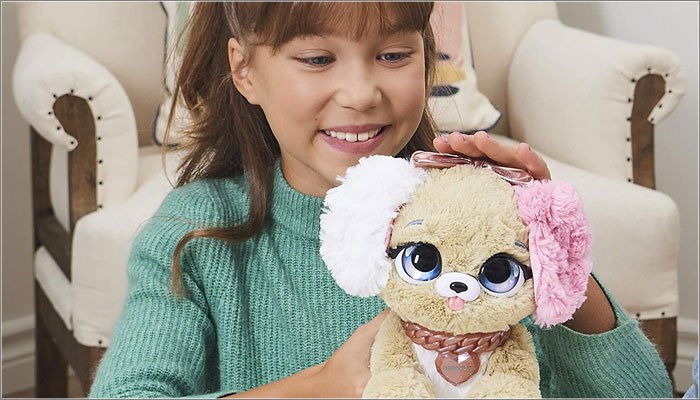 Absolutely, and the hard work looks to have paid off as Present Pets looks set to be one of the big toys for this Christmas. Why do you think that has caught the imagination of retailers and parents – and kids?
Obviously, the unboxing is truly magical plus, at the heart of this toy is the classic puppy which is forever charming. Who doesn't love puppies?! It's also really exciting that the toy offers a one-time only activity with a huge payoff.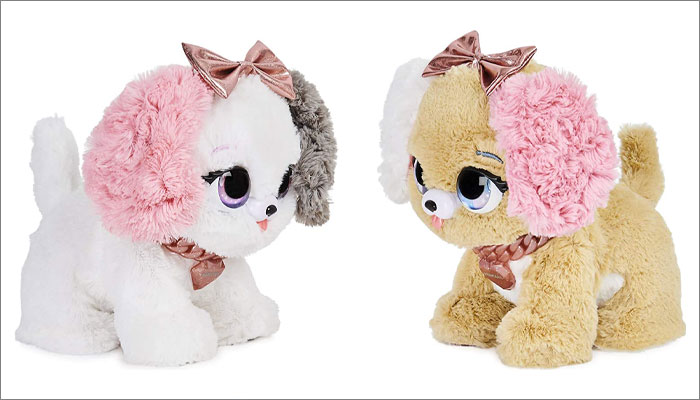 Brill, and one more question before we let you go, how do you fuel your creativity?
In pre-COVID times, I would get a lot inspiration from going out and seeing people's fashion, going to shows – music, comedy, art, etc -, museums and from travelling. I love a quirky pop up shop or art show, disco bingo, piano karaoke, or a random basement show. There is so much inspiration to be drawn from the unknown and unexpected.
I also love drag shows and music videos because of their exaggerated fashion. I am inspired by movies, video games, interior design and pop culture. I also love toys and I keep a close eye on what is on the market today as well as toys from the past.
You mention they all relate to pre-COVID times; have you had to shift gears to get inspiration in lockdown?
Lockdown has definitely been a downer, but I have tried to absorb more from less and look closer at the environment around me. I find that sometimes pushing myself to make art, even when things are less dynamic, can spark creativity.
I couldn't agree more; thanks a lot Alexis and congrats again to you, Dave and the wider team on Present Pets!
—-
To stay in the loop with the latest news, interviews and features from the world of toy and game design, sign up to our weekly newsletter here