Anika Tharayil – winner of Fat Brain Toys' Kidventor Challenge – on the inspiration behind her Octo-buddy toy

Last year saw Fat Brain Toys crown seven-year-old Anika Tharayil as the winner of 2021's Kidventor Challenge.
The Kidventor Challenge invites children aged six to thirteen to submit toy or game ideas for the chance to have their concept manufactured and sold around the world.
Anika won this year's Challenge with her invention, Octo-buddy, a toy octopus that attaches to a highchair or stroller and holds bottles and toys with its eight tentacles.
We caught up with Anika to find out more about Octo-buddy – and whether this is the first of many toy ideas she wants to pitch.
Hi Anika! Big congrats on winning last year's Kidventor Challenge. Have you been interested in creating toys for a while or was this all quite new?
It was all new for me. I enjoy making up games to play with my brother now!
A future design duo to watch out for! Now you won the Challenge with Octo-buddy. Just in case anyone hasn't seen your drawing of it yet, how would you describe the toy?
It is like an octopus that can stick onto the highchair with a suction at the bottom, like my baby brother's plate, so it won't come off. The tentacles have clips on the end so it can hold all sorts of things, so he can't throw toys down.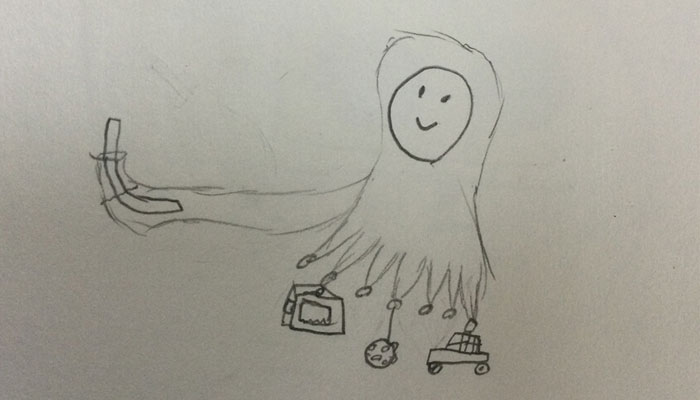 So it holds bottles and toys with its eight tentacles, and parents don't have to keep picking things up off the ground – smart, smart stuff! Did you have lots of ideas for toys that you had to pick from, or was Octo-buddy always going to the one you submitted for the competition?
I like thinking of new toys and games, but the Octo-buddy idea came to my mind when I had to keep picking up things my brother threw down. Especially his drink bottle! He is very cheeky and keeps doing it over and over.
Ha! So Octo-buddy came from you trying to clean up after him?
Yes! First, I tied his drink bottle down with string, but then he threw other things down. Then I thought 'What would be able to pick up lots of things at the same time?' That's how I thought of an octopus.
It's a great idea – and we don't have to take my word for it because it won the Kidventor Challenge. That means Fat Brain is going to make it a real product.  How did you react when you found out you'd won?
I was very excited! I told my friends and teachers at my school too. I can't wait to see what it looks like in real.
Yes, we'll keep an eye out and run something on it when it launches. Now, we might have toy companies reading this thinking 'Octo-buddy sounds great! I hope we can work with Anika on a toy one day!'. Do you think you'll continue to create toys now you're a proper toy inventor?
I think so! It sounds like it will be lots of fun to get to play with them too! I think my brother would be very happy too!
Well there we go; I'm sure toy firms will keep an eye on what you're creating moving forward. A massive thanks Anika for taking time to chat with me, and a huge congrats again on the Challenge win. We look forward to seeing Octo-buddy become a real toy!
—
To stay in the loop with the latest news, interviews and features from the world of toy and game design, sign up to our weekly newsletter here