Anki accelerates into licensing with Fast & Furious deal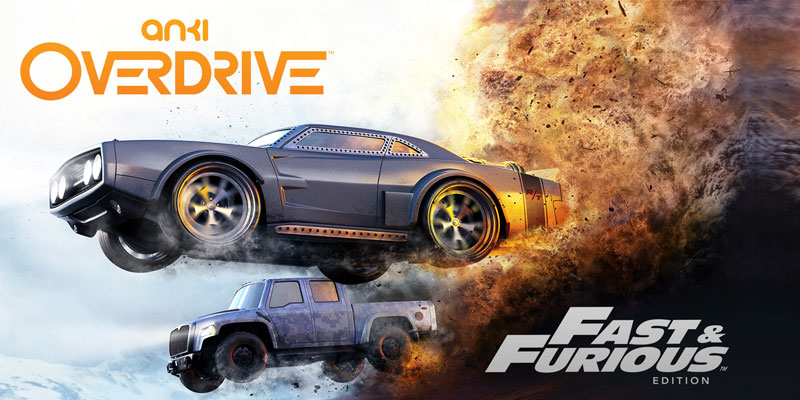 Anki has teamed up with Universal to launch a Fast & Furious edition of its Anki Overdrive robotic battle-racing game.
Anki Overdrive: Fast & Furious Edition will launch this September and marks the first licensing deal for the AI robotics specialist.
"We've been searching for the right brand partnership to elevate our robotic battle-racing experience to the next level of entertainment, and what better fit than one of the most widely recognised action franchises in the world," said Boris Sofman, CEO & co-founder, Anki.
"Anki Overdrive: Fast & Furious Edition delivers the ultimate adrenaline rush to millions of Fast & Furious fans, merging the films' cars and characters with videogame elements, physical play, and robotics."
Anki Overdrive: Fast & Furious Edition features two robotic Supercars based on the film franchise: Dom's Ice Charger and Hobbs' MXT. Within the game, players will battle alongside and against characters from the films including Dom, Hobbs, Letty, and Tej.
"ANKI IS AT THE FOREFRONT OF ROBOTICS AND ARTIFICIAL INTELLIGENCE, AND OUR COLLABORATION FOR FAST & FURIOUS WILL BRING AN ALL-NEW LEVEL OF INTERACTIVITY TO THE FRANCHISE."
MANUEL TORRES PORT, UNIVERSAL BRAND DEVELOPMENT
"Anki is at the forefront of robotics and artificial intelligence, and our collaboration for Fast & Furious will bring an all-new level of interactivity to the franchise," said Manuel Torres Port, executive vice president, worldwide consumer products, Universal Brand Development.
"Anki Overdrive's revolutionary technology delivers a battle-race experience like no other, and we're incredibly excited to introduce Fast & Furious fans to gameplay that delivers what they love and connect with most from the films – the characters, cars, and action."