Art of Asmodee: Zygomatic's Maxime Jegat on the origins and iconography of the studio's smash-hit Dobble franchise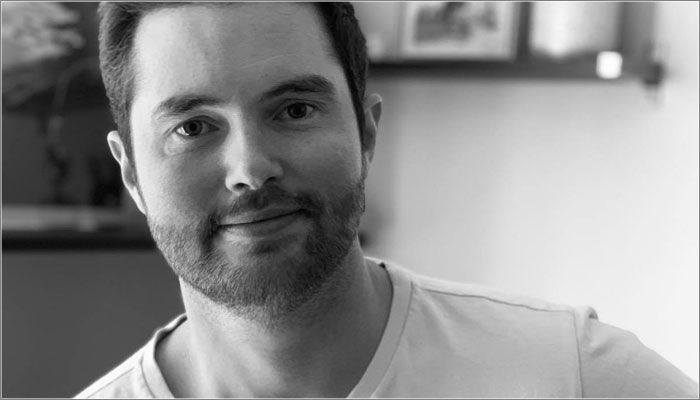 Our Art of Asmodee series looks at how the various studios within Asmodee tackle art direction for their games.
Today, we're catching up with Zygomatic, the studio within Asmodee responsible for the smash-hit Dobble series, as well as a raft of popular family games including Jungle Speed, the Timeline franchise and Picture Show.
We spoke with Zygomatic brand manager Maxime Jegat about the studio's approach to working with artists, and what role great artwork plays in the success of its games.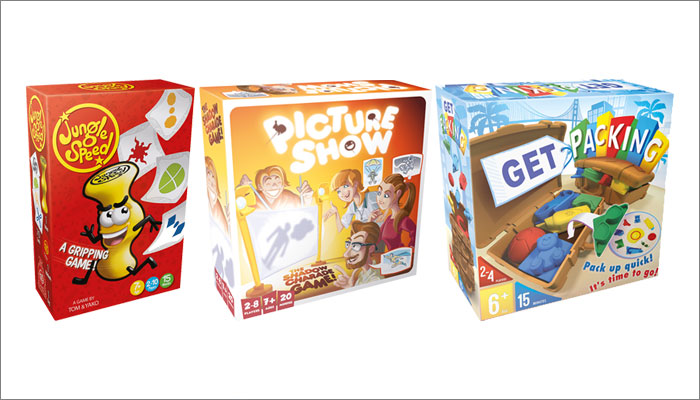 First off, what is Zygomatic in relation to the wider Asmodee family?
Zygomatic is responsible for all the key family and mass-market games of the Asmodee Group since 2016. The idea was to have these games together and act as a studio with dedicated people experienced in FMCG.
Our mission is to enable people to play again and again and share unique moments with their loved ones! To do this, we create innovative and straightforward board games for adults and kids.
Our core values are sharing, the joy of playing and fun learning. We break this down as:
– Sharing: Playing to be together and to experience memorable moments.
– The joy of playing: Playing to have fun, laugh and lose track of time.
– Fun learning: Playing to grow, to develop creativity and logic and to educate.
How important would you say the art is to the success of a Zygomatic game?
In the board games we develop, art is central. On the one hand, it's because they are the first elements of a game that the player will see and be able to identify and project themselves into. It also gives an indication of the typology, the target group that the game is aimed at and the range it may be part of.
On the other hand, it's because art defines a creative orientation; it can showcase what the game really contains. If we look at our game, The Werewolves of Millers Hollow, we know from the first glance that the player will be entering into an atmosphere; a very specific context, almost esoteric.
That's also why the graphics are key to the success of a game. Since it is, in itself, a singular definition of the experience we offer; art is part of the game's DNA.

What guides your approach to working with artists? Do you often have someone in mind for projects, or is it the case that artists can pitch for the work?
We work regularly with illustrators who have already proven themselves on our brands or previous games. They know the details and have a mastery of the graphical aspects at the tip of their fingers. This allows us to be more efficient during the development phases of a new version of a game.
However, we make a habit of never closing the door to a talented artist with ideas that could help our games to develop.
And in those instances, where do you go to find great new artists for your games?
We work a lot on the basis of recommendations; it's a pretty small industry when you think about it.
We often utilise new talents on small projects to test different points, such as their ability to immerse themselves in a game and take it to their own universe, as well as judging qualities like their reactivity and flexibility.
Sometimes we also contact artists whose work we really appreciate, like for our collaboration with Skwak or Eduardo Bertone on our game Jungle Speed.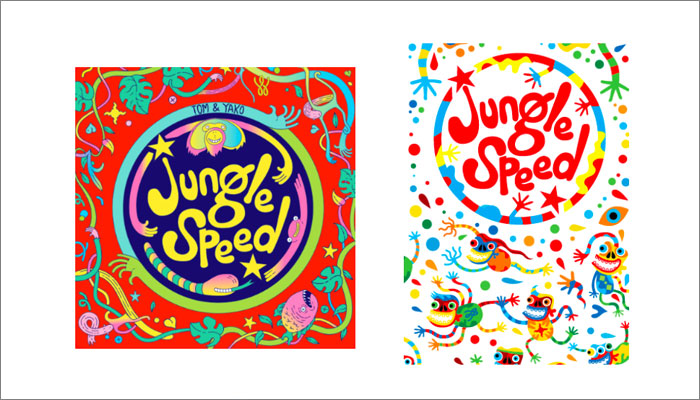 Is there any attempt to create a 'Zygomatic' style that spans all your games? Or it the art direction done on a purely a game-by-game basis?
No, Zygomatic is not meant to be a label. We prefer to put all the importance on design, with art at the service of the game so that it becomes a real brand that we can then develop further.
When you take a closer look at our games, there is no common graphic line. Each game has its own universe which can be developed into several versions. On Dobble for example, we have developed a young children's range, an outdoor range and even an electronic range! All of this while preserving the game's DNA.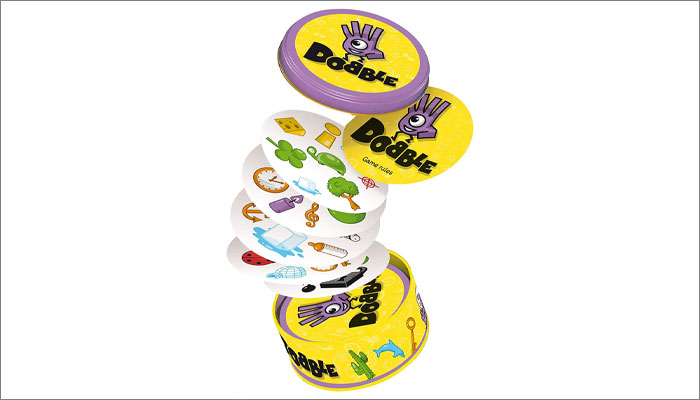 Yes, and speaking of Dobble, let's delve deeper into that! What are the origins of that best-selling game?
Dobble is based on a simple principle: there is only one identical symbol between each card. In 1976, the ancestor of Dobble was born in the mind of Mr. Jacques Cottereau from a mathematical problem. It states that two lines always have one point and one line in common.
After an initial draft published in scientific journals, Jacques Cottereau created a game based on a projected plan with a base of five, in which the lines were replaced with cards, the points with images of insects, and he called it "game of insects," the goal being to find the image of the insect in common between two cards. Thus, the ancestor of Dobble was born!
That's fascinating! And we have the shot of that game here – amazing!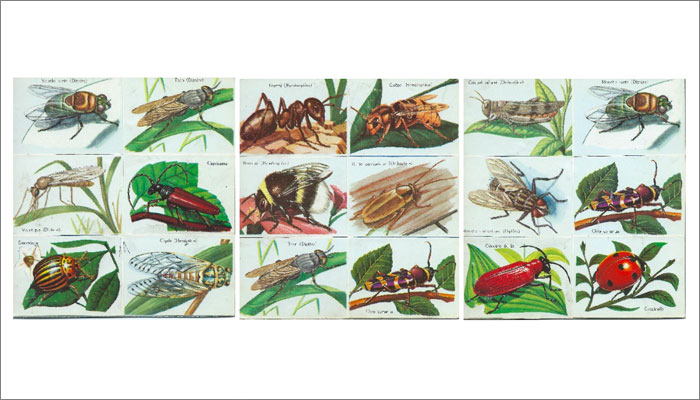 Yes! Then, in 2008, Denis Blanchot discovered a few cards from that game created decades earlier by Jacques Cottereau. Struck by the genius of the game, he joined forces with him to evolve it into what exists today.
After numerous prototypes and rules tests, particularly with children, the game Dobble launched in 2010!
There we go! And the one-eyed purple hand that's now synonymous with the game – where did that come from?
Dobbly – the name of the one-eye purple hand – was created by the PlayFactory team and they also worked on the incoming redesign too which will be launched in September.
Great, we'll keep an eye out for that – and we have an exclusive look at the new Dobbly below!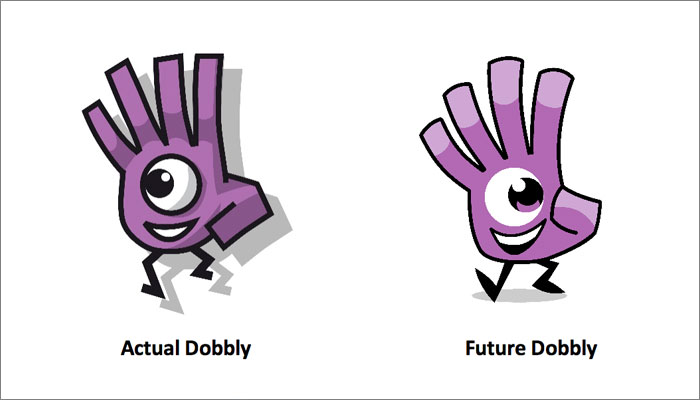 Now, ghosts, hearts, dragons, an orange man! How did you decide upon which icons to use in the game?
Symbols are the heart of Dobble. The goal was to have symbols that are recognisable and name-able by the whole world, common to all cultures, and cross-generational so that no matter what your age, language, or country, you can come together to play the game. Colours also have their role to play: they allow ergonomic visual recognition to keep the game moving at a fast pace.
It's also thanks to these fundamental elements that Dobble is now being used for its educational benefits in schools around the world. It calls upon reflexes, perception of colours and shapes. Dobble also requires some executive functions such as the ability to quickly change ideas, plans and strategies. All this while having a good time.
 
Finally, for any artists or illustrators reading this and thinking 'I'd love to work with these guys!', what would you say is key to collaborating with you?
You have to know that each game is unique and understand what makes them unique; this is an essential part of being able to take them to a different graphic universe. Beyond the quality of the illustrator, this is what counts in our eyes when an artist presents us with a project. Otherwise, it would be like handing over the keys to a car to someone who doesn't have a license. We'd drive right into a wall!
—-
To stay in the loop with the latest news, interviews and features from the world of toy and game design, sign up to our weekly newsletter here