Asmodee Entertainment's Alexander Thieme and Ness Jack on why a cookbook made perfect sense for CATAN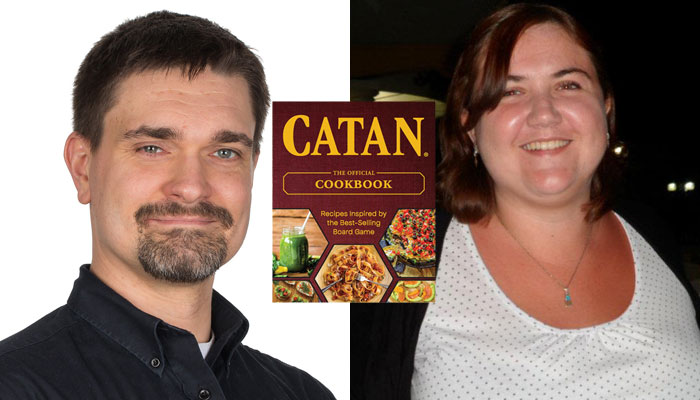 Guys, it's always great to chat. How's this past year been for Asmodee Entertainment?
Alexander Thieme: It's been great – we've had lots of exciting launches. There's been merchandise from Fanattik and the CATAN cookbook is out now. The cookbook got a lot of attention from press in the US, which is always a good sign! We're always looking forward in this job but it's nice to take stock and look at how these cool deals have come to fruition.
Ness Jack: It's been a real evolution for the team since Asmodee Entertainment launched four years ago. I was there at the beginning when we were focused mainly on Aconyte books… Now we have a raft of products out there across lots of different categories – jigsaws, puzzle books, statues, collectables. It's a pleasure to see all these ranges out there.
I can't remember which of you said this – and I assume it's a positive term! – but you've described yourselves as a 'two-headed monster'. How do you work together?
AT: Well, Ness onboarded me – she was one of the earliest members of the team. We had three weeks in the office together before the pandemic and then lockdown hit. We got on really well in those weeks, so we decided to create a virtual office during the pandemic. Every morning we'd have a virtual meeting… Sometimes we wanted to feel like we were back in the office, so we'd be in that meeting just working and not even talking to each other!
NJ: I learnt a lot of licensing terminology just by listening to Alexander witter away to himself in those meetings.
AT: Ha! It's true! I'd also bounce ideas off of Ness and involve her in my deals. Ness always had a huge strength in organisation but that's when she got a taste for licensing I think! I knew she had a talent for it too! I was ill for a bit last year and Ness jumped in perfectly. She loved it and so we made her officially a fully-fledged licensing manager.
NJ: I love this industry. Everyone is always so excited about what they're working on – even the problems are exciting! And as Alexander says, I'm more of an organised person and he's more of a creative thinker, so we work well together. We have great fun every day.
AT: Absolutely. Our strengths and weakness complement each other wonderfully. Ness can finish my sentences!
Let's dive into Asmodee Entertainment's exciting licensing slate. You have a Werewolves of Miller's Hollow film in the works at Netflix. Why did this board game suit a movie?
NJ: We've got to give our colleague Etienne Bonnin and the team credit for this; it's really exciting. Werewolves of Miller's Hollow is a phenomenon in France in particular; the game has an incredible following there. Videos of the game being played gets millions and millions of views. The IP itself has everything you'd want in a mystery movie. It's ripe for storytelling.
AT: It's going to be along the lines of a Jumanji – action, tension, mystery, adventure and a lot of fun. It's what you experience in the game.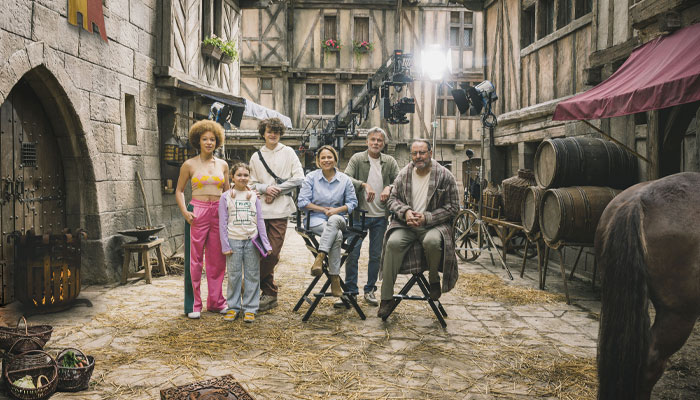 Does this move also put a spotlight on how your wider portfolio could suit both the big and small screen?
AT: The media team is working on all sorts of exciting projects. Live action, animation, movies, TV, gameshows, unscripted TV… They're talking to lots of people all the time! There's lots of opportunities and hopefully Werewolves is the first of many.
I want to loop back to Ulysses' CATAN cookbook! It's an eye-catching launch – why did a cookbook make sense for this beloved tabletop game?
AT: In German, there's a phrase: 'Passt wie Faust auf Auge'. It means 'Fits like fist on eye' – meaning something's a perfect fit!
That's a relief!
AT: Ha! Well, I think it's a good fit for a couple of reasons. First of all, CATAN is a very social game. You get together, have some food and drinks and play the game. Online, there's quite a lot of fan-created CATAN food. Someone baked an edible CATAN board! From that side, it worked. And the game itself is focused on the island of Catan and its natural resources. We wanted to explore what people who live on the island would eat. There might be a lamb stew, or a pie… So it's about food for your CATAN game night and food that might be cooked on Catan – there are some great recipes in there.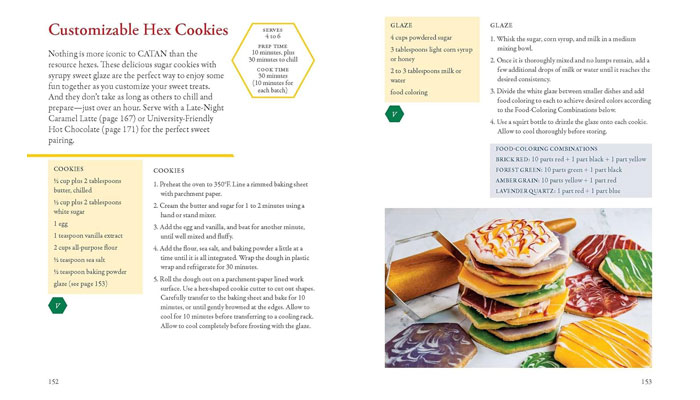 I'm sold! Now, since we last spoke, your range with Fanattik has launched – and it looks great. There are some real deep cuts – like an Arkham Horror police badge and a Hacan Medallion from Twilight Imperium – and even the bottle openers are beautiful! Is it exciting working on a range like this that caters for real fan service with serious quality?
AT: Fanattik has launched different products that hopefully appeal to different people. The bottle openers are great gamer swag. The collectables tap into core fandom by recreating in-world items. The product that stunned me the most was the Ticket to Ride trophy items – they are beautiful. You can use them to reward players who achieve certain aims at the end of a game, but I'd have one out on display!
NJ: Don't tell the boss, I've never played Twilight Imperium – but I want the ingots that Fanattik have done. They are incredible. For fans, having something from these worlds that they can touch and feel brings a whole new level of immersion to their gaming experiences.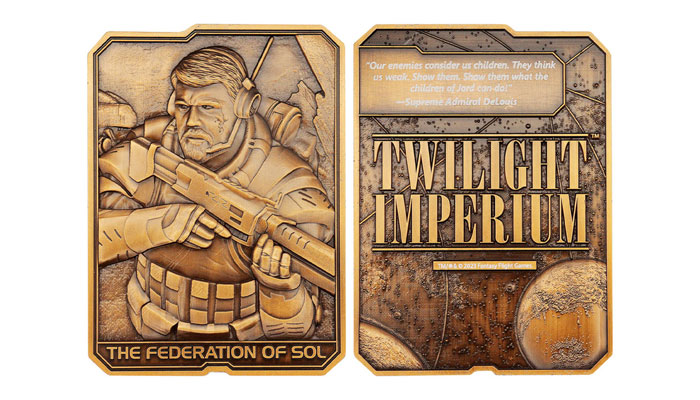 Earlier this year you announced a partnership with your sister company at Embracer Group, Dark Horse Comics. What can we expect from this collaboration?
NJ: At Gen Con we showcased a statue that Dark Horse created of Togashi Yokuni, a key protagonist from Legend of the Five Rings. It looks fantastic and gained lots of attention at the show. We've worked with Dark Horse before on art books and now on collectables and they're a brilliant partner. There's also a Legend of the Five Rings comic in the works – that's exciting. It's fun to see our transmedia approach in action with our colleagues across Embracer.
AT: There's huge potential in what we can do with partners across the Embracer family. There's lots of projects still to be announced and it's a fantastic place to be.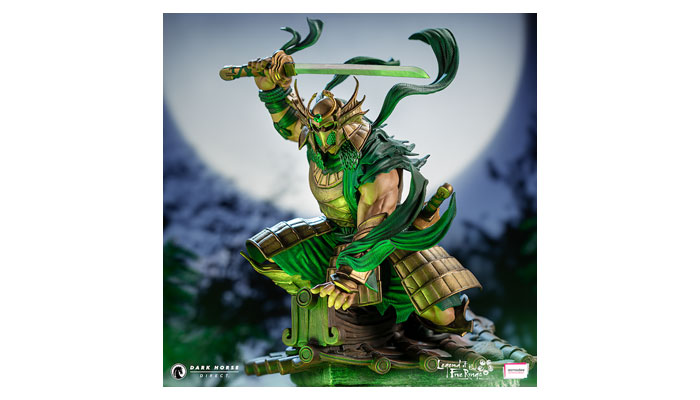 Before I let you go, BLE is weeks away and you guys are walking the show. What categories are you interested in? Who would you like to bump into?
NJ: We're interested in location-based entertainment. It's interesting to see what other companies are doing in that space. We've dabbled in this space with the Arkham Horror escape room in Seattle that we launched with Hourglass. That's done incredibly well, and we actually extended the license at the beginning of the year.
AT: It's an exciting way to get fans, and those new to our brands, into these universes – and it's a growing market too. Elsewhere, we're looking for back-to-school and plush partners for brands like Dobble and Arkham Horror. Bringing board game brands into back-to-school is quite novel and we see huge potential in that area.
Guys, huge thanks again! See you at BLE!