Asmodee, Mojo Nation and UK Games Expo to usher in next wave of tabletop art talent with new university initiative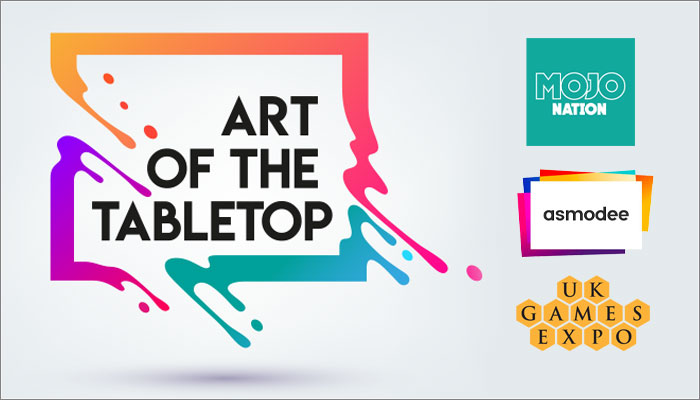 Asmodee has teamed up with Mojo Nation and UK Games Expo to launch an initiative aimed at encouraging more illustration and graphic design students to consider careers in board games.
Launching in February, the Art of the Tabletop initiative will see students from several different universities across the UK tasked with creating new artwork for some of Asmodee's best-loved games, including Codenames, Mysterium, Concept and Splendor.
Asmodee will be speaking at the participating universities on the role that great artwork plays in the success of a board game and the opportunities present for budding artists in this space.
Students will then be briefed to create a reimagined look for all facets of a particular game, including fresh art for the cards, boards and packaging. They will have two months to design their interpretations, before a team from Asmodee and Mojo Nation return to the universities to check out the results.
An exhibition of the best new game artwork from the initiative will then go on display at UK Games Expo 2020 as part of a wider focus by the show on emerging design talent.
"We're looking forward to ushering in a new wave of brilliant artistic talent into the tabletop space and are over the moon to be able to showcase the students' efforts at one of the world's biggest board game events in UK Games Expo," said Mojo Nation's Billy Langsworthy.
"It'll be an incredible opportunity to immerse the students in this industry and celebrate their creations."
Ben Hogg, Marketing Manager for Asmodee UK, added: "The rise in popularity of tabletop games has been widely reported for a number of years with students and the younger generation a key contributor to this growth. We want to showcase to budding art students the depth and variety of the visual design that goes into the huge number of games released every year."
"Whilst many students may enjoy playing games, they may be unaware of the sheer size of the tabletop world and the amount of artwork that is created for it. We can't wait to see how the students will reimagine our games!"
Tony Hyams and Richard Denning, directors of UK Games Expo, are delighted to be able to host the exhibition, adding: "We were in discussion with Mojo Nation about this project before Expo 2019 and it's terrific to see such a worthwhile challenge in motion.
"We aim to support budding games designers and publishers through our Publisher Designer Track and this is a natural extension to include design and artwork as vital parts of the game making process. UKGE attendees are always keen to see new things so the display will get the attention it deserves at the show in May 2020. "
—–
To stay in the loop with the latest news, interviews and features from the world of toy and game design, sign up to our weekly newsletter here