Award-winning game designer Andrew Harman on simplicity, playtesting and success at The Gruffalo Design Challenge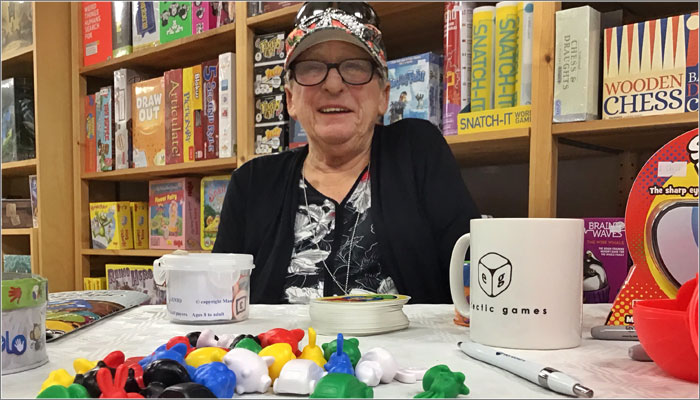 Creating plots that range from building Sandcastles to stitching together Frankenstein's Bodies, Luton-based designer Andrew Harman is the founder of Yay Games.
With an award-winning dice game to his name, and a new collection hitting shelves soon, we spoke to Andrew about The Gruffalo, the hardest part of his process… And ABBA. Yes – ABBA.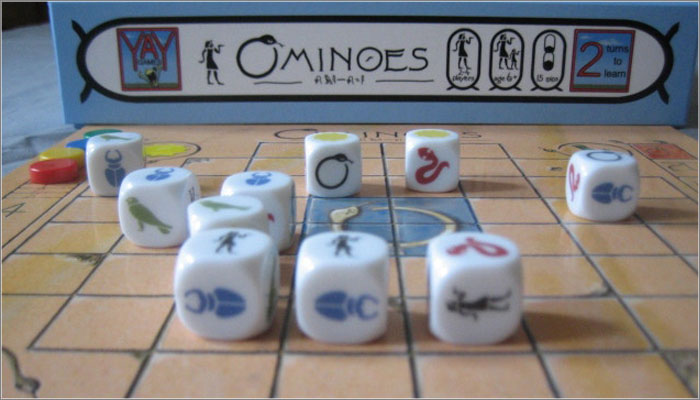 Andrew! Thanks for chatting with us; we know you're busy. You're the founder of Yay Games; your motto is, 'Play Hard. Play Naughty. Live Better.' What does that mean?
I design games that give players chances to mess with their opponents. That interaction is a big part of the Yay Games experience. It's what I think is the 'third wheel' of game design.  Along with 'theme' and 'mechanics', it's the often overlooked 'experience'. I want people to see a card or a tile or a move and know that they have to take it… Our motto is a reminder to get in there, play and enjoy. But remember, what happens in the game stays in the game.
The last time we spoke, your dice game – Ominoes – had just been named Best Abstract Game at 2017's UK Games Expo. How did that affect your standing as an inventor?
Winning an award that's second only to the Spiel des Jahres is an incredible honour. To be voted the best in category with so many games released every year is very inspiring.
Added to that – and something very exciting for me at the moment – is how people are reacting to our new set of games inspired by The Gruffalo. That's really unlocking opportunities.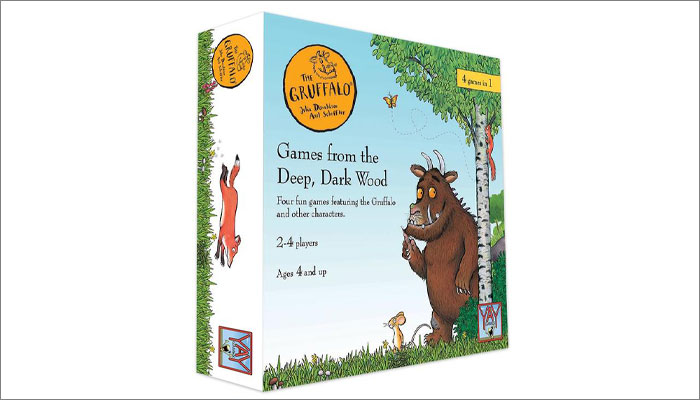 Yes; you recently took a stroll through a deep, dark wood, with an idea for a Gruffalo game… What can you tell us about that?
We're delighted to be bringing out a bundle of four unique games inspired by The Gruffalo. It's been quite a journey. It started with a pitching day with Magic Light set up by Mojo Nation. Brett Gilbert, a UK games designer I know well, was there too…
That was the immersive day; the inventors went on The Gruffalo ride at Chessington… Then we set a brief with Magic Light. What happened next?
Brett and I both went away buzzing, diving into our research, digging into the story to find the essential elements. Later, we met the Magic Light team again and pitched our ideas, but separately. I was delighted when both games were chosen.
Magic Light wanted a bundle of three games – and for Yay Games to be the publisher. We brought in another designer, Tony Boydell, and developed the four games we now have.
They asked you to publish all four?
That's right. So getting to market was quite a challenge… Entering the gift market was a big shift for us. And with such a cherished licence we knew we had to get it right. As a small publisher, finding the right high-street buyers was hard. Fortunately Cartamundi U.K. – with whom we've worked since our first game – stepped in. They've proven vital in supporting the whole project.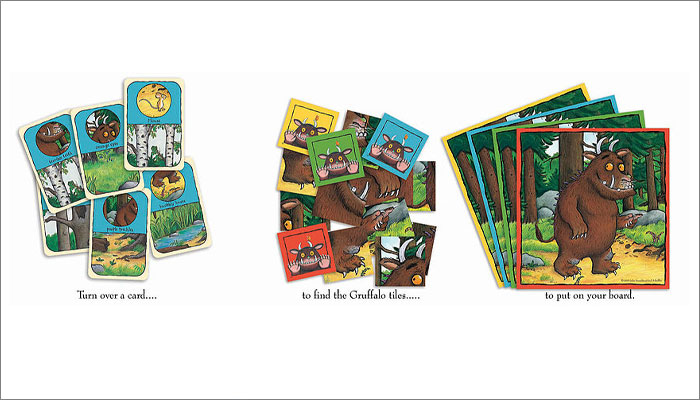 What's sets the content apart from other game sets?
Right from the start, we wanted to push the boundaries of what family friendly and pre-school games should offer, especially with such a well-loved set of characters. I'm really excited about what we've created. Parents and children are loving it.
There's a memory game, a dexterity game, a pattern-recognition game, and a set-collecting game. A lot of the components are reused in different ways. So Games from the Deep, Dark Wood is a real team effort.
It wouldn't have happened without the networking opportunities created by Mojo Nation, the trust and patience from Magic Light, the inspirational creative input from Brett and Tony and the vital support from Cartamundi.
And when is this coming out? Is it in stores?
Initially it'll be in Waterstones, John Lewis, Hamleys and amazon; from November 22nd.
Fantastic! What's the one thing you find hardest about your design process?
Keeping it simple. It's so easy to get carried away, adding elements to make games harder or more complex… Most of the time I have a flurry of wild creativity, then spend ages taking things out that really shouldn't be there. It's hard to let a game 'breathe' and create a place where it's all about the fun rather than complex rules.
As we recall, you were developing a game called Not My Monkeys. What became of it?
Well – Not My Monkeys is a perfect example of that problem… So far there have been seven different games with that name – and none of them have hit the mark. They were too complex; there wasn't enough game or they just lacked 'something'. Until recently, it was still way-too complex for a game about monkeys collecting fruit. It was lasting 90 minutes!
But that changed recently?
Yes; I dived in and pulled out a whole bunch of things that were slowing it down. As soon as I did that, it came alive. Things locked into place and I haven't added anything else! The other bits also managed to fit together really nicely, and that's really exciting. That grew into another game, set in the stone age and called Neolithia.
Happily, Not My Monkeys is now a really-nice engine-building game with a few things to balance out. Eighth time is the charm!
It's interesting to hear that you keep refining it. What are your thoughts on playtesting?
Playtesting is vital as early as possible. You can design a game, work on it and expect it to be played in a certain way… Then you add real people and it comes to life. Players do things you really didn't expect. When they do and start having creative fun, you know your game is alive. After every test, you must look for feedback. It's vital. People will be happy to tell you what's right and wrong. After all, everyone wants the games they're playing to be the best they can be.
Now you're more settled in the community, what advice would you give new inventors?
Play games. Play everything you can… The more you widen your knowledge of styles and mechanics, the easier you'll come to see how to improve your developing game. There's also the flip side… If you play a game and really don't enjoy it, ask yourself why: "What could I change to make that game fun for me?" It's amazing how many ideas I've had off the back of that question.
No doubt! Some questions just have a way of rattling the brain… In fact – what's the most interesting question we could ask you about creativity? How would you answer it?
The question would be: What is The ABBA effect? What makes ABBA probably the most influential pop group in the world?
Oh wow; didn't see that coming! Go on…
Well, just listen to them. Simple pop songs with great tunes. Yes, like so many other bands… But listen to the craft. Listen to the arrangements. There's not a wasted bar of music; there are unexpected twists, the whole musical heart just completely works together. ABBA didn't just write pop songs – they wrote anthems. That took a whole boat load of creativity…
The ABBA effect – don't settle for pop tunes, create anthems. Make your games sing!
Finally, what's the most interesting thing in your office right now?
I'd like to say me, but that's just pompous. Actually, it's a little knitted monkey given to me at a convention last year. When the person who made it heard I was making a game called Not My Monkeys, she walked straight up to me, handed it over and said, "Now – this is your monkey. Finish the game." Er… No pressure there then!
————————————–
To stay in the loop with the latest news, interviews and features from the world of toy and game design, sign up to our weekly newsletter here