Azul, Luxor and The Mind up for Spiel des Jahres 2018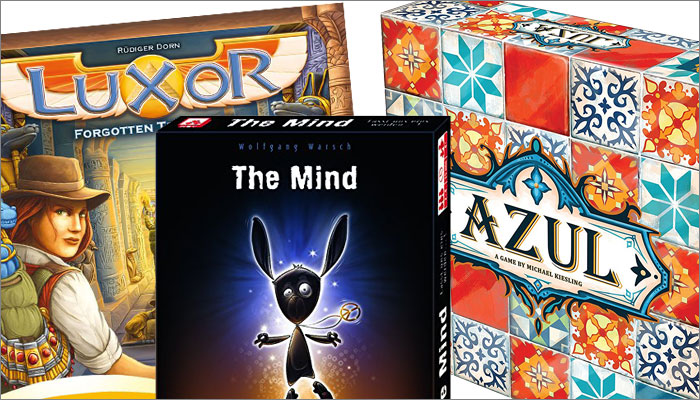 The games in the running for this year's Spiel des Jahres awards have been revealed.
Spiel des Jahres is known as the industry's most prestigious award for board and card games and is awarded annually by a jury of Germany game critics. Recent Spiel des Jahres winners include Codenames, Camel Up and Kingdomino.
The full list of nominees across all three categories can be found below:
Spiel de Jahres 2018
Azul (Michael Kiesling): An abstract tile-laying game that sees players competing as artisans decorating the walls of the Royal Palace of Evora.
Luxor (Rudiger Dorn): A tactical collection and running game where players move their adventurers through a temple with the goal of reaching the tomb in the middle of the game board.
The Mind (Wolfgang Warsch): A co-operative card game where players must collectively put down all of their cards face up in increasing order without talking to each other or sharing any information.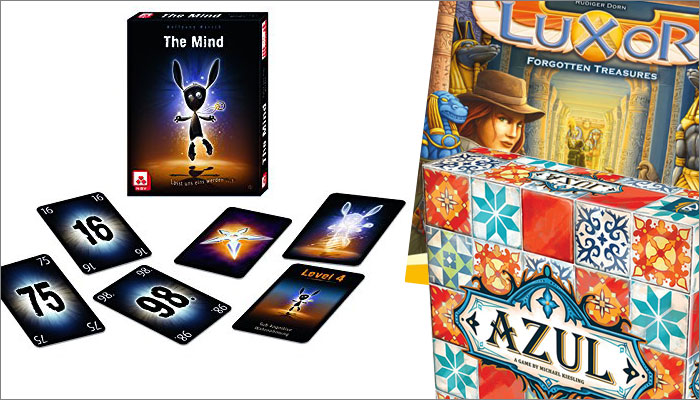 Kinderspiel des Jahres (Children's game of the Year)
Emojito (Urtis Šulinskas): A party game that sees players imitate the emotion on their card, with the other players trying to guess the emotion.
Funkelschatz (Lena and Günter Burkhardt): A collecting game where players must remove one ice ring after another and grab the correct sparkling stones.
Panic Mansion (Asger Sams Granerud and Daniel Skjold Pedersen): A fast paced skill game that sees players shake a mansion in a bid to try get their adventurer and three treasure chests into a certain room as quickly as possible, all without certain objects – such as ghosts, spiders and rolling wooden eyes – also sliding into the room.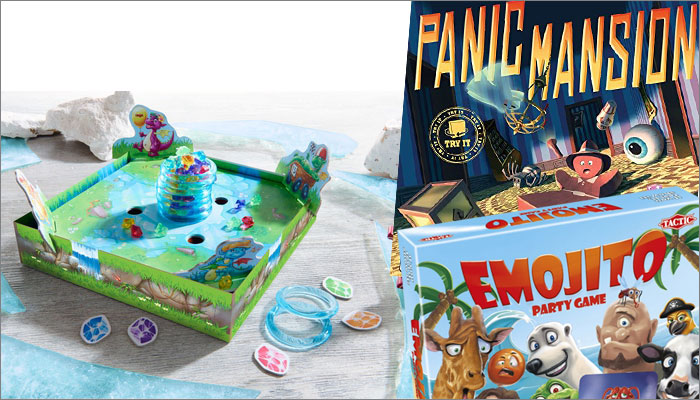 Kennerspiel des Jahres (recognising excellence for more complex games)
Die Quacksalber von Quedlinburg (Wolfgang Warsch): This risk-taking game sees each of the players make their own secret brew, drawing ingredients from a shared supply bag. But taking too much of one ingredient can ruin a batch.
Pretty Clever (Wolfgang Warsch): A tactical dice rolling game, with a plethora of ways to get points.
Heaven & Ale (Michael Kiesling and Andreas Schmidt): Players are assigned to lead an ancient monastery and its brewery. In order to get the best results, you have to provide your cloister's garden with fertile resources and the right number of monks helping with the harvest.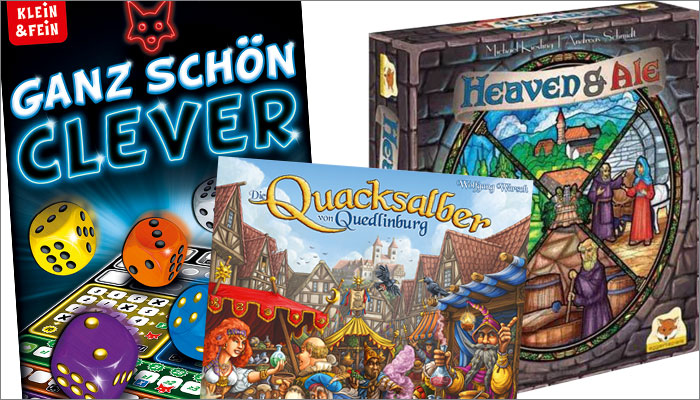 Outside of the three main categories, a Special Prize has also been awarded to Matt Leacock and Rob Daviau's Pandemic Legacy: Season 2.