Bananagrams, Storyball and Fundamentally Children to discuss routes to market at US Toy Fair's Creative Factor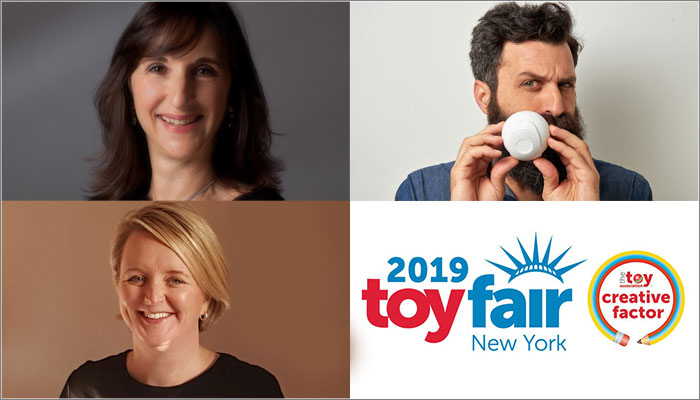 Mojo Nation's Billy Langsworthy is to chair The Road Not Taken panel session at this year's Creative Factor at US Toy Fair, featuring design execs from Bananagrams, Storyball and Fundamentally Children.
The panel will take place at US Toy Fair on Sunday, February 17th from 11:00 to 12:00 at Creative Factor (Level 1, Hall 1D, Lobby).
The session aims to shed light on the various paths companies and designers can take to getting their product to market; be it doing it themselves or finding an unusual marketplace tactic.
Joining Langsworthy on the panel will be:
· Rena Nathanson, CEO, Bananagrams
· Meir Biton, Chief Product Officer, Storyball
· Amanda Gummer, Founder, Fundamentally Children
Rena Nathanson is CEO at Bananagrams. Since Nathanson brought Bananagrams to market in 2006, she has seen it go from strength to strength. The game has sold more than 7 million games across over 30 different countries, and the company now has a portfolio of titles including My First Bananagrams, Cobra Paw and Bananagrams Party Edition.
Meir Biton is Chief Product Officer at Storyball, a screen-free smart toy that keeps kids active. Storyball launched last year on Kickstarter, and went on to raise $136k from an initial goal of $30k. Storyball is a revolutionary and award-winning smart toy for children that uses screen-free technology. Once a child takes a Storyball in their hand, they enter a world of active, imaginative play where they can complete cool challenges, take fun quizzes, and go on adventures featuring their favourite characters.
Dr. Amanda Gummer is the founder of Fundamentally Children; a company dedicated to helping children develop skills through play. Providing independent expert advice on a range of topics including play, toys, apps, children's tech, e-safety, child development, special needs and other parenting issues, the company has proved to be a vital resource for designers looking to ensure their toys and games are of real value to a child's play diet and giving valuable advice on the route they should taken to market.
The Road Not Taken session is free-to-attend for all those registered to attend US Toy Fair. You can register for the show here.