Barry & Jason Games' Barry McLaughlin and Jason Lautenschleger on creativity, Bill & Ted and 'Brain Blasts'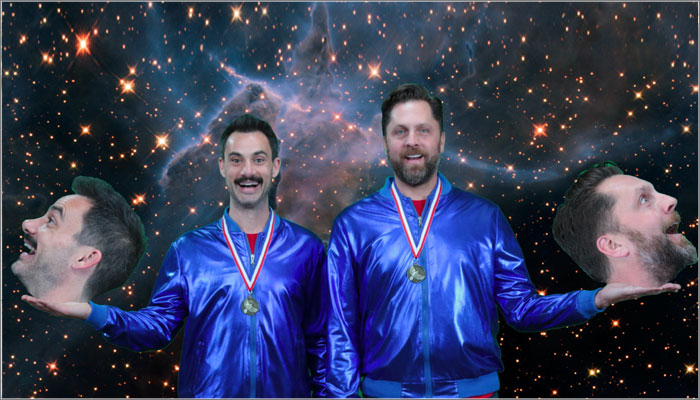 Barry McLaughlin and Jason Lautenschleger are the best-friend design duo behind Barry & Jason Games and Entertainment.
Having been contestants on 10 game shows between them, Barry & Jason's first launch was Game Night in a Can, boasting 30 different skill games and challenges to help families host their own game night, while more recently, their Dr. Biscuits Radical Road Trip (60 games to play in the car) was nominated for a TOTY award.
The two have since began working on licensed games, first bringing Crazy Aaron's Putty to the tabletop with the Ultimate Putty Challenge game, while games based on Anchorman and Bill & Ted are on the way.
We caught up with Barry and Jason to learn more about their collaborative design process, and how their approach to game ideation changes when working with a IP like Anchorman.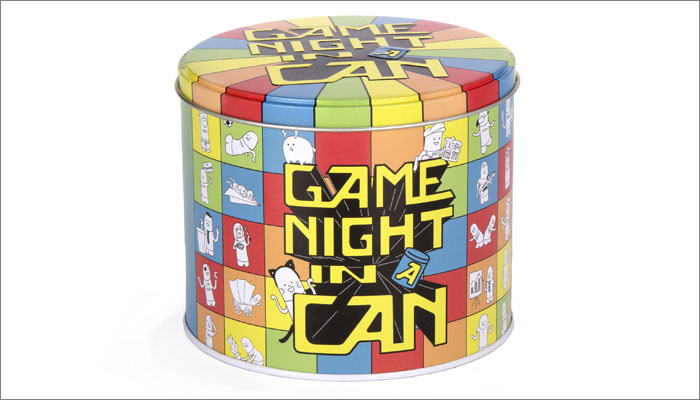 Hi guys! So, you met in college and have been collaborating ever since – why do you think you've clicked in the way you have?
Jason Lautenschleger: Pretty early on, we discovered the healthy combination of competitive one-upmanship and the understanding that the best idea wins. In everything we've collaborated on, the project or performance has always been more important than individual egos. Always being on the same team with the same goals in our sights has kept us moving past obstacles that others get hung up on.
Barry McLaughlin: Yeah, the "Best Idea Wins" concept is a huge part of our longevity. We also both enjoy things that lead to growth, and we're able to easily go back and forth between business and fun. And we trust each other, which is huge.
As a two-headed monster (in the nicest way possible), how do you split design 'duties'? Or is your creative process far more fluid than that?
JL: We always brainstorm design ideas together, whenever possible. Oftentimes that results in one of us independently having an epiphany that he can't wait to share with the other. Even when we ideate separately, or go through a period of individual workshopping, we bring each idea to the table until the best one presents itself.
We talk through what the right execution of any idea is and then, once we're off and running, Barry is really the design master. He takes the lead on project management and takes the first stab at implementing ideas. We find the right artist for the job and work with the factory to see what's feasible.
BM: Ooohhh, the 'Design Master', I like it. I've already had it embroidered onto my new cape!
You've been on quite a few game shows between you – did these experiences inform your approach to creating your own party games?
JL: I'm letting Barry field this one since he represents 80 percent of our game show appearances.
BM: Well, you're no game show slouch, Jason! That's right folks, he was on Jeopardy, the holy grail of game shows. But yes, I have been a contestant eight times to Jason's two. But who's counting? (And if you're curious, my biggest win was getting the Showcase Showdown on The Price is Right. A new car! A grandfather clock! Furniture! Wall-to-wall carpeting!)
I do think we've used these experiences in that we aim for all of our games to be entertaining, for those playing and watching. And now that we're also developing our own game shows, those experiences are invaluable.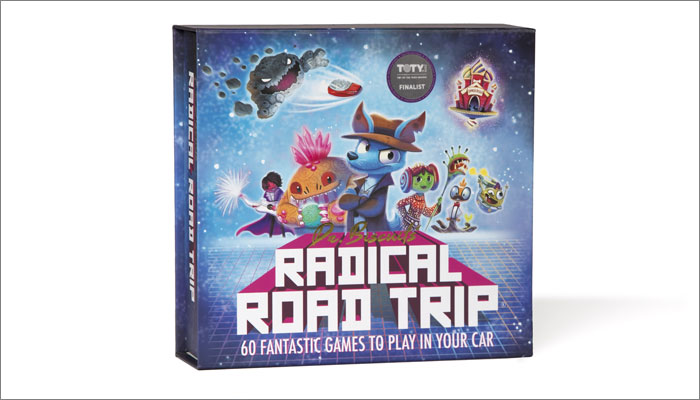 The beautifully named Dr Biscuits' Radical Road Trip seems like it's been sent straight from the heavens to parents looking to liven up long car journeys. Sixty games you can play in the car – where did the idea come from, and how did you reach 60 ideas?!
JL: We were called up to the top of Mount Sinai and the 60 games were handed to us on tablets… Fine, it was actually 80 at first, but one tablet slipped out and shattered into pieces. Oh well.
Honestly, the idea for 60 games to play in the car started as the follow up to Game Night in a Can. We had the title for "Road Trip in a Can" up on the board and were pretty stuck on that idea for our second game. There weren't a lot of competitors in the space and we saw it as a great opportunity.
Alas, it wasn't long into the development process when we realized that a round can rolling around the floor of a car was a pretty terrible idea. So we scrapped the can and opened up our hearts and minds to whatever divinely inspired title would come our way.
We wanted a name that made people smile, but explained a little about the product. There's your title. Then, as for the number of games, we had thought it was going to be maybe 20 or 30 (like GNIAC is), but we wanted to really make a splash in (and take over) the games-in-a-car space with this one, so we set the goal at 60. We probably came up with closer to 70 or so, but we picked our favorites from that.
BM: Hm, that's interesting. I just remember eating some mushrooms I found in the forest, blacking out for a few days, and then the game was done. Easy!
You've also got games on the way based on IP like Bill & Ted and Anchorman. Did working with major licenses change your approach to game design in any way, and what can you tell us about those upcoming launches?
JL: For me, I like the way a licensed property hones my focus. I find I have an increased sense of empathy when I'm picturing 'fans of Bill & Ted' and 'fans of Anchorman'. My priority becomes really delivering a product that will thrill them.
Second to that is making sure the game device and/or gameplay makes sense for the property. Anyone could make Anchorman Monopoly, but that's not enough for us creatively. Obviously combining these properties with our passion for creativity, laughter and connection is the final litmus test. If it checks all the boxes, we're sure it's going to be a hit.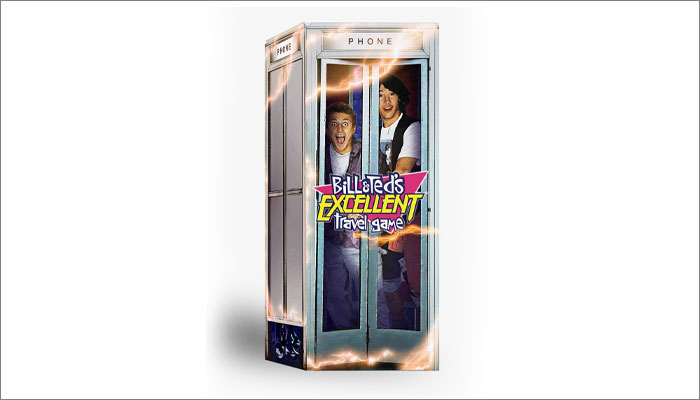 BM: This is a whole new area for us, with its own challenges and treats, but we're very excited to be working with properties we love. Here's the sneak peek:
Bill & Ted's Historical Trivia Travel Game comes in a phone booth, and has players answering questions about history (as written by the dudes themselves), and for every category you get right, you collect that historical figure. The first player who collects all the historical figures and makes it to San Dimas high school for the oral report saves the world and wins the game!
Anchorman: The Game (Improper Teleprompter) takes the iconic scene where Ron Burgundy reads from the sabotaged teleprompter, which leads to his firing. This party game lets players sabotage short news stories for each round's anchor who is trying not to laugh. Whammy!
Finally, how do you guys fuel your creativity?
JL: I know this one will be very different for Barry than it is for me, even though we creatively flow so easily together. As much as I'd like to say that attending concerts and going to museums is a source of creative inspiration, I don't have the empirical data to support that. I do know that I am more creative because I've had more life experiences and I will become more creative as I grow and continue to see the world through the lives of others (including my children).
As far as "fueling creativity" (and I love that phrase), I think creativity can only be fueled by creativity. For me, once I've done something creative or inspiring, I feel twice as inspired to do the next thing. Creativity is as much about momentum as it is about ideas. Once you get the creative perpetual motion machine going – look out!
BM: Speaking of museums and concerts, every time I see something that I love I often think of what went into that creation, and how that could relate to things that we're doing. We have even used things found in museums as references for game design! I also love Jason's idea of creative momentum, that's a powerful concept.
I have recently found a magical new practice called Intuitive Breathwork (a class at my wife's art gallery) where all you do is breathe deeply for 30 minutes, but in that time I have tons of epiphanies and creative breakthroughs. No mushrooms needed!
And finally, Jason and I have a great system of brainstorming we call Brain Blasting, where we set a timer for five minutes at the start of our meetings, and then come up with as many titles of games as we can. No filter, no double-thinking…just blurting out whatever comes to mind. Some of my favorite games have come from our Brain Blasts!
——
To stay in the loop with the latest news, interviews and features from the world of toy and game design, sign up to our weekly newsletter here