Beasts of Balance returns to Kickstarter with more beasts and new Battles mode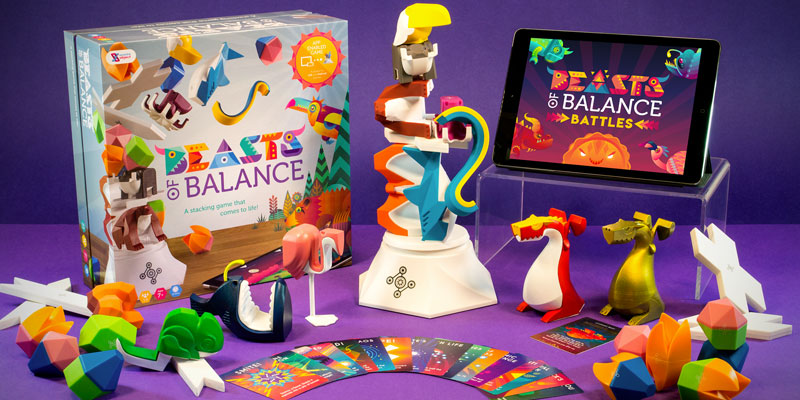 Sensible Object has returned to Kickstarter with a new campaign for an expansion to its award-winning augmented reality stacking game, Beasts of Balance.
This year's campaign introduces a series of new additions to Beasts of Balance, including a new competitive gameplay mode known as Battles and new physical pieces to collect.
"We had an incredible experience with Kickstarter last year," said Alex Fleetwood, founder and CEO of Sensible Object.
"18 months ago, we were a start-up team with nothing but a prototype. Thanks in large part to the support of the Kickstarter platform and its community, we were able to bring this ambitious, groundbreaking game to life. Having shipped the game on time to an amazing response, we're ready to take things to the next level. Our players and backers have been hungry for new ways to play and new pieces to collect, and we can't wait to share our work with them."
In Beasts of Balance, players take on the role of Divine Creators, tasked with building worlds and reaching high scores by stacking magical Artefacts into towers. Everything added to the tower interacts with a world that evolves on a wirelessly connected digital device. To succeed, players have to keep their tower and the ecosystem of their world in balance, stacking all 24 pieces and caring for the virtual beasts they create.
In the new Battles mode, two to three players each take on the role of a Divine Creator of a single region: Land, Sea or Sky. The aim is to fill your region with powerful beasts while stealing and destroying those of your opponents.
Elsewhere, the More Beasts Pack introduces three brand new beasts for players to collect: sassy Flamingo, impossibly cute Chameleon and slightly dopey Angler Fish. When played into the game, these new beasts can be crossed and evolved to create over 100 new digital hybrids.
Check out the Kickstarter campaign here.