The best toy and game concepts we saw at New Designers 2018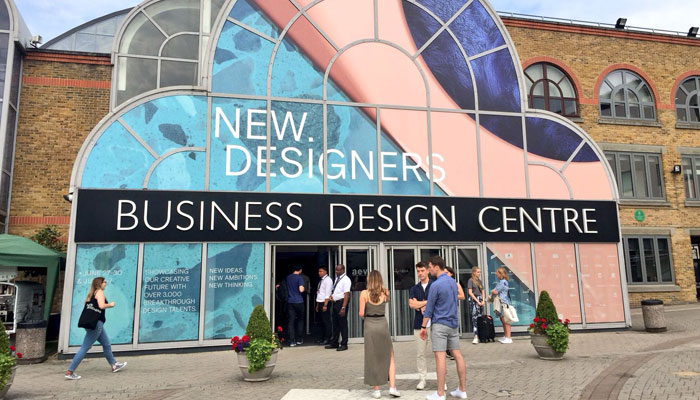 New Designers is one of the most important design events in the UK, bringing together design education, design consumers and the wider design industry to celebrate and recognise the next generation of graduate design stars.
Each year, around 3,000 of the most promising graduates from the UK's leading design courses exhibit at show, with disciplines represented spanning illustration to animation, furniture to fashion and gaming to glass.
We headed to the Business Design Centre in London to see what this year's crop of design rising stars had been creating, and below we've gathered some of the most interesting toy and game concepts we saw at the show.
Labyrinth by Nathaniel Jones
A tilting marble run that teaches kids about waste and recycling as they guide the correct marbles through the right waste bins.
Contact: nathanielj1@mac.com
Website: www.njonesdesign.co.uk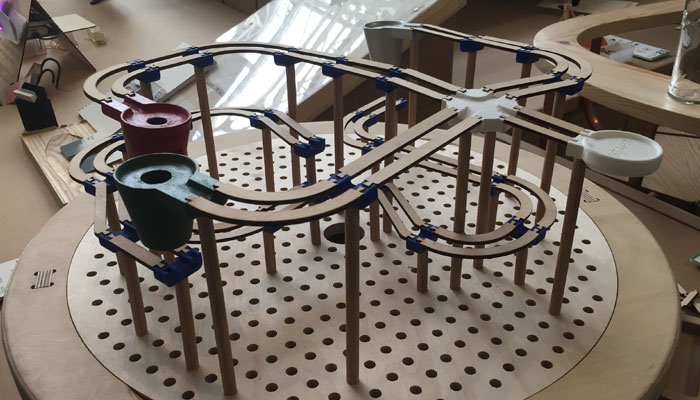 Zoop by Andrew Davis, Charlie Hudson and Charlie Pizzoferro
A range of animal toys for kids that can be used outside by kids to build forts and dens. With their own unique abilities, each creature doubles up as a tool used for activities like fort building and knot tying.
Contact: andrewj.davis@live.com/ c_-_hudson@hotmail.co.uk / Charlie.pizzoferro@gmail.com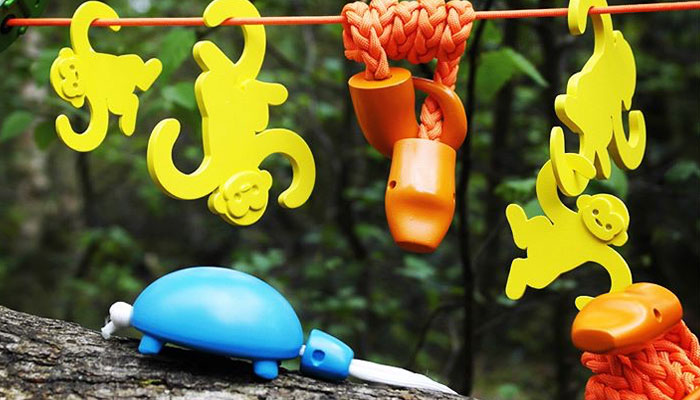 Robi by Suraj Soren
Inspired by Tamagotchi, Robi is a 'phygital' pet for kids that protect them from air pollution. Robi's changing mood teaches children about air quality and  the game aspect is based on how the child changes their behaviour around air pollution. If they breathe through Robi at high levels of pollution, then move away from that area within five to 10 minutes, they will earn breathing points, which leads to rewards.
Contact: suraj_soren96@yahoo.co.uk
Website: www.surajsorendesign.com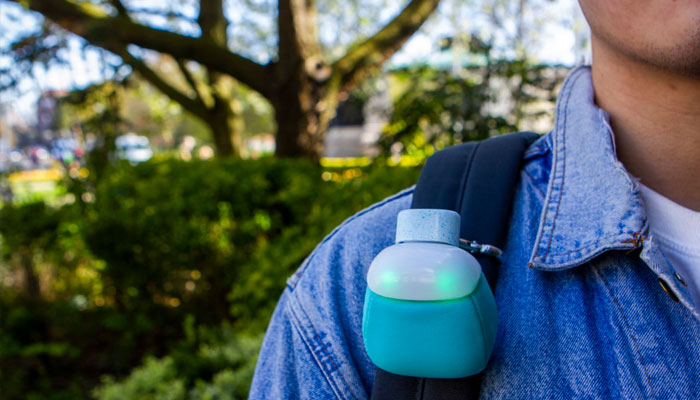 Poppi Toys by Izabela Duszenko
Poppi Toys Deep Sea Friends is a range of educational construction toys aimed at children aged four to six. It has a storybook to accompany the toys, which further educates them about these creatures, their environment and how it needs to be safeguarded. The toys are aimed at bringing awareness to the problem of plastic pollution in our seas.
Contact: iduszenko@gmail.com
Website: https://iduszenko.myportfolio.com/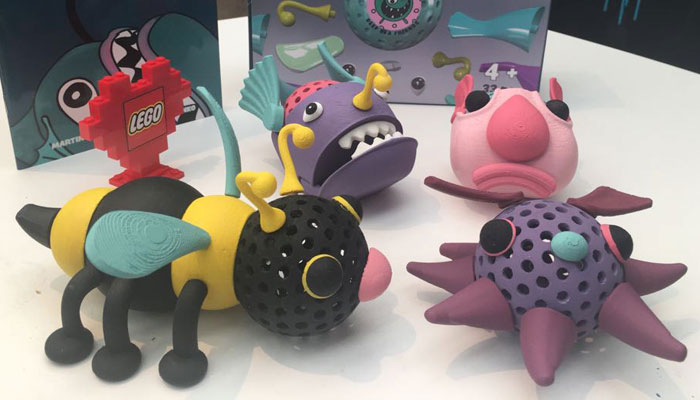 Timbre Toys by Daniel Becconsall
Timbre Toys is a line of wooden toys, infused with a spark of interaction technology that sees the toys make noises when combined in certain ways.
Contact: danielbecconsall@gmail.com
Website: https://issuu.com/dpbdesign/docs/portfolio-2018-final-online-compressed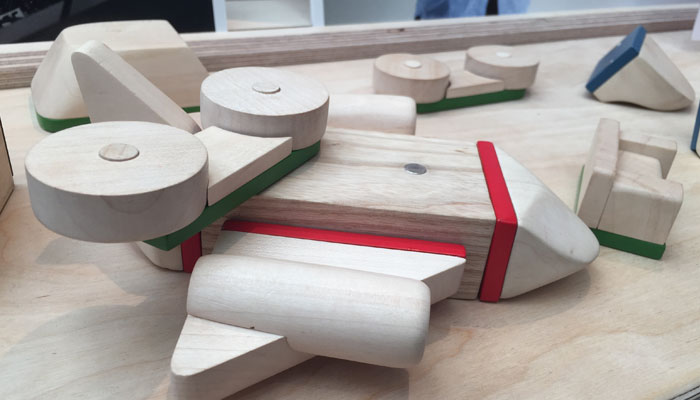 Tanked by Steph Brokensha
A novelty giftware product aimed at university students, Tanked takes inspiration from traditional fishbowl cocktails and turns it into a jovial drinking game.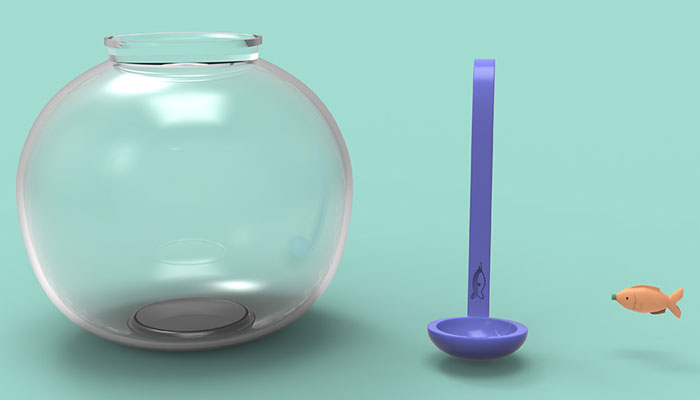 Stabile by Sarah Saggiante
Stabile is a board game designed for Millennials that want to spend time with friends but like to post the cheeky picture every now and then.
Contact: sarahsaggiante@gmail.com
Website: http://www.sarahsaggiante.com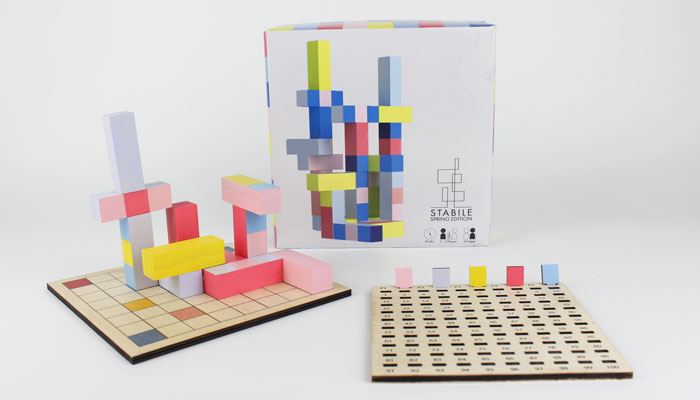 Throw and Boom Toy by Ethan Brazell
A thrown toy with an explosive finish, the Nerf-inspired product is reactive to shock caused by impact of ground, wall or other surface, sending bullets flying!
Contact: eb-brand@outlook.com
Website: www.eb-brand.webflow.io