Bladez Toyz's Daniel Abdelmassih on creativity, the R/C space and bringing Hot Wheels to the toy drone sector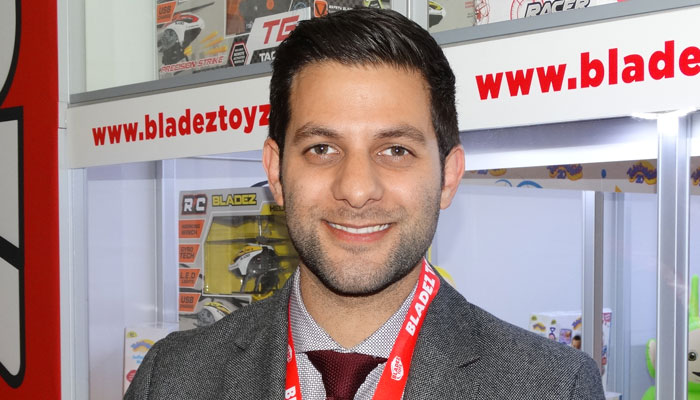 Daniel Abdelmassih is VP of design, strategy and manufacturing at Bladez Toyz.
Founded in 2007 by Iain Morgan and Emma Costello, Bladez Toyz specialises in the design, development, manufacture and distribution of innovative flying toys and is responsible for bringing some of the industry's top radio control helicopters, drones and licensed character inflatables to market.
Ahead of this year's UK Toy Fair – where the firm is showcasing a whole host of new lines, including fresh additions to the award-winning range of Hot Wheels R/C Drone Racerz vehicles – we caught up with Abdelmassih to learn more about his history in toy design and how he assesses the state of creativity in the R/C space today.
So Daniel, how did you get into the world of toy design?
​I have always been inspired by the process going from a simple sketch or idea, through to a mass produced product on shelf. When I finished university in 2007 studying car design, I was planning to start a business developing some new product ideas (not toys), however I managed to meet Iain Morgan and Emma Costello, who founded Bladez Toyz, while they were competing on the ITV Tycoon reality business TV show with their new toy helicopter.
I started out helping with a few bits of design where we immediately established a great creative fusion and partnership. We won the TV show, Iain and Emma sponsored me to do my Masters in Innovation & Creativity at Cranfield University (Design Thinking), following which I moved to Portsmouth and have had the opportunity to take lead all things creative, design and manufacturing shaping our business strategy.
What can you tell us about the development process at Bladez?
Nice try Billy, I can't give away all our secrets!
I was once told to 'make plans, just make them in pencil', and so I like to keep our process agile and adaptive where possible. It's important to continuously stay in tune with the needs and desires of consumers, trends, technology and competition, as most certainly what you start with from an initial sketch and brief is going to be different from what you end up manufacturing.
Once we establish the opportunity for a completely new product to add to the product range/update to an exiting item, the ideas are shaped and tested through many quick and rapid prototyping iterations in our 'Makerstudio' using various methods including 3D printing, CNC and hacked together parts with Arduino's giving all employees the opportunity to review and give their input, even if they are not designers. User insight and feedback is a key influencer for getting design right, and so the parents in our company get to test toys with their kids, which is always valuable.
How do you stay creative?
I have learnt over the last 10 years that it's important to try and be like a child, to play, to have fun, to step out of your grown up shoes and imaginate from a kid's perspective. This is why consumer user insight is so important; it hands the information to you that is a catalyst to shaping ideas and developing better products.
I keep a quote on my wall to remind me of this every day, '"the creative adult is the child that survived", and ensure the office is also full of toys and drones flying around, which keeps the environment fun and interactive.
Most importantly, I have a fantastic team of designers, engineers and product managers around me, and so it's the fusion of ideas and continuous collaboration between us everyday that really pushes the boundaries, keeping projects creative and fun. Aside from that, I like to work from busy coffee shops or from home time to time. I also drive a lot, so usually during this time many ideas, creative thinking and decisions tend to happen.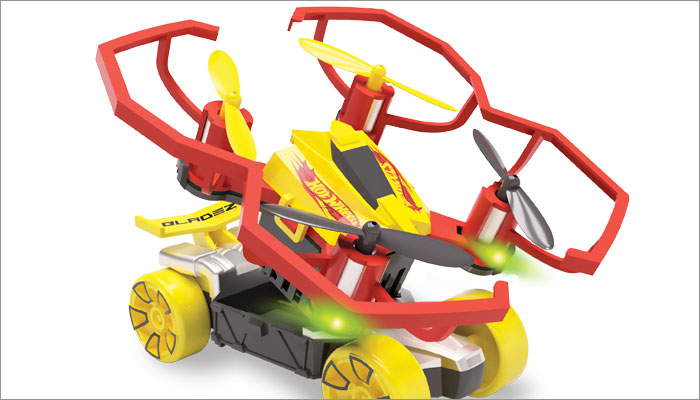 How does working within the constraints of a licence change your approach to design?
​With licensing does come constraints due to style guides, brand and character integrity, however it's key to put yourself on the side of the creative team behind the licence, and understand from their perspective the brand, characters and assets as appropriate for the toy(s) in development.
I find it important to approach projects using the guide, quite simply as a guide, and design to strike the right balance between your technology or product range at hand and the integrity of the brand and assets you have licensed the rights to. ​This is not always the case, but over time I have found that the more you try and collaborate with the licensors creative team, the more you can work together and really innovate to create something new, achieving the final goal of approval!
Some licensors have highly talented creatives, and so as part of the deal, it's important to work as closely with them as possible.
Is the RC/drone space in a good place creatively at present?
​The RC and drone market has boomed in recent years due to the novel innovation and commercial viability of the technology in the toy and consumer electronics markets; however this has become quite a techy, indistinguishable and repetitive market for consumers.
Taking the approach to look at the play patterns of kids getting into technology, we have designed a full range of Hot Wheels toy drones that combine the fun, engagement and 'Challenge Accepted' spirit of the Hot Wheels brand with advanced drone technology.
Our partnership with Mattel on Hot Wheels was a natural fit for our latest innovation inspired by the recent movement in drone racing, with an injection of creativity in the play pattern for kids aged eight and over to have a drone to fly, and clip onto a track racing car for learning, challenging and perfecting stunt skills.
There is no shortage of creativity and drones in 2018; drop by our UK Toy Fair stand Gallery 123 to check them out or come and refuel at the Bladez Racing 'Pit Stop' Cafe at Gallery 545 to see our Giant (6ft) Drone Racer!