BMT's Calvin Leibrock, Robert Civettini and Alex Malblanc talk One Trick Pony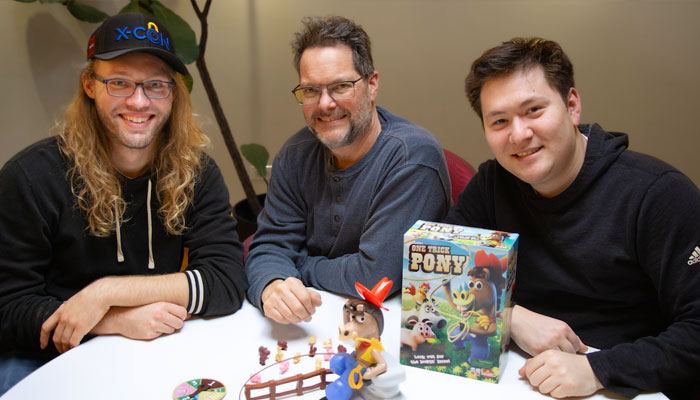 Guys, it's great to catch up. Ever since I saw Goliath's One Trick Pony at Essen last year, I wanted to find out more about how it came to be! Before we dive into that, can I ask how you each found your way into toy invention?
Alex Malblanc, Toy & Game Inventor, Big Monster Toys: I'm originally from Cincinnati and going into college, I was really interested in design. My English teacher at the time was good friends with Mike Hoeting, one of the founders of Bang Zoom. Mike came in to talk to our class about toy invention and I thought 'That seems cool – I'll do that!'
From there, all my internships were at toy companies. I interned at Hasbro for Play-Doh and their licensed team, and then I interned at a one-man invention company in New Orleans called Factor 10. Out of college, I applied to BMT and got accepted. So it was kind of always the plan!
Calvin, was it always part of the plan for you?
Calvin Leibrock, Toy & Game Inventor, Big Monster Toys: Kind of! When I was at high school, I watched a show that was centred on 'The five coolest places to work'. One of them was a toy design studio, so from that moment on, I knew it was something that'd be fun to do.
When I graduated from high school, I emailed a bunch of toy designers trying to get some insights into how to make this a career. I was told to go to school for either Industrial Design or Mechanical Engineering and, as I'm not as artistically inclined as many of my colleagues here are, I opted for the engineering route.
I went to Iowa State and they really focus on internships. So, as soon as I could, I sent emails to lots of toy design places, including BMT. They were open to the idea and I interned here that summer. At the end of the internship they said I could come back the following year, which I did, and after that they offered me a job!
So we have two routes where toy design was always the goal… Civ, does this ring true for you?
Robert 'Civ' Civettini, Senior Toy & Game Inventor, Big Monster Toys: It was more of a trap door route for me! I'm the old guy of the bunch here – I've been here for 27 years. Like Calvin, I have a degree in Mechanical Engineering. I did a stint in advertising and graphic design when I first moved to Chicago, but I ended up shifting gears and doing another degree in Industrial Design.
I'd gone through several 'churn and burn' design jobs that I'd hated, but then I saw a role at BMT. I'd had a neighbour – Zarko Stambolic – that worked here so I was familiar with the company and applied. We'd lost touch at that point… When I interviewed, I said: "I had a friend who worked here" and they said "He still does!" And he's still here today – as am I!
Now, let's dive into Goliath's One Trick Pony. It's a really fun game with a cool looping lasso mechanism. Where did the seed of the idea for this one come from?
AM: Well, another game that Civ and I invented was Goliath's Rattle Snake Jake. We liked the magic of the game knowing things without you physically interacting with it… With that game, Jake's tail starts to rattle as you reach in to try and steal his gold.
I have a friend that works at a graphic design company called One Trick Pony, so I was thinking about that name, which led me to think about trick roping in general.
Trick roping being the skill of spinning a lasso?
AM: Yes. Our first version of the game featured a plastic ring, like a handcuff. You'd reach down into it to grab something and eventually it would constrict and grab you… It wasn't very exciting or friendly!
Was the theme there at this point?
AM: Yes, we had the cowboy horse, but he was next to this plastic ring that was meant to look like a lasso. I was talking to Calvin about it and there was a toy you knew about…
CL: Yes, when I was younger I got a dolphin-shaped whistle from Brookfield Zoo in Chicago. It had a loose string looped through the blowhole. When you'd blow into the tail, the string would spin around. I wondered if we could recreate that effect with a fan mechanism, but I also recall seeing the same spinning rope effect achieved through a motor. We built that, started messing with it and soon enough it nicely resembled a lasso.
All from a novelty dolphin whistle! Love it! So how did you crack the tightening of the lasso?
AM: We had a switch on the motor – a two-way switch – and it span fine in one direction… We soon discovered that if we switched directions, it really cinched the rope all the way back in. We were like 'Oh my God! That's it!'
CL: That's when we knew we had something.
Civ, what role did you play?
RC: Along the way, I mostly got involved with developing the concept into a real product. For example, there's a safety latch release that enables the string to come off and be reset. I helped figure out development issues like that.
And without wanting to spoil the magic, how does the game sense when someone's hand is through the lasso?
RC: The fence has a wire in it that senses your hand. Every time a hand goes over the fence, the game is keeping count.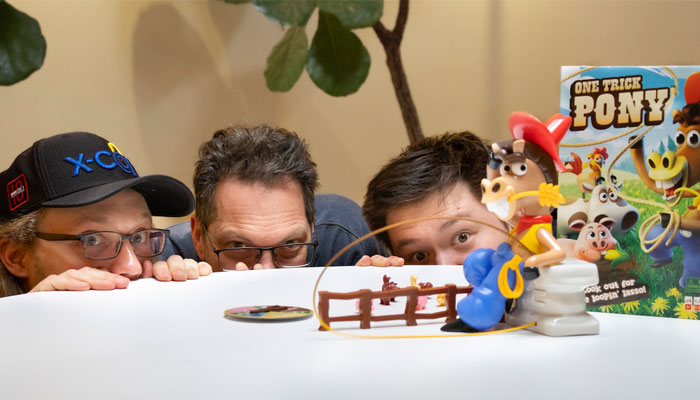 Wonderful. And the pony itself is really well done – you've crammed a lot of character in there!
AM: Yes! Shout out to Dino Crisanti – he did the sculpt for that. The visual and look of it barely changed from our initial design. And also, a shout out to Goliath for their insane execution!
Speaking of Goliath, what made them a good home for the game?
CL: Every time we've worked with them, they take whatever we think is cool about an idea and make it better.
AM: They know what makes a magic moment in games. I'm always impressed by what they make.
RC: And as a client presenting to them, we're pitching to Goliath's founder – Adi Golad. He's the decision maker and for a designer, that's the best situation to be in. And Adi is great! He's enthusiastic and loves games. When we showed him Rattlesnake Jake, Jake sprang out and Adi almost fell out of his chair! At that moment, we knew it was going to go ahead!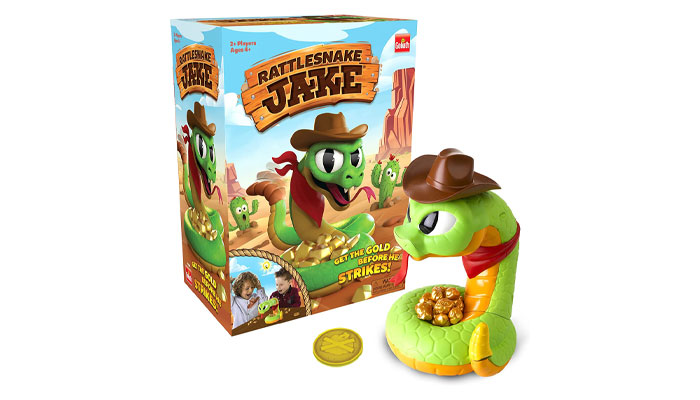 Civ, you mentioned earlier that you've been with BMT for almost 30 years. What makes it a special place to work at?
RC: The autonomy is what makes it an amazing place to work – it's why I'm still here. The partners have the confidence to let you do what you think is going to work. They don't really get involved until they need to – or unless you ask them to. It's a job where I get to come up with something, develop it, engineer it, build it and present it – that's pretty amazing. There aren't many design jobs out there like it.
That autonomy also includes the ability for us to choose who we work with. Alex might show me a sketch and we'll decide to work together on it. It's not something that's 'assigned' to us.
AM: Yeah, we have a real freedom of process. I'll spend a lot of time on the front end, trying to come up with something that's special. That's my process and everyone here has their own way of working. It's great to have that creative freedom.
CL: I'd add that there's also a culture of respect. I came in as an 18-year-old intern with ideas and was treated with respect. My ideas were put on equal footing with everyone else. I was never looked down on and that helped me gain confidence and got me working on some really cool items.
Fantastic. Out of interest, once you'd joined BMT, what were your first licensed concepts?
AM: One of the first things I worked on was Goliath's Burping Bobby. It was a collaboration with two other designers here at the time – Alex Seidband and Joel Tucker. Alex had an idea for a game that incorporates scents, but that was too difficult to do chemically. I had an idea for a back-lit bubble machine. Joel thought that was cool and he pitched the atomiser that ended up in the game. It was a fun process and taught me a lot about creating magic moments within games.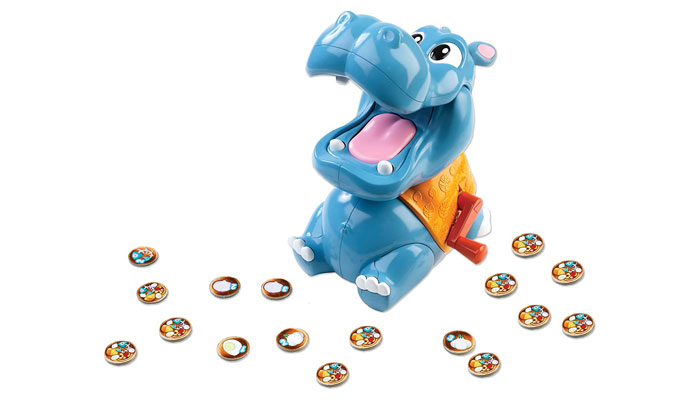 CL: My first one was a game with Fat Brain called Ribbon Ninja. It was a collaboration with Alex Seidband and Aaron Legg. Aaron used to shoot videos for us, and he came up with an idea that involved tying balloons to your heels and you'd try to pop other people's balloons. Balloons weren't ideal, so we tested out a bunch of other stuff, including ribbons on your wrists. The final game sees ribbons attached to your wrists with a Velcro strap and you're trying to grab other people's ribbons before yours get grabbed. It's very simple but it taught me a lot about game mechanics.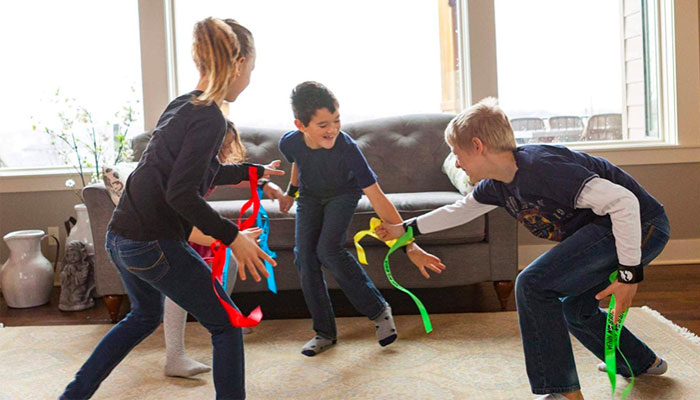 RC: One of my early ones was a product called iZ from Zizzle. It was an electronic music-making toy that I co-designed with Dino Crisanti, Todd Kurtzer and Kris Paulson. That was an interesting project because it was a break-frame music product. It followed a product we did called Zoundz that was a cloud you'd move pieces around to make music. I loved getting involved in the sound design of that.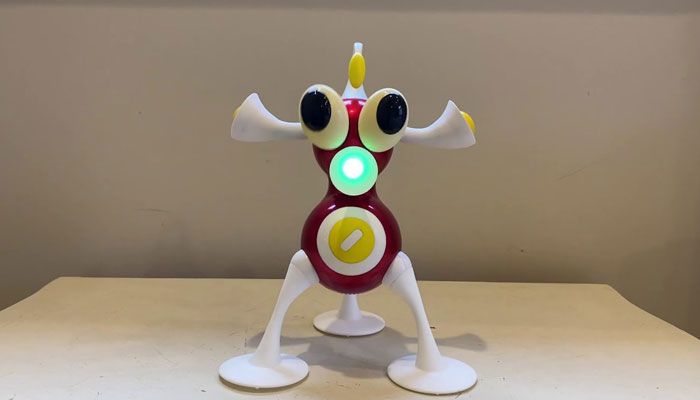 Sounds very cool! Last question… What would say is your most underrated invention?
RC: Funnily enough, for me it's Zoundz. It's a really cool item.
Who put that out?
RC: Zizzle. Roger Shiffman started Zizzle after he sold Tiger to Hasbro. They did iZ and a lot of Pirates of the Caribbeann stuff too. Zoundz was one of their early products, and they did a great job with it, but it never truly found a home at retail. The problem was: where do you put it? It's kind of a desktop thing, it's kind of a music maker, it's kind of a toy… And it's tough, because we always want to do break-frame ideas, but if Target or Walmart don't know what aisle to put it in, they might not pick it up. But it was a really cool item.
We'll put a video of Zoudz in action here so people can check that out.
A huge thanks for taking time out for this guys, I really appreciate it. And congrats again on One Trick Pony – I'm a fan!
–
To stay in the loop with the latest news, interviews and features from the world of toy and game design, sign up to our weekly newsletter here