Brand Licensing Europe 2017 to host Mojo Nation's Toy & Game Innovation Zone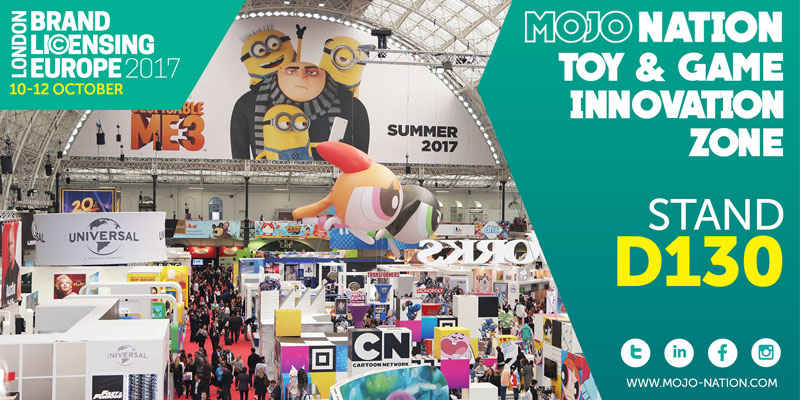 Visitors to Brand Licensing Europe 2017 will be able to get hands on with some of the year's most exciting licensed toys and games thanks to a new zone hosted by toy and game design body, Mojo Nation.
The annual European trade show will debut the Toy & Game Innovation Zone (D130), an area showcasing some of the most interesting examples of licensed toys and games that have launched within the last 12 months, as well as previewing some of the hottest new lines set to hit shelves Christmas 2017 and beyond.
As well as allowing visitors to get hands on with the products, the area will also host the designers responsible for creating them. Select creators will be on hand to discuss the development process behind turning brands into toys and games, as well as taking part in live product demonstrations.
"Whether it's board games that reflect the style, narrative and tone of an IP through play or toys that embrace the latest tech to bring much loved characters to life, the world of licensed toys and games has never been more impressive," said Mojo Nation co-founder, Billy Langsworthy.
"With brands showcased spanning everything from The Terminator to Game of Thrones, right the way through to the likes of First Dates and In the Night Garden, the Toy & Game Innovation Zone is a great opportunity for delegates to find out why toys and games remain one of the most eclectic, innovative and thriving corners of the licensing world."
Mojo Nation's Billy Langsworthy will also be chairing a panel session at the show's Licensing Academy titled Playing with Brands: A Look at the Design Process behind Licensed Toys and Games.
The Playing with Brands panel will take place on Wednesday, October 11th from 14:00 to 14:45 at BLE's Licensing Academy and aims to shed light on how designers engage with IP when developing licensed toys and games.
Mojo Nation's Toy & Game Innovation Zone can be found at D130 at Brand Licensing Europe 2017, which takes place from October 10th – 12th. Register for the show here.
Save