Brands Untapped @ Toy Fair NY to showcase how toy brands are thriving in sectors like fashion, food and film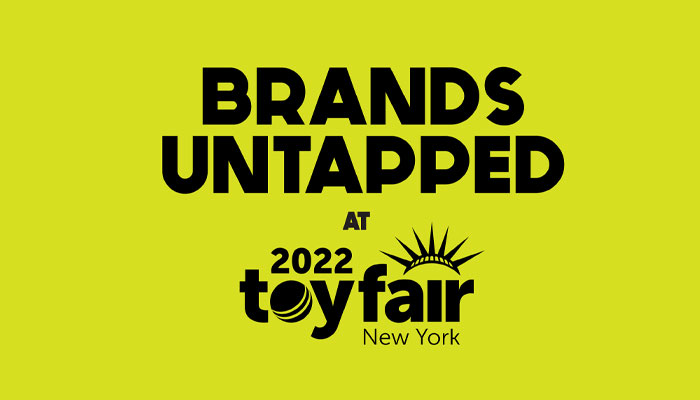 The Toy Association and Mojo Nation have teamed up to bring a new space to New York Toy Fair 2022, designed to showcase how toy brands are thriving in sectors like fashion, food, film and TV.
Brands Untapped @ Toy Fair NY will highlight multiple creative collaborations between toy companies and high-profile partners spanning apparel, food & drink, hospitality, live events, video games, film & TV and publishing.
The experience-rich, curated area will feature multiple activations designed to showcase toy and game brand extensions, product ranges, and licensed interactions.
An accompanying Brands Untapped conference at the show will host talks and panels delving into the design stories behind the extensions of iconic toy brands into categories like footwear, video games, and even hotel suites.
"The excitement is mounting for Toy Fair New York '22, as we continue to build out our slate of engaging activities at the show and unveil unique business and educational opportunities for the global play community!" said Marian Bossard, executive vice president of global market events at The Toy Association.
"Our partnership with Mojo Nation to bring Brands Untapped to the show floor is the culmination of months of discussions and planning as we aim to position Toy Fair New York for future expansion. We expect it to further elevate the contemporary energy of the marketplace and solidify Toy Fair New York's position as the place to scout the hottest trends in toys, play, and licensing!"
Billy Langsworthy, co-founder of Mojo Nation, added: "We're delighted to celebrate the toy industry's brand licensing community, highlighting the ingenious ways that iconic play brands have successfully made the leap into diverse sectors.
"The experience-led Brands Untapped area is set to be a fun, engaging means of showing off the power of toy and game IP – and the creativity these brands fuel in partners from other industries."
Brands Untapped @ Toy Fair marks the first in several upcoming collaborations between Mojo Nation and The Toy Association. Companies interested in showcasing their brand extension at Brands Untapped @ Toy Fair may contact Billy Langsworthy at Billy@Mojo-Nation.com.
Read more about the design behind great brand extensions at Mojo Nation's sister-site, Brands Untapped.
—
To stay in the loop with the latest news, interviews and features from the world of toy and game design, sign up to our weekly newsletter here