Bubblegum Stuff's Courtney Wood talks gifts, games and trend-spotting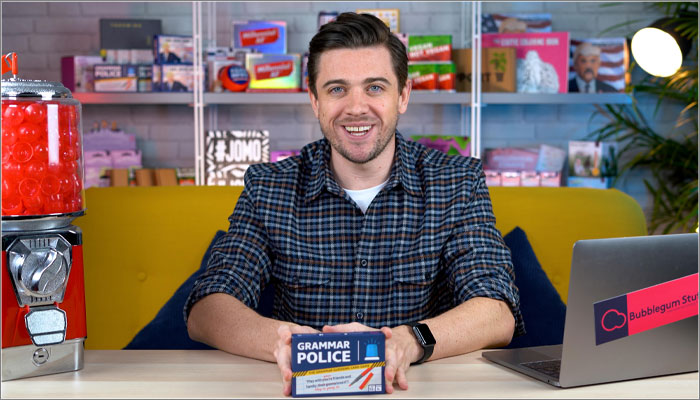 Games about weird crushes, name badges for plants, a phone attachment designed to help you take the perfect selfie with your cat… London-based Bubblestuff Stuff has carved out a space for itself as a home for fun, trendy, pop culture-infused gifts and games.
Founded by Courtney Wood – a finalist on BBC's The Apprentice back in 2016 – the gifts company has got serious about game design in the past year, with a slate of upcoming titles set to push Bubblegum Stuff more into the mass market toy industry than it's ever been before.
We caught up with Courtney to learn more about the origins of the company and find out about why its new range of games marks something of an evolution for the firm.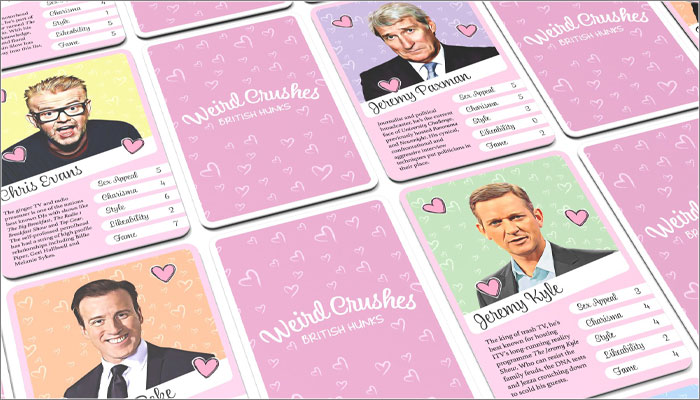 Hi Courtney! It's great to connect. So, let's start at the beginning – how did Bubblegum Stuff come about?
Well I was always interested in the toy industry, but when I first tried to break in, it never happened for me. I went to Brunel and studied Product Design, and while I was there my lecturer said "Courtney, every time we give you a brief, you always go in a playful direction… You turn everything into a toy!" So my final year project at Brunel was focused on toy design.
After university I had a job interview at Vivid Imaginations, but they didn't take me on, so I ended up working as a product designer at a gift company called Spinning Hat. They would source gifting products from China, but they brought me in to try and create their own stuff – but to be honest, I didn't know how to create product either!
Sounds like a daunting job to jump into then!
Yes! The role was way above what I should've been in! But, they backed me to do it and so I ended up creating around 50 products for them, more gifts than toys. Some of those were trivia games that went on to become some top sellers.
In the summer of 2012, during the London Olympics, I got fed up with making lots of money for my bosses and being worked really hard without being rewarded, so I left, got £20,000 together and launched Bubblegum Stuff.
A few years down the line now and you guys have a range of successful games and gifts. How long did it take to establish the company and get some traction at retail?
It's by no means been an overnight success. We're still a small start-up company; we have five full time employees and two part-time.
I originally started Bubblegum Stuff as a novelty company doing silly products like ice cream scoops and bottle openers, but in 2016 we made our first game – Name the Emoticon. It's a simple game where you guess famous saying from a line-up of emojis.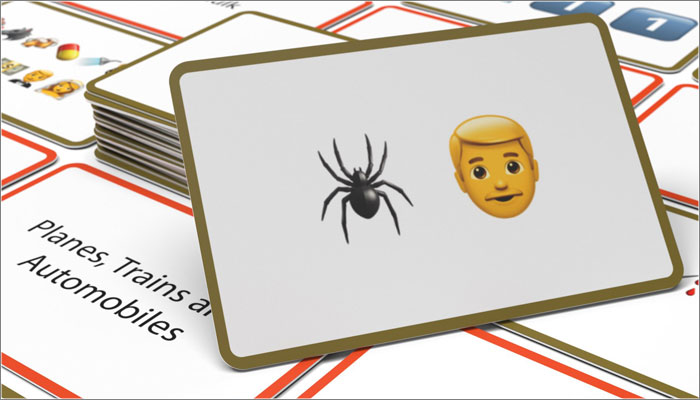 Me and my friends would send each other messages, essentially playing the game, and then a book came out and there were online quizzes, so we decided to create the card game. It was a big success for us and we've launched eight different versions.
And that kick-started Bubblegum's jump into game development?
Absolutely. From there we brought out other games, all small, £10 trivia-style games. It's what a lot of gift companies do. It's the big difference between a gift company and a toy company – product from a gift company tends to be stronger on the visuals and the theme than on the gameplay.
That said, over the past 12 months, we've tried to cross that line. The games we have coming out this year pushes us very much into the toy arena. We're still doing gifts, as that's been great for us in the past, but our success over the past two years has been built on games.
Let's dive into some of those – what other games have proved successful for you guys?
We did a game called Weird Crushes; it was featured on loads on TV shows. It's a Top Trumps-style game featuring unconventional male heartthrobs. It was on Britain's Got Talent with Simon Cowell and David Walliams playing it because they're both in the game. It also got on The Graham Norton Show and the week after that it was on Good Morning Britain three days in a row because Piers Morgan was unhappy with his stats in the game – we gave him a zero for likeability!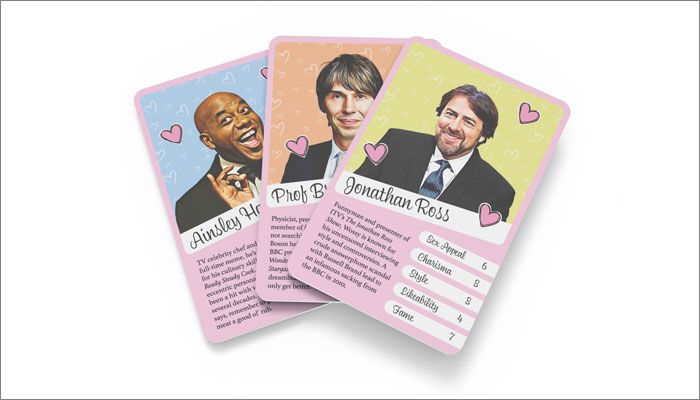 Sounds generous!
Well we couldn't give minus scores!
Ha! I don't think he gets the newsletter so we'll be safe here, but moving on – what drives your approach to design?
We've got our finger on the pulse of up-and-coming trends, so what we're trying to do now is combine that approach with creating original gameplay. Previously, we would take existing popular gameplay and mechanics, but add current themes. Now, and especially over the last six months, we've been doing loads of research and developing new games and fresh mechanics. We'll be launching our first board game this summer, and then you'll see this new approach in a few card game launches this year too.
Being trend-driven, how do you approach spotting trends and deciding which ones to translate into games?
When looking at trends, it's all about longevity. Reading the news, blogs and social media helps, but a recent example I'd give is TikTok. It's exploded over the past year and so we have a game inspired by TikTok coming out soon.
Then there's the Karen trend – or maybe it's more of a meme! It's essentially middle-aged, angry white women. We tried to create a game around it but eventually we went in a different direction and so have translated that trend into a colouring book featuring famous Karens from the Internet.
That's an advantage of being both a gifts and games company – we can take product in different directions. If a trend doesn't work as a game, maybe it can suit a funny colouring book.
An even more recent example would be what happened last month with the Handforth Parish Council meeting that went viral. To develop a game around that would take longer than a colouring book, and that's what made our minds up with the Karen trend – we knew a colouring book is something we could get something out fast while that trend is still hot.
In that case, what kind of trends do you think best suit games?
You have to spot trends that are a bit of a slow burn or a trend you know won't just fall off a cliff. We have a game coming out called Plant-Based Riot. It's along similar lines to card games like Exploding Kittens or Monopoly Deal. You collect sets of vegetables and the vegetables are styled like gangs from The Warriors! The trend is plant-based diets, and it's trend that has longevity so was perfect to turn into a card game.
You mentioned Bubblegum's evolution in terms of now creating games that have unique gameplay, rather than leaning on Top Trumps-style classic mechanics. How has this changed your design process?
Well I can see you have a shelf full of games behind you Billy, and I have something similar now, because our strategy over the past six months has seen us go from product designers to game geeks! We knew the classics before, but now we're looking at co-op games and games like Coup – essentially diving into different areas of the board game world. We hired someone who is a gaming geek and they've opened us up to lots of different styles of games.
Every month we're doing trend reports and trying to spot the next big trend. We then take that and find a style of gameplay that lends itself to that trend. So now, we look at niche mechanics more commonly spotted in the geeky tabletop games world and see if we can take inspiration from that and bring it into the mainstream. Let's see if we can take a gameplay style that appeals to hardcore gamers, but make it work for someone who watches Britain's Got Talent on a Saturday night.
I should add, we never want to just take an existing mechanic and slap it with a trend. Like with Plant-Based Riot; we didn't want to just copy Monopoly Deal. We wanted to take inspiration from that and create something new. For example, Monopoly Deal ends quite abruptly and players can run away with it, so in our game we included a hidden card that levels things out and keeps some players in the dark about what to collect. We always try to look at ways to build on and improve existing styles of gameplay.
Do you feel Bubblegum Stuff has been accepted into the toy industry in the same way that you have in gifts?
I attend Toy Fair every year, and although our sales are stronger at the gift fairs, when we last did Toy Fair it was really good from a marketing point of view. And some of my biggest mentors have come from the toy industry.
I reached out to John Stewart, who used to own Worlds Apart, about five years ago for advice on baby bottle products and he got back to me and we'd meet up for coffee a few times each year. He's been a mentor to me and I would always go to Toy Fair to see him.
I'm also good friends with Daniel King, General Manager of Cartamundi UK. He approached me a few years ago and we licensed some of our smaller games to Cartamundi. He got us into grocers like Aldi and Sainsbury's and some key accounts such as WHSmith that we didn't have at the time.
Now, of course I can't let you go without talking about The Apprentice, which you made it to the final of back in 2016. Did being on that show help open doors for Bubblegum Stuff?
Most definitely. I don't have a bad word to say about it. I know a lot of people that go on the show say it made them look stupid and it was a disaster, but for me it was great. As you said, I got to the final but didn't win, and that was a blessing in disguise because I don't have Lord Sugar to answer to!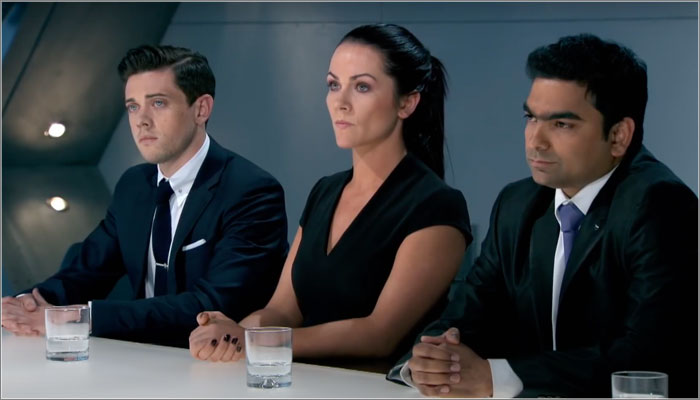 I had been running Bubblegum Stuff for a couple of years as a one-man band, but it was hard work and I hadn't earned any money from it. I applied for the show as a way to potentially get some investment and get the business off the ground. Just before we started filming the show, we got our products into Paperchase and Urban Outfitters, but from being on the show, we got so much exposure… Any buyer that I would message, I would get an answer back straight away. It opened doors for me and I used that for six months after the show to get placements.
I wouldn't say that's been the main reason for our success though; it's all about having good product.
Did being on the show change your approach to designing or selling product at all?
Absolutely. I went on the show as a product designer but it taught me how to sell and how to manage people, because on The Apprentice, I was managing a team of eight people who were opinionated, thirsty to win and ready to throw you under the bus. That was an education!
The biggest thing that Lord Sugar taught me was to be hungry and fierce in the way that I run my business. I was very chilled before – and was called out on the show for being too relaxed! I'm the opposite of that now! As soon as I sniff blood in a sale, I'll go in on the attack!
He's created a monster!
Ha! I'm still a relaxed nice guy! But it gave me more urgency and a real drive. A recent example of that would be our recent video buyers guides. Because there was no trade shows, we started putting these videos out there. I'm fronting them, but I hate being on camera, it's not natural for me, but I have to be the face of the brand – it comes down to having that drive to push the business on, even if it's delving into an area that's not my comfort zone.

 
Finally, how do you fuel your creativity?
I make sure I'm constantly immersed in popular culture – and in sub-cultures that I'm not inherently interested in. A good example is our Top Drags game – I haven't had an interest in the drag community, but we started doing products related to that area and people told us we were doing great things for that community. So I started watching Ru Paul's Drag Race and now I'm the first to tune in – I really like it.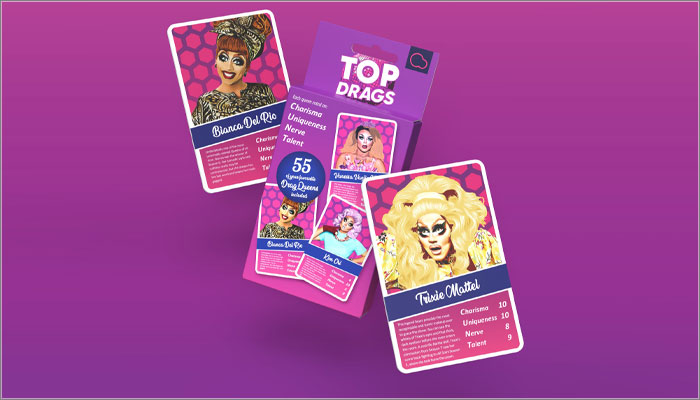 I'll now go to events and put myself into other cultures to learn, unearth trends and spot opportunities that we could take advantage of – I sound really bad, like Cyril Sneer from The Raccoons! That's 'The Apprentice Courtney' coming out!
Ha! Well thanks so much for taking time out for this Courtney! I look forward to seeing some of your new launches for this year.
—-
To stay in the loop with the latest news, interviews and features from the world of toy and game design, sign up to our weekly newsletter here