Bucher & Harrison's Jim Harrison on 30 years of fast, frightening fun with Atmosfear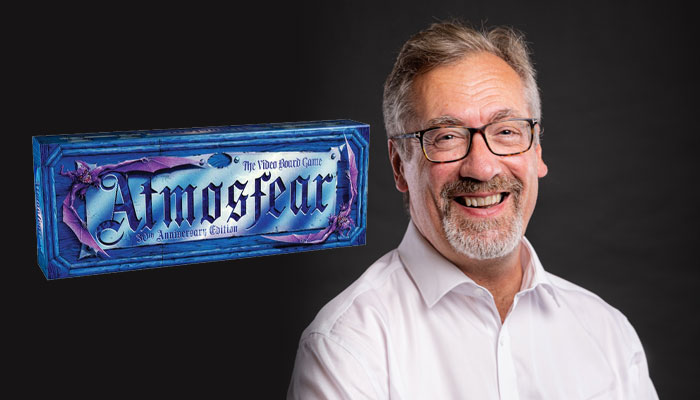 Jim, it's always great to catch up. As you know, I'm especially excited about today's chat as it centres on one of my all-time favourite board games, Atmosfear. It was – and remains – a very special game. To kick us off, for anyone that hasn't played it, how would you pitch it?
The basis of the game is very simple: you're racing to be the first to collect six keys from different areas of the board. During that, you'll pick up Time, Fate and Chance cards which can help you or hinder you. Everyone has written their worst fear down on a piece of paper at the start of the game and the first player to collect all six keys must race to the centre of the board and grab a fear. If you don't pick up your fear, you win the game.
What makes it fun and different is that you're effectively playing with an extra character: The Gatekeeper. He appears on your TV screen and his main aim is to mess you up. As soon as he appears on screen, everybody must stop. He'll then pick on players – who must answer him with "Yes my Gatekeeper" – and follow whatever crazy commands he issues.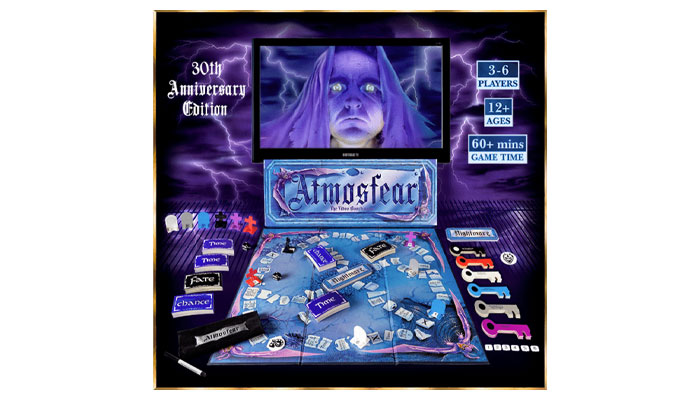 How did you first get involved with the game?
I was working at Spear's Games and Mike Bucher, the MD at the time – who is now my business partner – had a long-standing relationship with the Chieftain company in Canada. We'd worked with them on a number of projects and Mike was very close to the Vernon family who ran the company.
One day, Tom Vernon called Mike up and said "We've got this game that you're going to want to do – but you've got to come to Toronto to have a look at it. I'm not going to tell you anything else about it, so get on a plane!"
Wow!
Mike, bless him, went, played Atmosfear and was incredibly impressed. He signed it there and then for the UK and France. He went to Australia and met the creators of the game – Brett Clements and Phillip Tanner.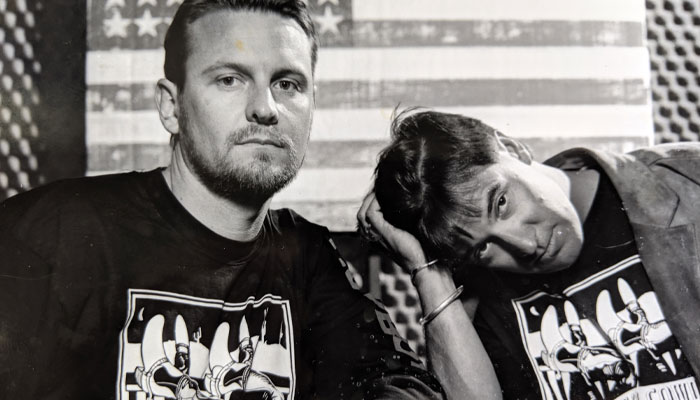 Mike came back with one copy of the game – called Nightmare at that point. He swore everyone to secrecy and gathered us in small groups to play the game. We played it and it was real experience. We were blown away. There was nothing like it at the time.
And when was this?
It had launched in Australia in 1991 and we launched the game at London Toy Fair in 1992. We flew in the guy who created the artwork for the game from Sydney and he created a themed Atmosfear room on the stand. We brought all the major buyers into the room and they had to sit down and play the game. There was none of this 'Here's a five-minute teaser'. They actually sat and played the game, which was quite a big ask!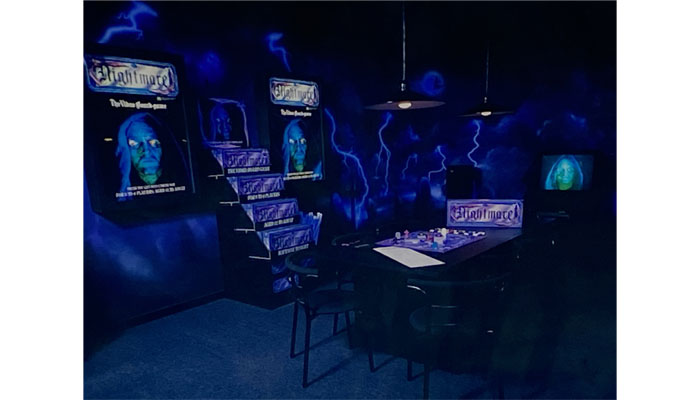 And there's a shot of the room – it clearly did the trick!
Yes, the game was incredibly successful. For that first game, we sold around 250,000 pieces in the UK in the first year, and another 200,000 in France. We followed it with a series of expansions. The first expansion – Atmosfear II: Baron Samedi (Zombie) – was already done and they were working on Atmosfear III: Anne de Chantraine (Witch).
I then worked with Brett and Phillip on the final development of Atmosfear IV: Countess Elizabeth Bathory (Vampire), but pretty much everything from then on was a co-development, starting with Atmosfear: The Harbingers.
Why do you think it was such a hit?
Well, it was the first 'video board game', so that was important – and the fact that it was so different, right down to the way it was presented and marketed. Unless you were into Dungeons & Dragons or the gamer end of the market, there wasn't much out there that catered for teens and up. Atmosfear was right in the sweet spot for them.
Did it kickstart a trend for VHS games?
Well, it was very quickly copied but those games didn't have the production value – or the gameplay – so they soon fell by the wayside.
I think the first iteration I remember playing was the DVD version. When did that come out?
We started working on that in 2003 and it came out with Vivid in the UK in 2004. Harbingers came out in 1995 so there had been almost 10 years without an Atmosfear game. That said, it was still doing well in certain markets during that gap, including in Spain – it always did really well in Spain!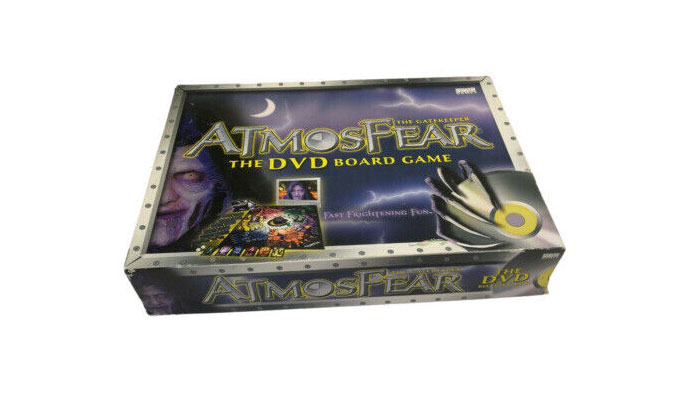 10 years is a long time for the brand to have gone away. What prompted its comeback?
We saw the potential in DVD technology to offer more randomisation and add more unexpected things than we could ever do with VHS. The guys did a tremendous job with the VHS version, but you'd get to know when certain bits were coming, like when he asks you to get closer and closer to the screen and then screams at you! With DVD we could do a lot more and it was very exciting.
Did it start the trend for DVD games in the same way that it kicked off the VHS game genre?
Well, we were one of the first to market. Scene It may have come out first and there were the early Trivial Pursuit DVD games, but in our first year there were maybe five DVD games in the market. In year two, there were around 25 DVD games and by year three there were literally hundreds. Then the market for DVD games collapsed because every Tom, Dick and Harry decided to do one based on any crappy TV show.
I do remember the Telly Addicts DVD game being a crushingly laggy experience!
Exactly. Telly Addicts, Mr & Mrs… There was a lot of lazy product creation where every game show got a DVD game version. You'd buy one, have a bad experience and it tarnished the entire offering, so people turned off DVD board games in their droves. But all in all, we did around 750,000 copies of that DVD version of Atmosfear, which was really not bad.
Absolutely. Now, fast forward another decade to 2019 and the app edition of Atmosfear arrives… I have to admit, this one passed me by.
Well, the problem here was twofold. First thing to say though is that it's a great game and worked really well. There was all new footage and a new Gatekeeper – and quite a scary Gatekeeper actually.
We had a major company lined up to take the game but the deal fell apart last minute. We were working with a US company and they ended up giving the game to Tobar in the UK.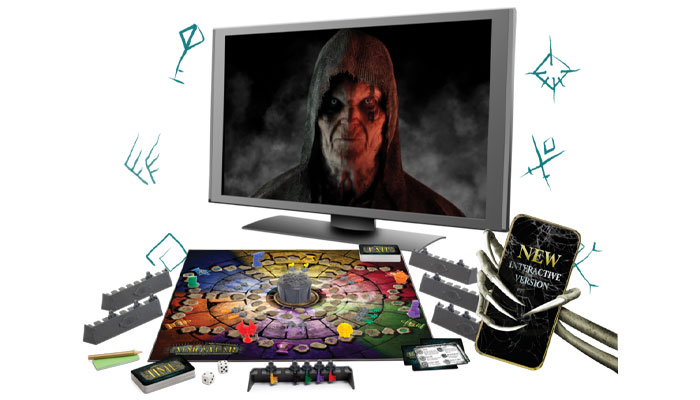 And at that point, Tobar was best known for novelty gifts right?
Yes, it was totally outside of their comfort zone. They were a great company and were really excited about the game, but their market and this game were poles apart. It was a shame because it had some really interesting features that we were looking forward to exploring further.
It has a technology in it which meant as well as playing the main game on a tablet, players could also download a companion app on their phone and The Gatekeeper would send you messages. That was a lot of fun.
The good news is that the disappointment was short-lived as in 2022, a 30th anniversary edition launched on Kickstarter, where almost 4,000 backers helped it smash its crowdfunding target.
Yes, the team in Australia worked with Creata in the US to put that together. You get everything that came in the original game, but the deluxe version also comes with some brand-new Time and Fate cards that Phillip and I wrote, the Baron Samedi expansion, some funky dice, a moulded coin and a new set of deluxe playing pieces.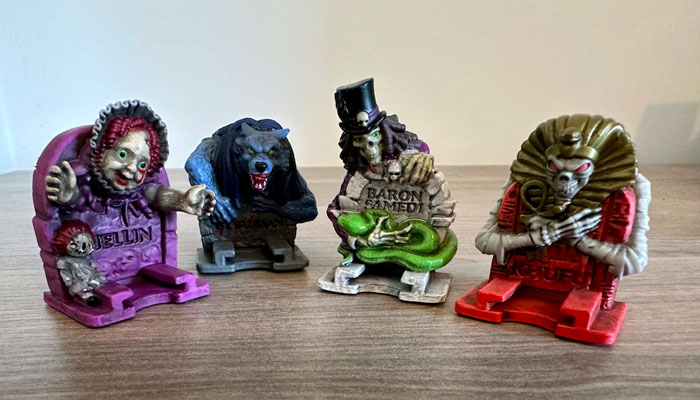 It looks fantastic – and proof that the game still holds up today! On that, we still don't see many games like Atmosfear launch these days. Identity Games' Nightmare Horror Adventures is maybe the only one that comes to mind as having attempted to create a unique, horror experience through a board game. Why do you think that is?
At the end of the day, companies want games that are going to sell huge quantities and games that are unlike anything else are rarely the ones that sell huge quantities. They may sell a lot over a long period or become influential, but they don't tend to sell loads of copies right off the bat. Consumers don't want to buy something they've already got, but they also don't want to buy something that they have no familiarity with.
And horror feels like a bit of a tightrope walk too… Scary but still light enough to be mass market.
Yes, which Atmosfear managed to get right. Our strapline was always 'Fast Frightening Fun' – and that last word was the most important. It has to be a fun experience.
Jim, this has been great. One last question… Given the success of this recent Kickstarter, are there any further Atmosfear launches in the pipeline?
There are three million Atmosfear games out in the world and hopefully there's a few more to come… We have a lot of plans for the future of Atmosfear as a game and as a brand. I really feel that the storyline and characters at the heart of Atmosfear are bigger than just a board game.
Agreed – I look forward to seeing where the brand goes next. Also, I best mention that the last copies of the deluxe anniversary edition of the game are coming to retailers this month, distributed by Asmodee – so anyone interested in grabbing a copy can do so very soon!  Jim, a huge thanks again!
–
To stay in the loop with the latest news, interviews and features from the world of toy and game design, sign up to our weekly newsletter here