Buffalo Games teams with BuzzFeed for new line of party games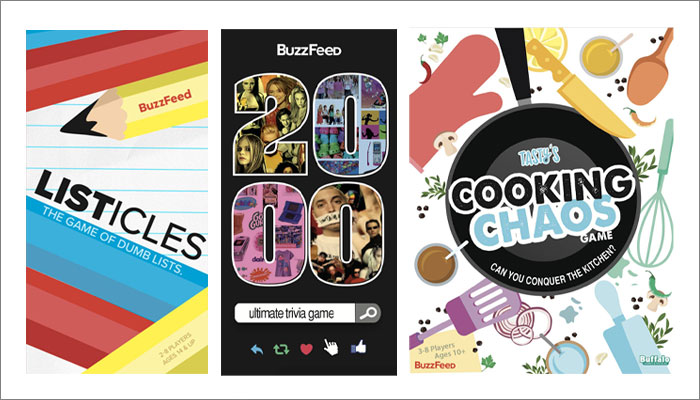 Buffalo Games and BuzzFeed have teamed up to release a new line of party games under its new BuzzFeed Games imprint.
The initial launch will include three games available fall 2020 – BuzzFeed 2000's Trivia, BuzzFeed Listicles, and BuzzFeed's Tasty- Cooking Chaos – and each game was created with input from BuzzFeed editors.
"BuzzFeed is all about driving human connection, and through the BuzzFeed Games imprint, we'll extend our reach beyond the screen and spread joy IRL to our community through lively game nights," said BuzzFeed's SVP of Licensing Eric Karp.
"We're so fortunate to be able to team up with the brilliant folks at Buffalo Games to bring this project to life."
BuzzFeed 2000's Trivia is a game designed to 'test your millennial status', with over 400 questions with pictures, trivia, and challenges based on the movies, TV, toys, tech, and trends of the 2000's.
Elsewhere, Listicles is a frantic race to compile a list based on categories like 'things your rich friend had growing up' and 'people you wouldn't want to be trapped in an elevator with', while Cooking Chaos is a collaborative kitchen cook-off featuring food recipes from BuzzFeed's food brand, Tasty, where players race to collect ingredient cards to make dishes.
"We are thrilled to be partnering with BuzzFeed on this line of games," added Buffalo Games Vice President of Marketing and Product Development, Ben Jamesson.
"We are confident that combining BuzzFeed's unique voice and signature style with our experience creating fun and engaging games will result in a set of games that people will want to play again and again. Working with BuzzFeed will allow us to tap into the hundreds of millions of people that love their content globally and give their massive audience a fun new opportunity to experience and engage with BuzzFeed."
Listicles will be released exclusively at Target and 2000's Trivia and Cooking Chaos will be available at major retailers in Fall 2020.
—–
To stay in the loop with the latest news, interviews and features from the world of toy and game design, sign up to our weekly newsletter here