Carine Rosalia on support for new inventors – and the story behind her first licensed concept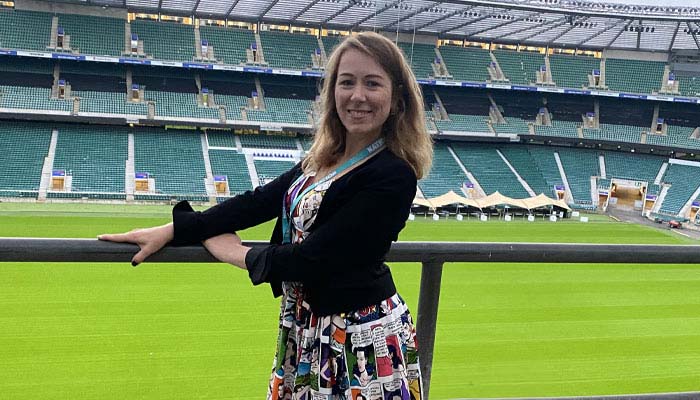 Carine! Always great to chat. To kick us off, how did the world of toy and game invention get onto your radar, because you're also a lawyer, right?
Yes! My story is a bit like Benjamin Button, you know the story of the guy who was born old.
I do!
Well, as a kid, I wanted to be a lawyer. That was my thing! I would convince my friends to play court on the playground… For Christmas, I'd ask my parents for law exam books… I'm not kidding, that was me!
Well, it paid off!
Exactly – I became a lawyer, I am a lawyer, I have my dream career! Then, during lockdown, I stumbled upon People of Play's Young Inventor Challenge. My oldest is six and we were looking for something to do so I put that in-front of her and we watched all the videos, but the collateral damage was that I got hooked on them! I started to have my own ideas!
Which throws up a dilemma! How morally wrong is it to submit ideas to the Young Inventor Challenge under your daughter's name?!
Ha! Well, I was obviously over the cut-off age for the competition, and that's actually where you, Adam and the whole Mojo Nation team come in! I was on Linkedin making contacts and that's when I came across your Virtual Mojo Pitch event.
Ah! And that's when we would've first connected?
Yes, it's likely coming up to the two-year anniversary of our first chat about the Mojo Pitch. And now I'm completely hooked. I still have my legal career, but it's been wonderful to join the toy industry – and I have more toys now than when I was a kid!
You scratched the lawyer itch as a child and the toy itch as an adult – amazing! And does the legal side of your career inform what you're doing with toys at all?
Yes! They're both problem-solving; there are knots to untangle with both. Communication and persuasion is key to both. I'd also say that they play to both sides of my personality. They play off each other.
As a total newcomer, how did you get to grips with the industry? What was that process like?
Well, a few years before entering the toy industry, I invented something for the kitchenware space. I created a company called Lunch Squares and invented a line of lunch boxes. I did the whole process myself and being exposed to that has proved really helpful now in what I'm doing with toys. For example, packaging isn't something you just think about at the end – it informs the whole process.
But on the toy side, those videos that People of Play put out had some really great advice and I also read the book that you and Deej wrote – The Snakes & Ladders of Creative Thinking.
Ah, that was you! There's one person left to identify and then we can say we've met everyone that bought a copy of the book… Or the 'Fab Four' as we call them! You've kindly mentioned Mojo Nation and People of Play, and there's lots of great resources out there for new inventors – Azhelle Wade's Making It in the Toy Industry podcast, InventRight, TinkerTini's TinkerNext resource, WIT's Empowerment Days, Creative Factor at Toy Fair, Adam Borton's Toy and Game School… The list goes on! Did you feel that there was a lot of support for you out there as someone new to toy invention?
Absolutely. That's been my experience and I hope others feel this way too. People have been generous with their time and I have to say, your Mojo Nation newsletter is great because you get to see lots of different perspectives. Azhelle's podcast is the bomb too – she really wants inventors to succeed. And InventRight is a wonderful thing; it really helps you understand the ins and outs of licensing a product. There's a wealth of resources out there.
Absolutely – and thanks for the kind shoutout for the newsletter.
It's a fantastic resource – and I have to say, your Mojo Pitch event…The speed-dating element of it, and how it's run, is great.
I'm getting that tattooed on me as soon as we wrap up here. You're very kind. Thank you. Let's move on to the exciting news that your first licensed invention has hit shelves: the CoComelon Boo Boo JJ Plush from Jazwares. Talk us through the origins of that idea…
The whole concept is about playing with bandages. I have two little ones and they have a natural attraction to bandages – they're like glorified stickers! That was the seed of the idea.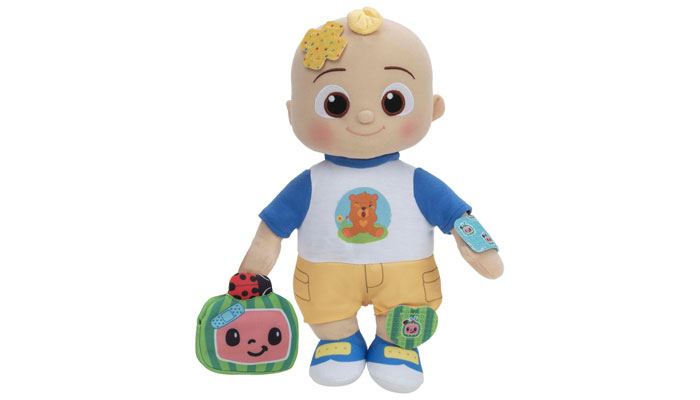 How did CoComelon enter the picture?
I had met Jazwares through the Mojo Pitch. They're a great Inventor Relations team and we'd developed a good relationship. In late 2020, I pitched them a concept, but it was a pass. At the end of that meeting, after getting feedback on my rejected concept, I asked about the brands they were focusing on. They told me that CoComelon was one, and within five minutes of leaving that meeting, I had the Boo Boo JJ concept. My husband actually asked me how the meeting went, and I'd forgotten that I got a rejection! I was so excited about this new concept.
Did you reach straight back out to Jazwares about Boo Boo JJ?
I think around three months passed. I had the idea, but then came the sketching, the ideating, the prototyping and the sizzle. It was one of my faster concepts, but the legal career means I mainly work on toys at night.
Great. And we can see the toy in action in the video above… You mentioned that you have a good relationship with Jazwares. What makes their inventor relations team special?
Jazwares is a powerhouse and they're a great company. The IR team is friendly and inviting, but they also know what they're doing. They have a wealth of knowledge and an attitude of wanting to win together. I've loved working with them.
All this took place during the pandemic, so how did you find pitching virtually?
Until the live Mojo Pitch in London a few weeks ago, I'd only done virtual pitching. And to me, it's all about the sizzle. It's good to talk and find out more about companies but I try to let the sizzle do the talking!
And for any companies that haven't worked with you yet, is there an area that focus on when it comes to inventing?
I have a natural propensity towards pre-school but I have a range… I've got everything from party games to pre-school items.
Good to know! Before we wrap up, how do you have ideas Carine? What fuels your creativity?
Getting exposure to different things helps. Being curious, travelling, taking a stroll, being around people – it's about getting a different perspective. That all helps to plant the seeds of ideas, and then usually early in the morning – at around four – is when I'll try to put all the pieces together.
Sometimes inspiration also comes from a wishlist, or through an event like the Mojo Pitch, where I'll go back to my 'seeds' and see what to develop for the different companies. That process is a bit like getting a gift for someone… What do they like? What do they have? What do they not know about? How can I please them?
It's a great analogy! Some people we speak to also mention they need a creative space to work in… Is that true with you?
I am surrounded by drawings; by my kids' drawings and also my dad's sketches. I'm not an illustrator but I like to sketch, so I always have a lot of a paper around me. It's inspirational and functional too.
So is your dad an illustrator?
No, but he likes to sketch portraits. He also has an inventor instinct. He actually sketched a bike seat concept – I have that in-front of me.
It's in the genes!
Exactly!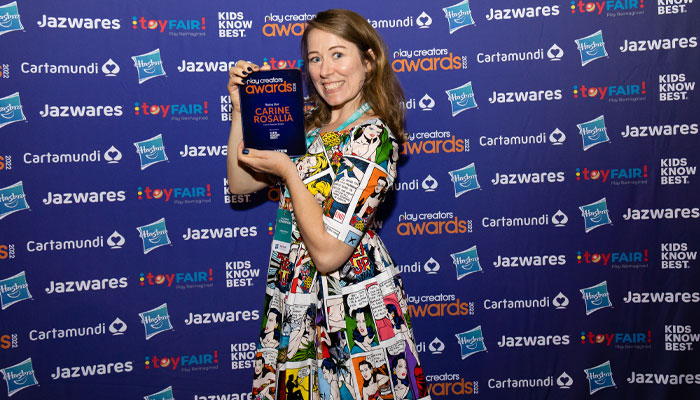 Carine, before I let you go, we finally met in real life a few weeks back at our Play Creators Festival in London. And at our Play Creators Awards, you won the Rising Star Award! I just wanted to quickly pick your brains on how you found the event, and what scooping that accolade meant?
The Play Creators Conference was great. It was fun to see the people outside the screen, make new connections, and get inspiration from the various speakers. And the awards event was magical! It is a real honour to be recognised amongst such a talented group of people.
It was well deserved. Thanks again for making time Carine – let's tie-in again soon!
–
To stay in the loop with the latest news, interviews and features from the world of toy and game design, sign up to our weekly newsletter here