Cartamundi, Worlds Apart and Sambro join Mojo Pitch 2018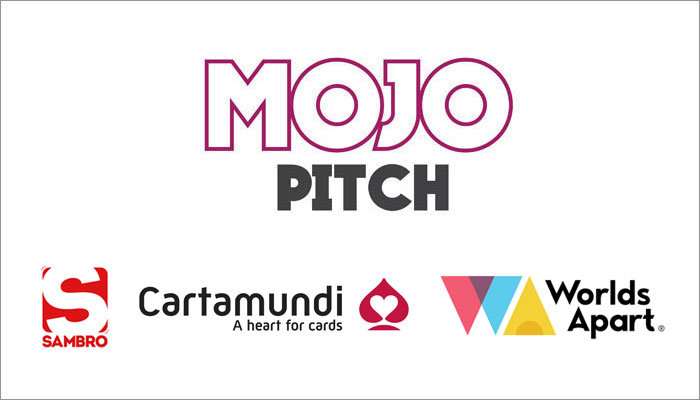 Cartamundi, Worlds Apart and Sambro will all be taking part in the inaugural Mojo Pitch event this September.
Forming part of the Play Creators Festival, the Mojo Pitch will take place on September 11th at London's Emirates Stadium, and will see toy and game designers, invention houses and design agencies pitch exciting new toy and game concepts to a range of companies, each on the lookout for new products.
"Inventors are the lifeblood of our industry and I think that the Mojo Pitch event is a fantastic opportunity for all involved," said Daniel King, general manager UK at Cartamundi.
"As a global leader in card and games manufacturing, we are extremely excited to be supporting the inventor community. Our purpose is sharing the magic of playing together and we look forward to meeting inventors and publishers at the event and hope to be able to manufacture some of these ideas into reality. We will be sharing our Make My Game platform (www.makemygame.com) where budding game inventors can design and create their own board game that we will manufacture and ship globally."
James Austin-Smith, head of R&D and product design at Worlds Apart, added: "Here at Worlds Apart we are really pleased to be supporting the Mojo Pitch event. We are always excited to meet interesting people and talk about interesting ideas; it should be a great chance to find collaborators for new developments or uncover something new we can help take to market."
Collette O'Kane, buying director at Sambro, stated: "At Sambro International, our goal is to be the global home of vision, innovation and creativity. By getting involved in this event, we are hoping to meet some of the most talented designers and creators in the business who are just as passionate as us about bringing ideas to life."
Cartamundi, Worlds Apart and Sambro join the already announced Hasbro, TOMY, Alpha, Vivid, Character Options, Rubik's, Bananagrams, Seven Towns and Wynne-Jones IP in being involved in this year's Mojo Pitch.
More companies are set to announced in the coming weeks, and Mojo Nation will be publishing a wish list for participating firms, outlining what each company is looking for in terms of product, ahead of the event.
To join these companies in seeing designers at the Mojo Pitch, email Billy Langsworthy at billy@mojo-nation.com.
For more information on the Mojo Pitch, or to book your ticket, head to: mojo-pitch.com.
For more information on the wider Play Creators Festival, head to: playcreatorsfestival.com.