Casdon's Alex Reynolds on developing ideas, pitching – and exploring new avenues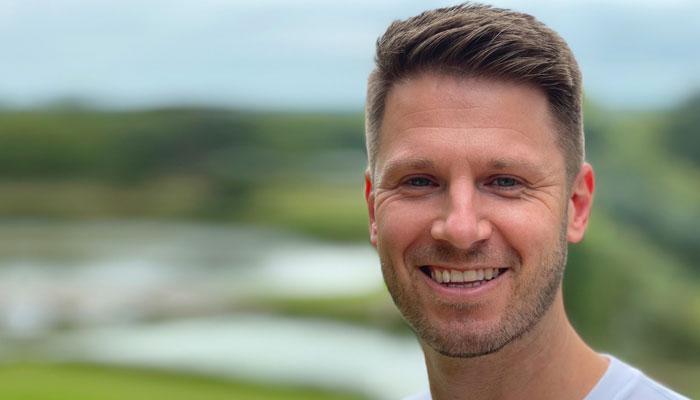 Casdon's Head of Research and Development, Alex Reynolds, discusses packaging, product and play.
Hello Alex! I hear you're a new dad again? Congratulations!
Thanks Deej. As you know, I was e-mailing you from my home office late that evening, with my wife having contractions… My third son was born just over an hour later. It was a little close for comfort, but we made it to the hospital and all went well.
Terrific! And how's it going? Or is that too dumb a question?
I'm not going to comment on the sleepless nights as I'm just so proud and ecstatic that we have a healthy baby who just happens to be very cute as well. Being a Dad of three boys is amazing. I'm definitely in the right industry to keep them happy.
And looking at the inevitable shower of gifts, does your eye fall on anything that particularly makes you appreciate early-years design?
We've been very grateful to have received so many cards and gifts from family and friends over the last few weeks. Such wonderful gestures from everyone which we're truly thankful for… But the things I keep admiring the most are our new Avent baby bottles.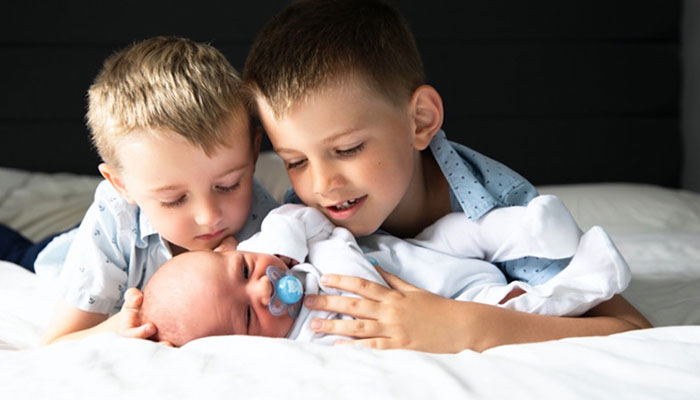 We previously used the old design Avent bottles for our other two children. When the bottle was made up with boiling water and formula, and shaken to mix it, the pressure inside always spurted hot water everywhere due to the poor design. We just got used to it before; both me and my wife would have to brace ourselves for the daily burns it caused.
For legal reasons, I should probably say that other potentially scalding baby-bottle brands are available… The new design is better, though?
Yes! We recently purchased the re-designed bottles. On these, the cap forces the teat down perfectly to stop it all leaking. It's such a clever design change, but one that's appreciated daily by me as a happy customer. I love that the new design just works and looks relatively simple, but I know this comes after lots and lots of hard work. I like to use this theory with my design team as well… We can always improve our designs to create a better play experience for children!
Let's discuss you: despite your youthful appearance, you've been conceiving and designing in the industry for nearly 20 years…
Thanks Deej – maybe I'm not as young as you think.
Or maybe you have a portrait ageing in the attic! Either way, how did you get into the industry?
It all started in my college days, when I didn't have any plans other than going to university afterwards. My Graphic tutor told me that the success rate of getting a job in graphics after a degree was extremely low. I was lucky enough at the time to have a connection to get a role in the licensing industry at CPLG, as an Artwork Coordinator.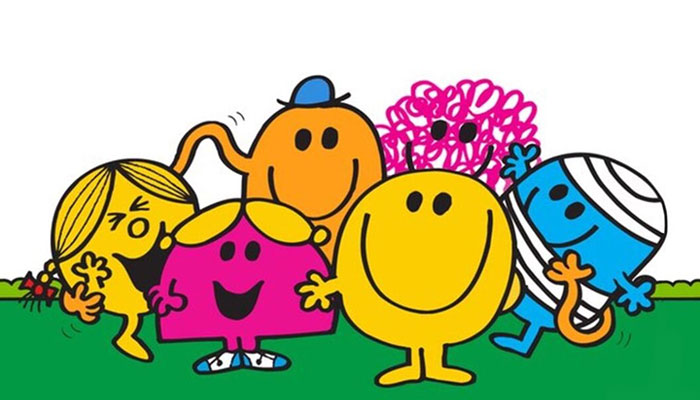 Straight away?
Yes, I took the opportunity to get straight into a paid job and learn my trade from the ground up. I was the licensing coordinator on WWE and also Mr Men and Little Miss – two very different licenses, but both amazing to work on. I can remember being at an event in Battersea park with Adam Hargreaves who was drawing and signing Mr Men pictures for children from all different charities…
Adam is the son of Roger Hargreaves, the original Mr Men creator?
Right. I could see the smiles on all these children's faces as Adam was creating these drawings – and I knew I wanted to have that effect on children; to bring some joy to their lives. My manager at CPLG; Tim Juckes, was a great inspiration for me and I was hooked into the industry from then on.
You've never looked anywhere else?
From time to time, I've had offers to move away from the industry into Fast Moving Consumer Goods – but I just can't leave the toy world… It's part of my blood now and I'm sure it always will be.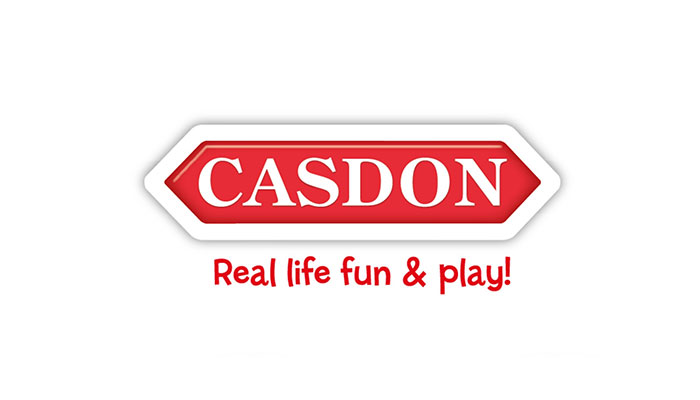 Great! So you're now the Head of Research and Development at Casdon. What's the best part of your job?
I'm honoured to be working for Casdon. With their 75-year heritage, and huge presence in the role-play world, I'm so excited to be leading their future development. I know this sounds cliché, but the best part of the job is working with the amazing team around me. Everyone at Casdon has been so welcoming since I joined just a few months ago. I've inherited an outstandingly motivated, creative, and willing R and D team and we have – just this month – doubled the size of my team to help drive the future growth of the company. Exciting times.
Something I wanted to discuss was your philosophy on packaging design. Tell us about that…
It's a simple philosophy, really, but one that's always a challenge to execute. In my mind, there are three aspects: Design, Communication and Experience.
My feeling is that packaging design needs to be bold, disruptive, and engaging. Always assess the competition, and review the pack design as a consumer would see it on shelf. What makes you stand out from the crowd? It could be structure, colours, print finishes or graphics… Or all of them if you're lucky!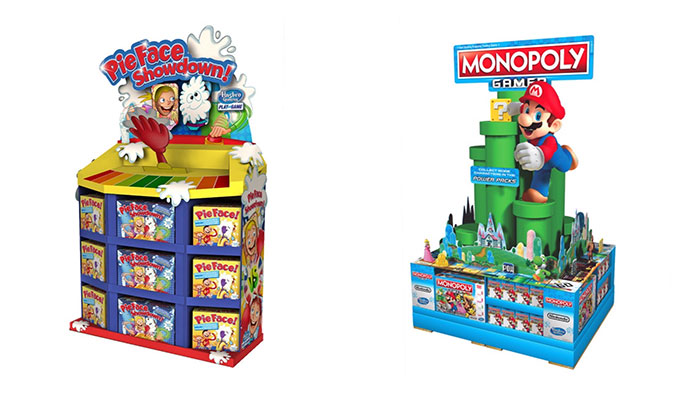 The communication of packaging should be clear and concise for when a consumer is trying to work out what they're potentially purchasing. Use the three-second rule: remember, the consumer is either hooked enough – within a few seconds to pick it up and review further, or they'll move onto the next item.
That seems to me like incredibly important advice – it astounds me how often people can't understand what they're looking at. And the experience?
The packaging experience should be exciting. We all know about unboxing, for example, and how it engages as part of the toy's play pattern for children… But this can be done on any type of packaging. Add little quirks and elements that are unexpected to enhance their love for the product.
And can you give an example of a product that delivers in the right way?
I was part of the Hasbro Gaming team that created the Monopoly Cheater's Edition a few years ago. For me, this encompasses all the requirements to engage a consumer. It has whimsical illustration work, and then clear communication on what the game's all about. We went through a huge amount of communication ideas to end up with the final version that just works. It's simple but so effective.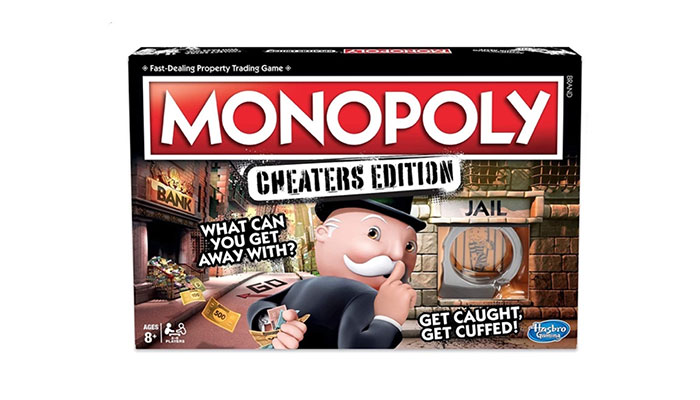 You know what, I'm going to order a copy! You've got me hooked!
I also worked on Monopoly Deadpool Collector's Edition where I decided to open-up the box in a completely different way to how a usual lid and base box open. The unboxing on this pack is perfect for using the amazing comedy from Deadpool; the consumer unleashes the inner messed-up mind of Deadpool, from a unicorn version of a Happy Meal box – with a knuckle duster for a handle – to a Chimichanga box. So much love and detail was added to this item to make it a true collector's edition and exciting purchase.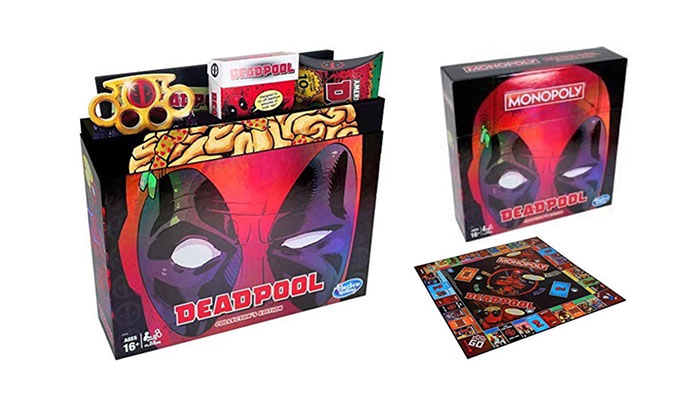 Brilliant…
In addition to my own work, I do get a lot of inspiration from items outside of the toy industry. I truly admire the designers of the tongue-in-cheek Jaffa Cakes barcode with the long-time argument of 'biscuit or cake'. Such a clever way to turn a standard element into a very memorable design feature.
And on that subject, Casdon this year did – for the first time – the Mojo Nation pitch event. When inventors pitch to you, what do you want to see? What must an idea have?
For me, an idea must be clear, original, clever and captivating. I want to understand what trends inspired the inventor to create it, why they think this is great, and why it's different from other items already on the market.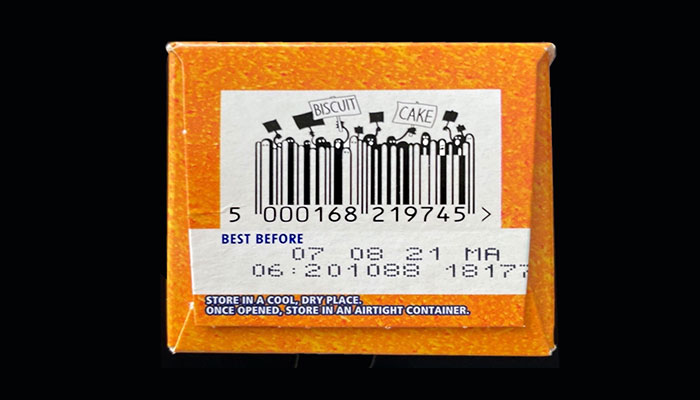 Anything else?!
Amaze me! Excite me! Imagine I'm a child and show me why your idea is the next big thing! I want to feel engrossed in your pitch and have it make me smile so I can remember it when the day is through. We're creating toys – so let's make the pitches fun!
And beyond that – beside the idea itself – what can inventors do to score bonus points?
Create a prototype – no matter how rough – or play a video and show me how it can work; talk me through the features like a TV commercial. If a big kid like me can be wowed by a crude mechanism, then I can easily imagine how a child can be wowed by the potential product opportunity. But in addition, I also want to see where it can go. What's next? What are the range opportunities? This is a huge benefit as it helps do the thinking for me and lets me focus on the core concept.
Great! Conversely, then, what's the biggest turn off in an inventor pitch?
Not doing their homework. I can get pitched on ideas that are great but just aren't right for where we need to go as a business. We do our wish lists for a specific reason, and we need inventors to listen to our needs. It saves everyone's time. That being said, I do quite like seeing a wildcard idea every now and again, so long as the core ideas fit our requirements.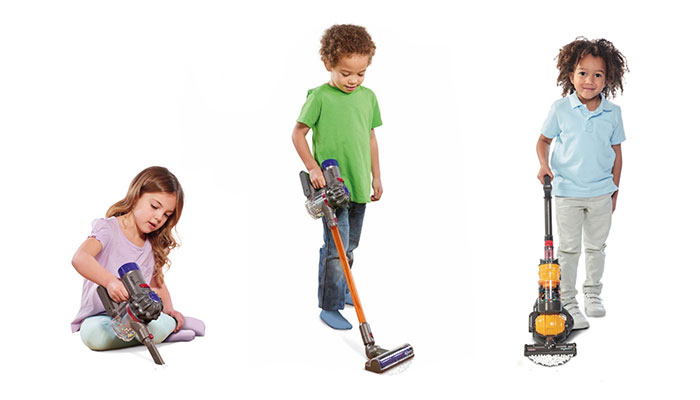 To that end, Alex, what else is new at Casdon? What's next for you?
Casdon is historically a role-play toy company and most recently famous for the replicas of real-life household items. The Dyson Ball and Cord-free toy replicas are the best examples of this. Whilst Casdon will continue to lead the way in that area, I'm also keen to explore other avenues in the coming years. We have a fantastic leadership team at Casdon with huge ambitions… Watch this space!
Overall, my ambition for Casdon is to make the children that play with our toys smile. Of course, there are financial challenges to overcome for our business and for everyone personally, but ultimately, we're trying to make the world a better place. I was once introduced to a quote that sums this all up nicely for me:
"A hundred years from now it will not matter what my bank account was, the sort of house I lived in, or the kind of car I drove. But the world may be different because I was important in the life of a child."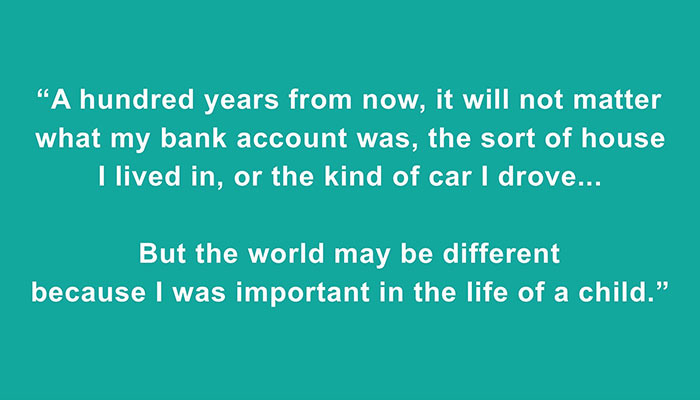 Oh, gosh. You caught me off guard there… That's a very moving sentiment. I'm quite sure it's true as well. AlrIghty… Alex, this has been great fun and very insightful, we need to wrap things up. Final question, then: what's the most interesting thing on your desk?
I've got the original sculpts for the four South Park character bubble-bath toppers we created from one of my first roles. They've been with me since the early days and sat on every desk I've had since then – and Kenny still hasn't been killed! I've got a magnetic Moyu speed cube that I'm always trying to improve my time to solve. My record is one minute, twelve seconds so far. Not a pro by any means, but getting quicker each day.
Your desk sounds like a treasure trove!
It is! However, my absolute favourite is still the Boglin I had from the 80s – Plunk. It's my pride and joy, and it's still in the packaging, albeit with a little sun-fading now from the American sun through the skylights at the Hasbro Pawtucket office… But it's still awesome! Going back to my quote above – thank you to the Mattel designers who created Boglins… You were very important in my life!
Lovely. Alex, thank you so much for your time. That's brilliant.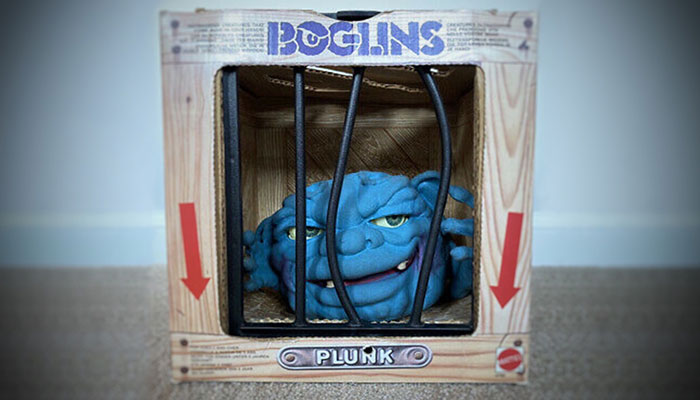 —
To stay in the loop with the latest news, interviews and features from the world of toy and game design, sign up to our weekly newsletter here