Chuck Kennedy, co-creator of the original Fireball Island, on the big screen inspiration behind the classic game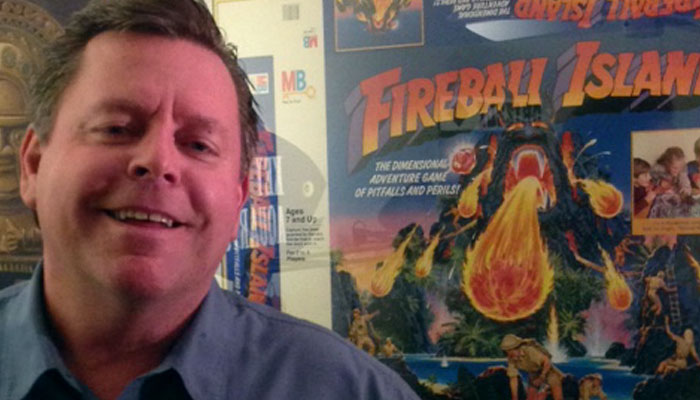 In 1986, Milton Bradley launched Fireball Island, a game which saw players move across a massive island along winding paths, caves and collapsing bridges in a bid to nab Vul-Kar's jewel; all while trying to swerve one of Vul-Kar's thundering fireballs (marbles).
At the time, it looked unlike any other game around. While Boggle, Monopoly and Hungry Hungry Hippos graced many tabletops, Fireball Island was pitched as "more than a mere board game, it's a three dimensional adventure".
With Restoration Games' revamped version of the game having just made $2.8m on Kickstarter, we decided to check in with the co-creator of the original Fireball Island, Chuck Kennedy, to find out more about where the initial idea came from and why he feels creativity in the toy space today is "shrinking".
How did you get your start in the world of toy and game design?
When I was five years old, I found myself always drawing and making my own toys; some out of cardboard, paper, clay, etc. My parents encouraged me, so I continued to sketch and make stuff. After studying art in college, I was really lucky to get a job at a toy company called Applause Inc in Woodland Hills, CA. Applause had a huge art department, filled with extremely talented people (illustrators, sculptors, plush designers and writers). I learned all the different aspects of the toy industry, and it was a great creative atmosphere.
At the time, Applause was working very closely with Spielberg's Amblin studio. Once a month, a small group of us would be invited over to the Amblin office at University City in California. We were given the chance to preview new projects with the end result of developing merchandise that pertained to the movie. Visiting Amblin all those times was really inspiring to me. I then thought about doing something really big that would not conflict with my work at Applause. I decided to develop an action/adventure board game that was totally different than anything else on the market.
Where did the initial idea for Fireball Island come from?
I had a part-time job while attending college in a model shop in North Hollywood where we had to mock up salesmen samples of product and packaging. I learned to use a Vac-U-Form machine to make the inserts that went inside boxes that held cosmetics. The forms were hot when they came out of the machine so you had to turn them upside down on a table to cool. I noticed when they were turned over, the shapes resembled tiered cakes, mountains and ancient Mayan temples.
Fast forward to my early years at Applause, I took a trip down to the Yucatan and visited the historic site, Chichen Itza. There, in the middle of the city, was a magnificent pyramid. I thought to myself that the shape would make a great Vac-U-Form centerpiece for a 3D adventure board game.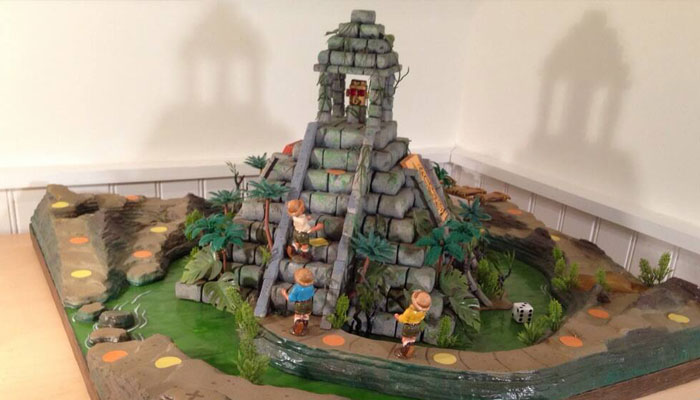 How did the product that ended up on shelves different from that initial concept?
It took me two years to build the prototype of my game (pictured above). Once I completed my board game, I wrote multiple letters to Milton Bradley, letting them know I had something really great to offer them. They suggested I contact an agent in the industry called Anjar Co. I contacted the agent and he instructed me to ship the prototype to them. Shortly after, Anjar called me to let me know Milton Bradley wanted my game. Anjar told me Milton Bradley was going to combine elements of my game with components of another game.
Is your approach to design different now than it was back then?
I have been in the toy business for over 33 years and my approach to toy design has always been to develop new, exciting and totally different concepts. I pride myself on doing that.
What do you make of the new Restoration Games version of Fireball Island?
I am pleased that Fireball Island, the game I co-invented and that millions of consumers loved, is being brought back by Restoration Games.
How do you assess the current state of creativity in the toy space?
In my opinion, the state of creativity in the toy and game industry is shrinking or non-existent. It appears many of those in the industry are imitating what the "other guy" is doing and not being unique.