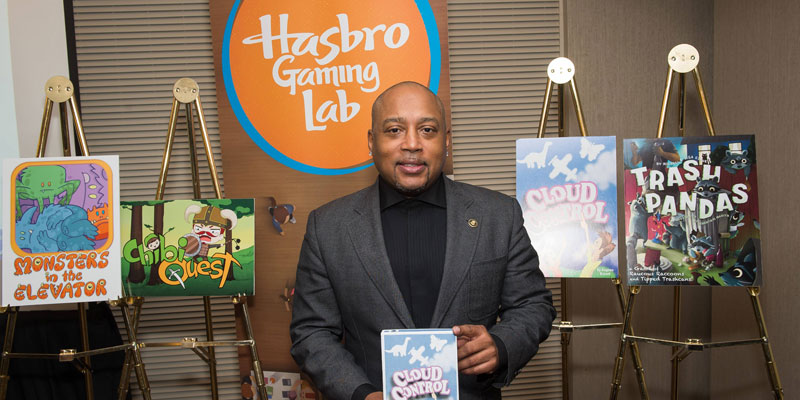 Hasbro has selected Cloud Control as the grand prize winner in its Fall 2016 Gaming Challenge, beating four other finalists to the title.

The Challenge, in association with Indiegogo offered independent game designers a prominent platform to promote their ideas, while enabling Hasbro to discover and develop new face-to-face games.
The winning game, Cloud Control – created by Eugene Bryant of Suwanee, Georgia – is a family-friendly game that allows kids to turn, twist, overlap and animate cards to form clouds into shapes before time runs out.
Each of the selected five finalists ran crowdfunding campaigns that were promoted on Hasbro's partner page on Ingiegogo.com. Daymond John, creator of FUBU and co-star of Shark Tank, was a guest judge for the Challenge and when the final Indiegogo campaigns closed, Cloud Control raised more than $6,700 from more than 180 backers.
"SUCCESSFUL GAME IDEAS CAN COME FROM ANYWHERE, AND THE GAMING CHALLENGES HELPS US UNCOVER THE BEST OF THE BEST FOR HASBRO GAMING FANS."
BRIAN CHAPMAN, HASBRO
"Successful game ideas can come from anywhere, and the Gaming Challenges helps us uncover the best of the best for Hasbro Gaming fans," said Brian Chapman, head of design and development at Hasbro.
"We were thrilled to bring the winning Mr. Toast Game to life in the 2015 Game Challenge, and are excited to work with Eugene to share the imaginative Cloud Control game with our younger fans."
Bryant will receive the $25,000 prize and a trip to Hasbro headquarters for advice, mentoring and assistance from Hasbro's game development team to help make his game a reality.
"My family and I couldn't be happier to have won Hasbro's Fall 2016 Challenge," said Eugene Bryant.
"I'm beyond grateful to my family and friends, who inspired me to create 'Cloud Control,' and to both Hasbro and Indiegogo for helping to turn our dream into a reality. I can't wait to get started on the final product."
Save
Save