"A collector's first album always has special memories": Greg Lansdowne on his new book, Panini Football Stickers: The Official Celebration

This year marks the 60th anniversary of the iconic Panini Football Sticker.
To celebrate the milestone, Panini has teamed up with Bloomsbury Sport to publish Panini Football Stickers: The Official Celebration, written by Greg Lansdowne.
We caught up with Greg to find out more about the secret to Panini's success – and how the design of the stickers has ensured they remain as popular as ever.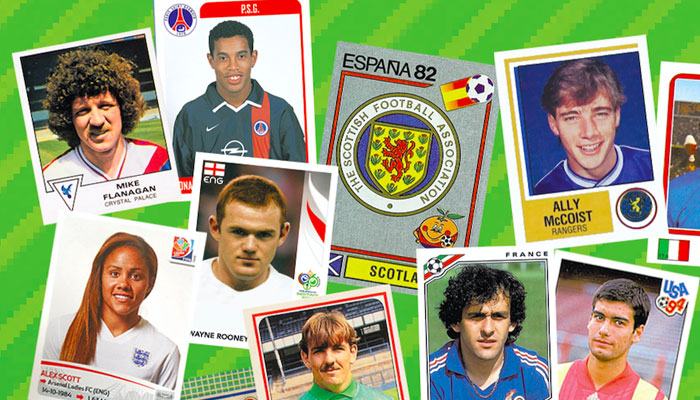 Greg, to kick things off, can you tell us how your interest in Panini and football stickers began?
Like many kids of the Seventies and Eighties, my first exposure to Panini football stickers was through Shoot! – the hugely popular magazine aimed at young football fans. Shoot! would run a giveaway of an album and stickers in early January each year, to start you off, and from there you were hooked!
My first album was Football 79, which my brother got me into when I was five-years-old and helped me collect all the way to one short of the whole collection!
You have created a TV documentary and have just written a book on Panini's history. How did you move from being a consumer to an expert on the subject?
From Football 79, I was a hardcore football sticker and card collector all the way through to the early Nineties. Once I went to college and University it became a lapsed interest, but I always kept an eye on what collections were out there.
In 2012 I came across all my old albums at my parents and realised I had never completed any of them… So I decided to have a go at finishing some through the internet. When the 2014 World Cup came along, I decided I was going to collect an album in 'real time' for the first time in many years.
It coincided with a huge surge in more 'mature' people getting back into collecting – Panini pulled off a masterstroke by giving away free albums in newsagents and supermarkets. That album was a huge success for them – their bestseller ever up to that point around the world. That got me thinking that this enduringly popular company has existed for more than 50 years at that point yet remained a relative mystery.
I'm a writer so I thought I'd pitch the idea of a book about Panini – in fact a broader history of football stickers featuring other companies like Merlin and FKS – and things took off from there… So much so that the first book, Stuck On You, was published in 2015 and then made into an ITV documentary two years later.
On the back of that I then wrote to Bloomsbury about a follow-up book and that has eventually turned into a 60th anniversary release: Panini Football Stickers – The Official Celebration, which is published on November 25th.
What do you think has been the secret of Panini's success in the sticker business?
It's a relatively simple method but very difficult to effect – as many of their rivals have proved over the years. The quintessential art of Panini sticker – or cards as they were at the start – collecting hasn't changed since their first Calciatori album for the 1961-62 season.
Since then, Panini has been the best in the business in terms of putting together high-quality sticker albums. To do so they made sure they quickly acquired licences from the Football Leagues and Players' Associations, as well as putting together top-class editorial, marketing, sales, distribution and design teams on top.
When you pick up a Panini football sticker album in 2021 you know what to expect from it – just as collectors in the Sixties, Seventies, Eighties etc did. That the format hasn't changed much has also made it easy for lapsed collectors to return to the hobby – and to entice their kids into it too.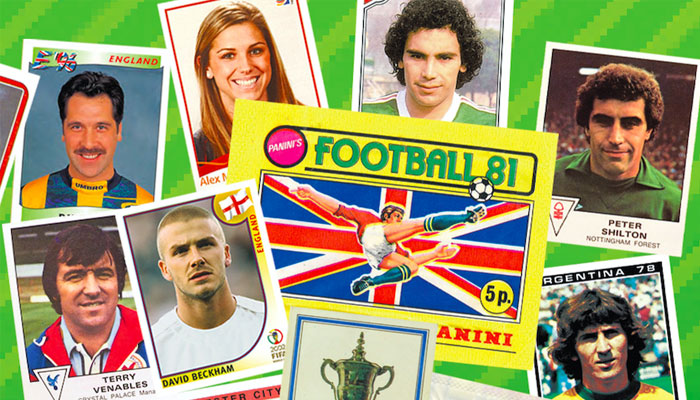 Football has changed a lot over recent years. How have sticker collections adapted to these changes?
As mentioned, the standard football sticker album hasn't changed much over the years. Some manufacturers have added QR codes, so you can watch footage of the players in action, but that didn't last long. Companies like Panini have realised the sticker album has little need to change, but they do also acknowledge they need to move with the times to encourage younger collectors into the hobby. Hence, the digital collections for the World Cup, Euro, Premier League and more have proved increasingly popular.
My son has really enjoyed putting in the codes found inside packets of the Panini Premier League Adrenalyn XL trading cards to build up his squad and play against other collectors. Interacting with other collectors has always been a key part of the magic of Panini – from the school playground in my childhood days to the digital collections and swapping on social media in modern times.
Then, of course, Panini are among many companies getting involved with NFTs as another aspect of the collecting sector. No doubt that will develop further as time goes on, but I don't think it will diminish the demand for physical cards and stickers.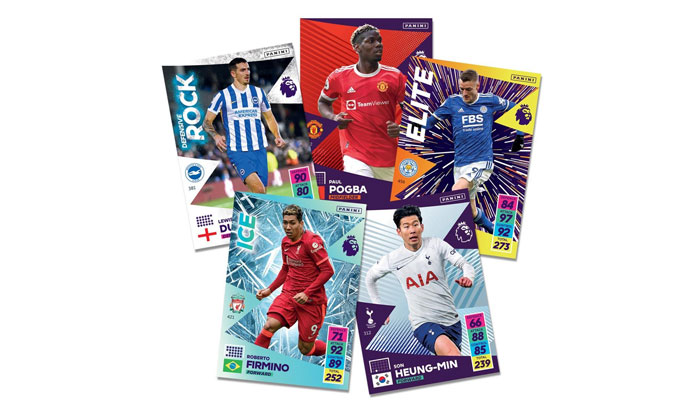 Thinking about the design of the stickers and the albums, how does Panini approach product design and keep things on trend design-wise?
If you look at a Mexico 70 Panini album and a Russia 2018 Panini World Cup album there isn't a huge difference to the lay-out, with rows and rows of players in head and shoulder poses along with a few special features and stats about each qualified nation.
Of course, they have the calibre of designers to come up with styles that fit with the time – and they seem to hit the spot on every occasion. There's always a bit more room to manoeuvre when it comes to the legendary 'shiny' badges – much sought-after currency for decades – and they have played around with those designs in terms of style, finish and feel over the years.
What advice would you give to designers who are looking to work in the world of stickers and collectibles?
I would say bring your own twist to the hobby but also have some respect for what has gone before when it comes to the football sticker albums. Take some time to study the history. Many of the retro designs remain among the best in history: Panini München 74 and Mexico 86 are classics of their art. There's a lot more scope to think outside the box when it comes to digital and NFT collectibles because they are relatively new and aimed at younger audiences in general – anything goes!
Is there a particular collection that stands out for you? If so, what made it special?
A collector's first album always has special memories – especially as it is a way to get a young fan into the game and discover the players, kits and club badges for the first time. Therefore, it's probably of little surprise that Football 79 is among my favourites – only Football 83 competes with it due to the full-length player stickers that season.
Football 79 is, in my opinion, the high-water mark thanks to the design of the badges – a silky-denim type crossover. From January 1979 it became an obsession – with much financial support from my brother and parents – to collect all 594 stickers. That I got to within one of the full album – the St. Mirren badge – suggests I had a good go at it!
Stickers seem to be focused on football. Why do you think other sports haven't had such an impact?
Football is by far the biggest sport in the world so it makes sense that football collectables out-sell any other. There remain some areas where other sports are more popular – North America and Australasia for example – but even there 'soccer' is catching up. Furthermore, cards are traditionally more popular in those territories – and the pursuit of particular players or 'specific 'chase' cards – than the desire to complete sticker albums.
Other sports are rising in prominence, however, such as F1. The 'rookie' phenomenon that has been all-consuming in North American collecting for decades has crossed over into Europe in the last couple of years, so with F1 having not had any significant collections for many years it meant the new releases featured a whole host of rookie cards/stickers of the latest drivers. Unsurprisingly, Lewis Hamilton's early cards and stickers are proving especially popular on the secondary market.
There's also room for growth within a number of other sports, including cricket. I would also say look out for women's football stickers/cards as there is a huge opportunity there for whoever takes the plunge in the WSL (English Women's Super League).
Would you describe Panini's success as a global one? And can you tell us a bit about the impact sticker collections have made globally?
Panini's success can't be described as anything other than global! It might not always be stickers – cards are more popular in North America and Australasia – but pretty much everywhere you go around the world now there will be a Panini presence. And if they don't have a presence there is a good chance they will in the near future!
Panini's football World Cup album remains the showpiece collection, but they produce stickers and cards for so many different licences in so many sectors that they always have a host of successful products on the go at any given time. Just this week they acquired the license for WWE from Topps so they never rest on their laurels – nor can they afford to in a highly-competitive industry.
What is the future for sticker collections? What innovations and changes can we expect to see over the next few years?
In terms of sticker collections, there is little reason to change a winning formula cultivated over decades. The greater innovation will occur in the worlds of trading card, digital and NFT collectables. I expect the European collectables market to increasingly mirror that of North America as time goes on – a greater emphasis on high-end product and growing media coverage of the hobby. The first football sticker/card shop opened in the UK this year – Fora Sports Trading in Brighton. I don't expect it to be the last.
 
Finally if you could curate and develop a Panini Collection yourself from past or present times what would it be?
I am an old-school Panini sticker collector – growing up in the Eighties it was ALL about the stickers with very few card collections around. I would go for a sticker album featuring reproductions from the 'golden era' of Panini UK domestic football collections – Football 78 to Football 93 – alongside some new stickers for players who didn't make it into certain albums or were in the wrong team as they moved during the season.
There could also be scope for a secondary card collection with some limited-edition autograph cards for some of the legends of the game. Younger collectors are starting to take notice of players who they were too young to watch – especially with a view to making solid investments for the future.
A Diego Maradona sticker was sold for $555,000 at an auction earlier this year, proving the value in showing faith in the all-time greats!
Thanks Greg! And if people want to check out the book, they can find it here.
—
To stay in the loop with the latest news, interviews and features from the world of toy and game design, sign up to our weekly newsletter here