Creative technologist Jude Pullen on LEGO, lockdown and why consistent creative success needs grit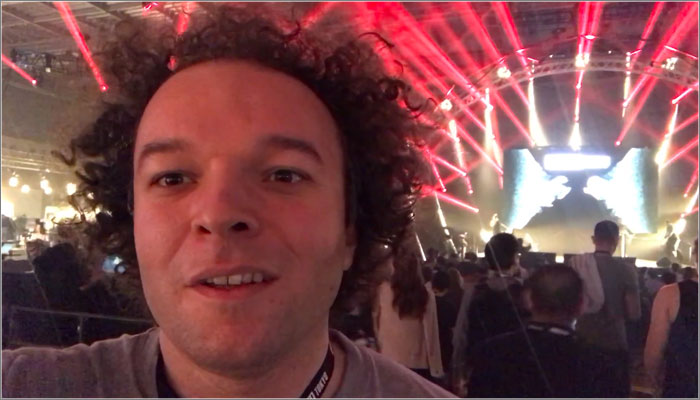 Jude Pullen is an award-winning Creative Technologist and Product Designer, with experience working at the likes of Dyson, Sugru and LEGO, as well as consulting for companies such as IKEA, Raspberry Pi and Mayku.
You may have even seen Jude on TV, having appeared on the likes of Channel 4's David Jason's The Great British Inventions and BBC Two's The Big Life Fix with Simon Reeve.
We caught up with Jude to delve into his approach to design, where he finds inspiration and what his time at LEGO taught him about working in the play space.
Hi Jude, to kick us off, how did you first get into the world of design? Did the passion present itself from a young age?
I grew up in Cumbria, in the north of England, and my parents both worked running a nursery, so I had a lot of time, and a big expanse of nature to explore. I've only really understood it retrospectively, but I learned a lot about making things through building tree houses, dens, and of course collaborating and making up games to amuse ourselves.
I'm wary to come across over-nostalgic about rural life, as plenty of things can at times be dull, insular or claustrophobic, but for the most part I loved being able to be endlessly curious about how things worked, and enjoying being able to define what was fun, cool or dangerous with friends.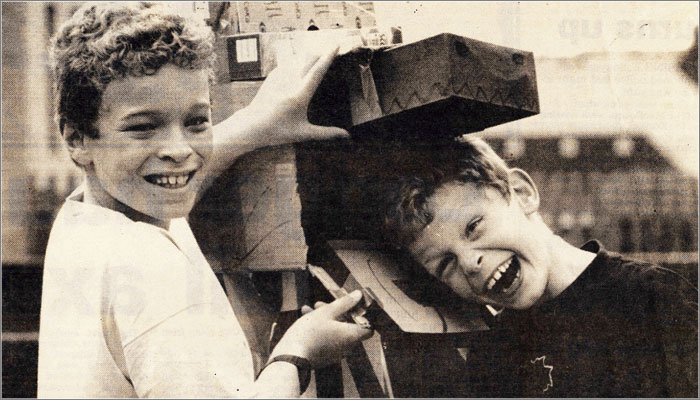 And there's proof of it! A shot of a ten-year-old you and your friend George building a T-Rex out of cardboard boxes! So you think that rural upbringing had a direct impact on how you work today?
Yes! I know when I've attempted things like pottery, calligraphy or cooking – and been observed to be quick to pick it up – it's really because I'd developed so much of the motor skills and thinking with less refined activities in nature.
As a father now, I hope to pass on the ability to get into the 'zone' or 'flow', but I'm very relaxed about what my son will apply it to, as long as he's enjoying it! My only regret was that growing up being quite conscious of money or the lack of it at times, I was perhaps overly pragmatic about working in a 'real' job…
So job-wise, you didn't jump straight into design?
No! I was a pretty good chemist!
What pulled you out of the lab?
I lacked a passion for it, so I retrained in design and found this was more balanced in terms of unifying science and arts. It seems obvious to cite the Renaissance or polymaths, but arguably our educational system – and economy – are not overly geared towards generalism, so it can be hard to take this longer route to being technical and expressive in one's work.
You've worked across multiple industries, including toys while working at LEGO. Having tasted different sectors, are there any design challenges unique to working in the play space?
Well I had a very unusual job at LEGO. I worked for two and a half years as a Tech Scout and Direction Designer… This was a process of looking for new tech – and making it less intimidating. Or on the other end of the spectrum – taking familiar tech – and making it feel new, or applying it in a novel way.
The 'direction design' part was about how to integrate this with the creative teams, the brand, and of course the parents and kid – including big kids or AFOLs as they are known. It was often a heady and exhilarating mix of travelling out to meet start-ups in places like Tel Aviv, and see mind-blowing technology, but then having to consider how when this will be at sufficient scale to be appropriate for use in the toy industry.
Indeed, some new concepts were so provocative that most of my 'work' was around the ethics of it, more than the actual feasibility – so not 'can we…', but 'should we…'.
Did you find your time at LEGO shaped your approach to design in any way?
I often joke to friends that LEGO was my career peak of creativity, thinking and being able to see beyond my own capabilities, identity and world perspective – and yet it is my least tangible!
Unlike my time at Dyson, where I can proudly say I was one of two designers who developed what grew into the AM10 Humidifier. Or at Sugru, leading the R&D team to automate production of a new kid-safe/family-friendly formula. In contrast, at LEGO it's funny that I did not single-handedly design a specific play-set.
In the early days, this certainly felt vague and a bit of 'imposter syndrome' was common, but I increasingly got feedback from people who valued 'bringing the outside into Creative Play Lab' as well as other departments outside of LEGO Group.
It's not actually about geography – although nobody would say Billund is a bustling cultural metropolis! – but now that I work as a consultant, I've come to realise that any company, inevitably gets bogged down with the day-to-day, and having someone bring a fresh perspective is not just energising – but increasingly it's essential to remain relevant, competitive and creative.
 
Absolutely. Now, moving onto your Laterally Speaking YouTube series, which I think is brill! The series sees you speak to different designers and creators about how they work. Why did you start these, and why do you feel it's important to put a spotlight on figures from the world of design?
I'm really proud of these, not least because of the Mojo 100 accolade as a Design Champion  – thanks for that! – but also because they are discussing with many people in a wide range of creative industries, who I really admire and respect – and who were kind enough to give their time during lockdown.
I'd already worked with Bangor University on creating a series of Lockdown Lectures for students who were no longer attending a physical education campus, but who wanted to design physical products at home. If you also consider the provocation that a good 3D printer now costs only £200 – there has never been a better time to be able to design with limited resources. But as you can imagine design still requires process, mentoring and a way to connect with real problems to solve – and this is what the course was about.
The Laterally Speaking series actually was an 'extrapolation' of all of this work, as often students were asking me in Q&A questions which I of course had a reasonable answer for, with 10 years more experience, but I increasingly realised I was 'channelling' wisdom and anecdotes from many friends and people I'd worked with.
So it occurred to me I should actually interview them… Instead of guessing what they'd say, I'd just ask them, and then make those recordings available for students and also professionals. If you noticed a lot of 'continuity' between videos – this is because 20 of these interviews were filmed in just four days!
Wow! And these were all filmed in lockdown; how has this time been for you?
My whole year in Lockdown has been quite a rollercoaster! As mentioned, I am a consultant, so being self-employed with a young family, there's always pressure to take action to earn an income! So I decided that I would look for companies who wanted to hire me despite Covid.
As most people know, in a financial crisis R&D and Product Innovation are usually the first budgets to get cut, so I knew from experience selling myself on these skills was unrealistic in the circumstances. Put simply, I tried to approach companies who actually needed to innovate. Where it's not an option to stand still or 'hunker down'. I wish those who can the best of luck, but for me I had to prioritise companies who still had some solvency, but who needed to innovate fast – and who wanted to seize the moment for change.
One such company was Mayku, who make desktop vac-former. Because many big workshops were shut down, many start-ups were going DIY, and so sales were booming. Another client was LEGO Ventures, and that too was a tour-de-force of remote working in lockdown and making a virtue of not being geographically constrained for a series of workshops.
Perhaps one company I can say more about is DesignSpark. They were quick to realised that they couldn't do a 'big budget build' to showcase RS Components, and instead we created a strategy to make a smaller project – but that was open-source. I created RadioGlobe in only four weeks, with a build-budget of only three figures! I have to confess, to see it trend on Reddit and TikTok and get picked up by many blogs, and publications was just amazing. You can go make one yourself!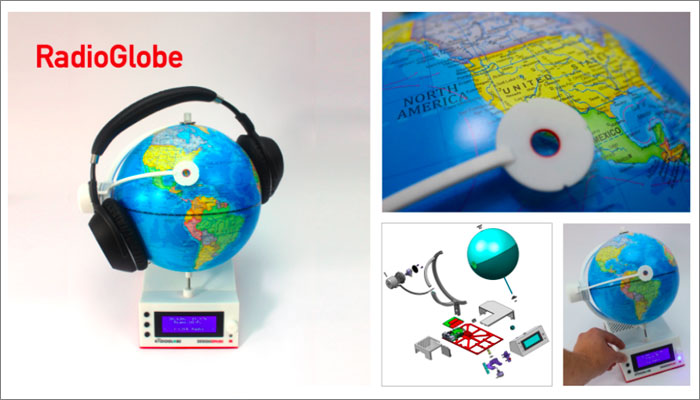 Challenge accepted! We were delighted to welcome you to the Mojo Pitch last year; how did you find that experience of pitching toy and game ideas virtually?
Wow – what an adventure! I loved it. I respect that this sounds phoney, but it was one of the highlights of my year and the companies were just amazing. Truth be told, the project we pitched is still under-wraps, but for me the story is pretty remarkable, and is somewhat of a lockdown-triumph.
I've been making cardboard prototypes and run a website with tutorials on how to do this called Design Modelling. Since working at LEGO and being a Dad, I'd also been doing a few fun projects on Instructables, such as making a Bus, a Rocket, and a 360 degree loop-the-loop from apple boxes. They say 'real recognises real', and I saw Mark Greenbaum's awesome creation for his son on Linkedin. Naturally, I reached out and asked if he wanted to hang out on Zoom.
We really clicked on a number of things, and had been playing around with a few ideas to work together, but it was tricky as Mark was in Boston and I was in London. Credit to Mark, he took the initiative to suggest we enter the Mojo Pitch together, and 'see what happens'.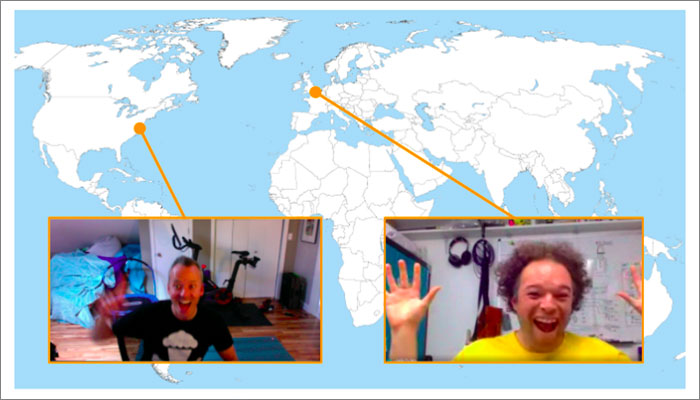 What followed was numerous late nights after client projects, working on what we still consider a pretty unorthodox approach to a particular sector of play. As with all things 'new', the costs are high, the market is unproven and consumers need to be convinced of the gameplay – but we are still so excited by the response from the game companies that we are still developing and refining the idea.
That's great to hear! Keep us in the loop with how things progress. Now, you've also appeared on TV on design-focused shows like BBC Two's Big Life Fix – we'll put a clip of that below – and were recently awarded by IMechE for inspiring young people into Design and Engineering careers. Is this indicative of a wider general interest in design? And if so, what do you think is driving this?
It's a funny thing that many years ago, I actually quit my 80 hour per week job at a Horticultural Specialists to retrain in Product Design Engineering at Glasgow School of Art after watching Better by Design, by renowned designers Richard Seymour and Dick Powell. So it's ironic that I ended up making a TV show with seven other amazing designers and creatives, that I hear also inspires people to consider a career in design.
The IMechE award was a nice way to gain recognition for this, and has led to some exciting opportunities to work with the DATA.org. Looking back over a rather varied career, I find it interesting to note that designing play experiences is in fact deceptively complex. I find it requires a deeper level of empathy, and a more nuanced understanding of the user interaction.
It is one thing to design a product for an adult, but to design an experience that works for kids, teens, parents, grandparents and so on, is quite an achievement. I certainly hope that new courses such as Toy & Game School increase awareness of what an exciting and boundless niche toy and game design is.
Absolutely. Before I let you go, we we've mentioned, you're now a freelance Creative Technologist; I love the title, what does it cover?
I guess Creative Technologist is part Tech Scouting from LEGO, part start-up mentality and risk-taking from Sugru, and part engineering rigour and discipline from Dyson – combined with storytelling from TV experience. It's probably one of those jobs that sounds very 'hand-wavey' right now, but in 10 years' time will be pretty common.
My interpretation, having met a few others brandishing the title, is that we try to use technology the way a craftsperson uses tools from a toolbox. The 'creative' bit is about being able to think laterally – on an internal company level, it's about building bridges between R&D and Sales and helping IP and Marketing develop the offering. But outside of the company it's about understanding the competitor landscape, but also the indirect factors that affect the company.
Just because you design a toy does not mean that perhaps contactless payments on WeChat might not redefine your entire offering. Or that your biggest innovation might be a lateral move from a seemingly unrelated industry. For example, banks and retail stores had RFID and NFC tags, long before Beasts of Balance spotted the opportunity and made it novelty for tabletop gaming.
Finally, how do you fuel your creativity? And has this changed in lockdown?
I love the quote from The Wellcome Collection: "For the Incurably Curious". To me, this sums up a lot of creativity. I've also used going to the gym as a metaphor. I think creativity is like a muscle, it needs daily exercise and workout. Consistent creative success needs grit.
I listen to multiple podcasts – 99% Invisible, This American Life, A16Z, The Allusionist, Greg Proops, Song Exploder, Revisionist History, Making It, O Behave, The Portal, RadioLab, Freakonomics…to name a few good ones.
I am dyslexic, so hardly ever read books without pictures, so audiobooks have literally transformed my life. Ed Catmull's Creativity Inc. is a must, Mastery by Robert Greene has some fantastic stories of creativity and convention-breaking, and Range by David Epstein is worth a read for generalists.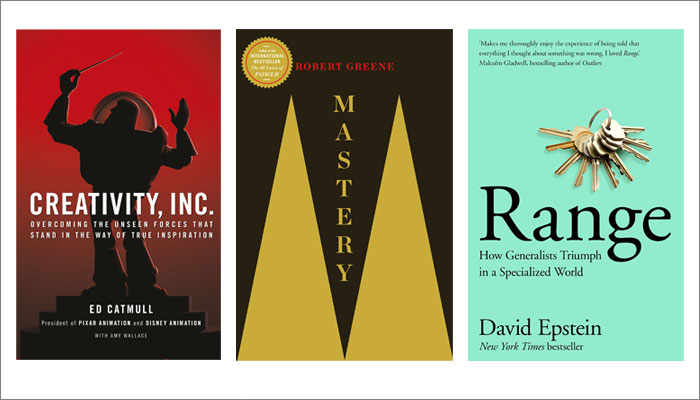 That said, lockdown has probably reduced some of my audio intake as I travel less, but this has thankfully been replaced by what I have dubbed "Walkie Talkies" – I call someone on the phone, and agree to walk around the blocks for a total of five to 10km and talk about anything, for a few hours. I don't curate the conversations, but I do try to 'jump around' with who I speak with, to get out of my bubble as much as I can.
I should say that as much as I've tried to 'get creative' with the constraints of lockdown, I count myself lucky that friends have been kind, understanding and supportive to the inevitable low points along the way, and I consider such friendships key to maintaining the foundation that allows good creativity to thrive.
Lastly – and by no means least – I've tried to make a virtue out of seeing more of my son than usual in term-time. I have been keeping an Instagram feed of some of the things we get up to, but in truth they are less about an idealisation of parenthood, and more about using my son's curiosity and different perspective as a muse. I treat it the way illustrators treat a 'sketch a day' – it is a warm-up for bigger ideas, or a distraction from them when struggling.
I suspect for many toy designers I know, the lines blur between who is playing with what, but that is also the joy of it – letting go and allowing a four year old to be in charge… it's amazing what you learn some days.
Jude, this has been a pleasure. I also now have a lot of podcasts to get through, so we best wrap things up! A huge thanks for this – I look forward to catching up again soon.
—-
To stay in the loop with the latest news, interviews and features from the world of toy and game design, sign up to our weekly newsletter here