Darren Lee Phillipson on designing toys lines, TV characters and even the office layout in his first year at Alpha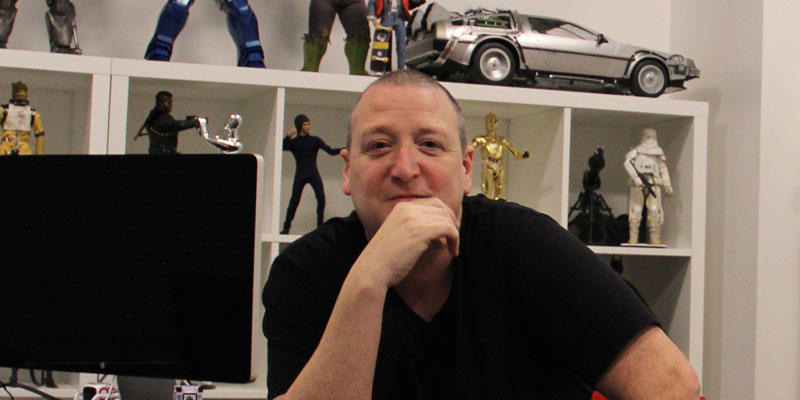 From his job straight out of college at toy design agency Seven Towns, right the way through to his current job as Vice President of Global Product Design at the Alpha Group, Darren Lee Phillipson's career has spanned 25 years across some of the biggest firms, and toy brands, in the world.
"Every job I have had has given me a new set of tools for my belt," Phillipson tells us, and when you look at his CV, it has to be one of the most impressive belts in the business. Whether it be pitching toy concepts direct to Hollywood legends like George Lucas and Guillermo Del Toro or coming up with ranges for mammoth brands spanning the likes of Sesame Street, Cars and Trolls, there's never been a dull moment, and that looks to have continued with his role at Alpha – a toy titan in China but a relatively new company to the US and European markets.
Jumping between creating Toy of the Year-nominated products, working on character designs for TV shows and even collaborating with architects on the interior design of Alpha's new LA office, his first 12 months with the firm has been an exciting adventure so far.
We caught up with Phillipson to find out more about the creative culture at Alpha, how his own approach to design has changed over the years and what the development process behind the firm's Toy of the Year-nominated Drone Force Angler Attack was like.
Hi Darren. So first off, can you talk us through your history in the design space, pre-joining Alpha?
Hi Billy, thanks for taking the time to chat.
I have worked in the toy and entertainment industry for 25 years. I originally studied for a BA (Hons) degree in Industrial Design at Wolverhampton University in the UK. One of my first jobs after leaving college was working as a designer/modelmaker for Seven Towns, an independent toy invention company based in London.
I then moved to New York City and spent nearly nine years working for Fisher Price where I served as Vice President of Product Design on some of the biggest pre-school brands at the time: Sesame Street and Blue's Clues.
After leaving Fisher Price, I moved to San Francisco and took a job with Lucasfilm as Director of Global Product Development on the Star Wars franchise. It was definitely a dream job for me as I am a huge Star Wars fan and I even had the opportunity to work directly with George Lucas.
After four years with Lucasfilm, I moved to Los Angeles and took a job with Disney Consumer Products as Director of Product Development. Again, I had an amazing experience helping to launch dozens of successful toy lines on Cars, Princess, Mickey, Minnie, Doc McStuffins and many other popular Disney properties.
I then spent a couple more years working for DreamWorks Animation. I had the very interesting job title of Toy Architect. Essentially, I was responsible for all toy development on over 20 DreamWorks properties including Trolls, How to Train Your Dragon, Voltron, Dinotrux and many more. I also bridged the gap between the movie and production teams to help craft the storylines and characters to make them more toyetic. This gave me the opportunity to work with all of DWA's very talented directors and producers including working directly with Guillermo Del Toro on Troll Hunters.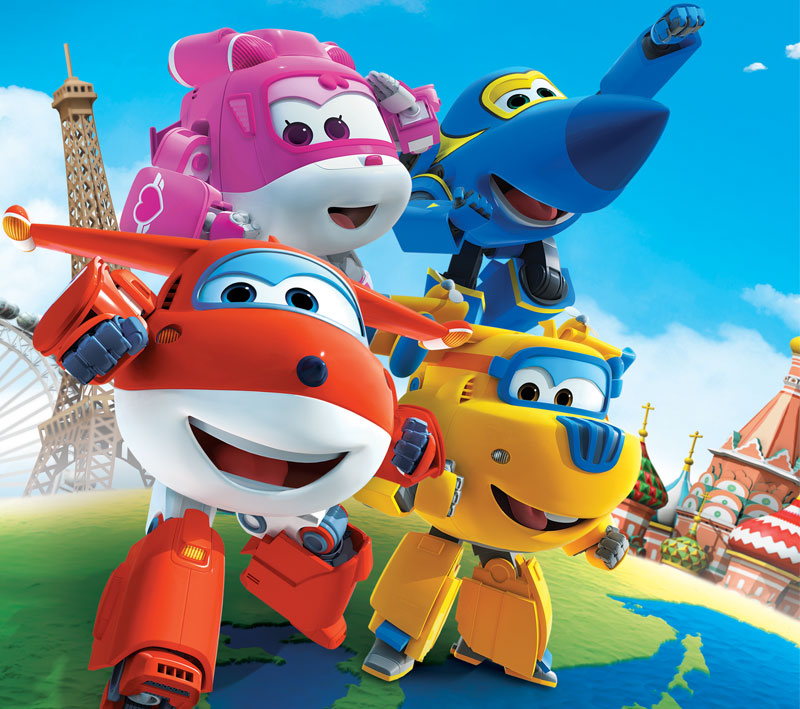 What does a 'typical' working day look like for you at Alpha?
I know it sounds like a cliché, but literally every day is different. One day, I can be designing a huge 20′ Super Wings Statue for display at Toy Fair and the next day I can be working on the interior design of our new office layout with an architectural firm.
Alpha Group is equal parts toy manufacturing and entertainment, so that can make for a very exciting work day. This can involve anything from working on character designs for a new TV show, designing a brand new line of girls' collectibles, helping to write a bible for a new boys action show or simply working out how to make a toy float in the bath!
There's lots about Alpha that designers may not be aware of. For a designer looking for a company to present their ideas to, why should they get in touch with you guys?
As a relatively new company to the US and European markets, I would suggest that we are very hungry for new ideas. We are flexible and can bring ideas to market in a quick timeframe. We have the knowledge and expertise to take the spark of an idea and really blow it out and turn it into something special and unique in the marketplace.
Partnerships are very important to us and whether that is working with a huge Hollywood studio or an independent designer, we absolutely value our relationships and work hard to maximise all of our collaborations.
How would sum up Alpha's approach to design?
We have an extremely 'open mind' when it comes to design. We believe that innovation and taking a unique approach to every project we work on is the key to success.
How do you and the Alpha design teams stay creative?
Staying creative can come from many different areas. We certainly do our best to stay on top of all of the trends. Inspiration for toys can come from any area of design including automotive, architecture, consumer electronics, fashion and furniture.
We travel around the world looking at trends in different cultures and look to bring this research into our projects. We also take time out of work as a team to visit museums, galleries and exhibitions to keep the creative juices flowing.
How do you assess the overall state of creativity in the toy and game space today?
It's certainly an evolving business.
Some will argue that the Seventies were the best decade for toys; some will say it was the Eighties or even Nineties. In all honesty, creativity in toys is ever apparent.
In my mind, a highly creative solution to a new toy can be to take two existing products and combine them in a fresh new way. Or adding a technology to an old idea and completely reinventing it.
I love what is happening in the game space right now. Over the last few years I have seen a push from parents to try and limit the amount of time kids spend on a screen. As a result I have seen much more creativity happening in the family games and outdoor categories.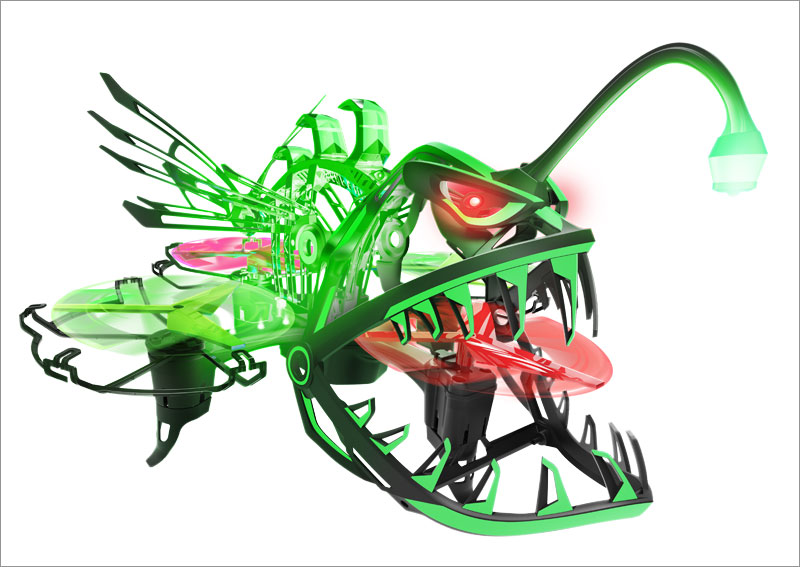 Can you talk us through one of your big design success stories, and shed some light on the development process behind it?
A great example of this would be one of the most recent toys from Alpha: our Drone Force Angler Attack. For this project we basically said: "What's the craziest creature we can design and actually get it to fly?" I threw out the idea of an Angler Fish and after sharing some different images of the creature, we all jumped on the idea. The next challenge was to actually get the creature to fly. I have an absolutely brilliant design team and they really took to the challenge. Our Lead Boys Director is now known as "the man who can get anything to fly".
Our final product is truly amazing and we have garnered a lot of industry accolades for the item including landing on many of the Hot Holiday Toy wish lists. More recently we have been nominated for the 2018 Toy of the Year Awards in the Vehicles category.
Away from the design side, how has the last 12 months been for you at Alpha?
It has been such a fantastic experience so far. I like to think that every job I have had has given me a new set of tools for my belt. I would suggest that Alpha has given me the most tools so far!
I am learning about new aspects of the business every day and I am really enjoying combining these new experiences with the knowledge base I have gained during my career. We have a truly wonderful and creative team at Alpha and we are setting all of the foundations to become a key player in the industry over the next few years.
What's the thing you love most about your job?
I love to inspire my design team and I get huge satisfaction out of seeing their success and growth, both creatively and professionally.
What's the main difference between how you approach design now, to how you did back when you were first starting out?
I should probably say that my 25 years of business experience in design, licensing, marketing, sales, manufacturing and engineering have given me a more profound understanding of the industry to help inform my decision making. However, in all honesty, not a lot has changed. Product is still king and sometimes your gut is the best barometer in assessing a great toy.
What's the best toy you've ever invented?
That's like trying to pick your favourite child! If I had to pick, I would say it was Darth Tater. Not a truly unique invention in the sense that that Mr. Potato Head and Darth Vader already existed, but the combination was really funny!
What's your best piece of advice for someone who thinks they've got a great toy concept?
There are many avenues you can explore to get your product into the market place. A traditional approach would be to use a reputable toy invention company to help 'broker' your idea to a toy manufacturer. Networking is a key factor to success, so make sure you talk to anyone and everyone about your idea (obviously maintaining full confidentiality). You never know where a conversation can lead.
Try to do as much kid testing as possible and also make sure you get a parent's perspective on the idea. After all, they are usually the ones who are buying the toys.
One of the more recent developments to help launch products is the use of crowdsourcing websites such as Kickstarter. This has proven to be a very successful platform and it is regular practice for toy companies to browse the sites in the hope of purchasing the next 'Big Idea'.
My last piece of advice would be to follow the 'fail fast' rule. It is absolutely fine to fail, just try to make sure you realise as quickly as possible that something is not working so that you don't end up 'flogging a dead horse'.