Days of Wonder teams with the Breast Cancer Research Foundation for Ticket to Ride: Play Pink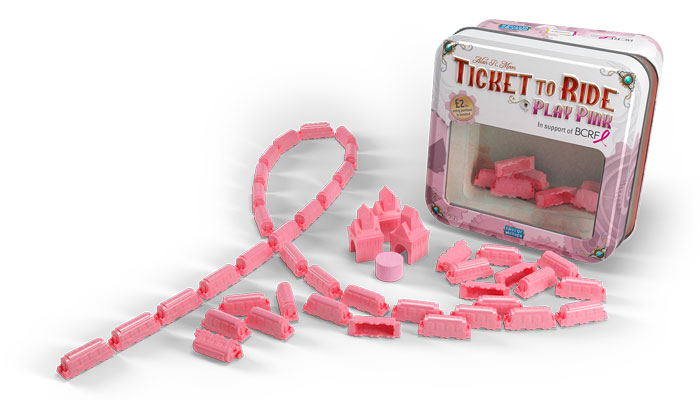 Asmodee studio Days of Wonder has teamed up with the Breast Cancer Research Foundation on the release of an exclusive pink train set to be used to Ticket to Ride.
The limited-edition Play Pink set has been printed in pink, the official colours of the BCRF, and has a unique train shape.
$2 from each pack sold going towards supporting breast cancer research through BCRF. The suggested retail price of $5 covers the cost of logistics and production only, with no revenue being collected by Asmodee or its studio.
80,000 Ticket to Ride Play Pink sets will be available during October, which is also Breast Cancer Awareness month.
"As a leading player in the games and entertainment industry, we believe it is our duty to lead the way and help important causes like the Breast Cancer Research Foundation," said Stéphane Carville, CEO of Asmodee.
"We know how board games can bring families together in difficult times, and we hope that players all across the world will support breast cancer research by playing Ticket to Ride with this exclusive new set"
—
To stay in the loop with the latest news, interviews and features from the world of toy and game design, sign up to our weekly newsletter here