Dean Tempest, co-founder of Big Potato Games, on blockbuster licensing – and licensing Blockbuster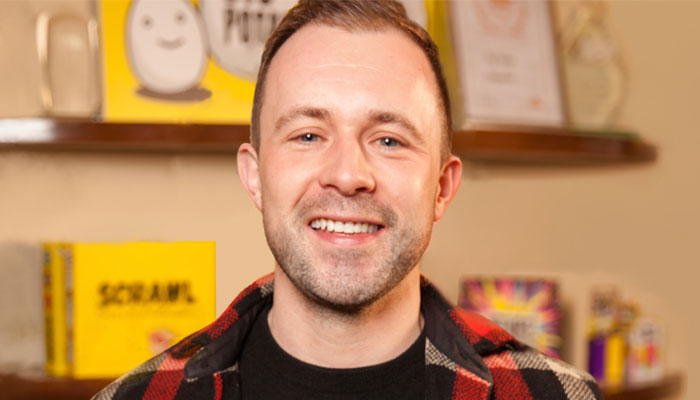 Dean, thanks for making time. Frankly, I'm amazed we haven't pulled out a chair for you sooner. So… You're one of the co-founders of Big Potato Games. How did it come about?
Tristan Hyatt-Williams, Ben Drummond and I met while working at a London ad agency. I was a junior 'suit', but the fellas were a seasoned creative team… Tris and Ben had an idea for a little game called Linkee that they'd been working on together over the years.
And was that the game we know today?
Yeah, pretty much! They'd developed it to a high standard. They just didn't really know what they should do with it… Anyway, I heard about it and asked them if I could help out. After two years, I'd realised advertising wasn't for me, so I was looking for something to get my teeth into. I said if they cut me in, I'd quit my job and do it properly.
Seriously?
Yes! I wasn't earning much so it didn't seem a big risk! We then had a whirlwind 18 months with Linkee, and licensed the game to John Adams. At this point we'd got our eye in, and had loads of ideas for other games. So we created Big Potato Games and went all in.
Brilliant! Gutsy… But why start your own games company? It looks like such a ball ache! Is ball ache all one word, do you think? Or two?
Definitely two words!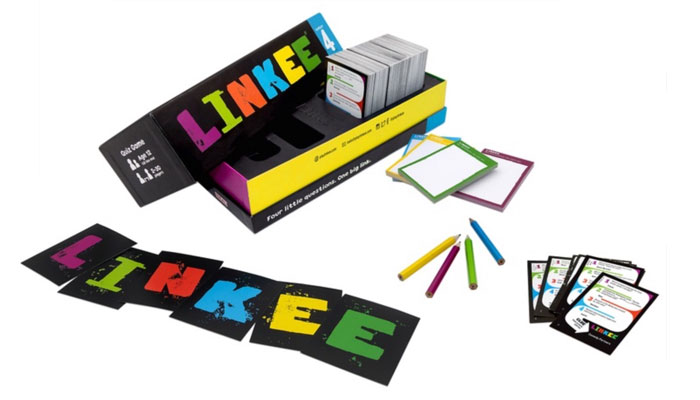 I'll write it as two … But why not just license your ideas?
Well, it was never the plan to start a games company! We'd just launched and licensed Linkee, and it was doing well. We were over the moon, and thought, "This is easy!" We had loads of other ideas for games, so Tris and Ben quit their jobs and we spent a year pitching and trying to license our concepts. Problem was nobody wanted to buy them!
"We spent a year pitching and trying to license our concepts. Problem was nobody wanted to buy them!"
Is that right? I had no idea!
Yes! And we just thought: if nobody wants to license our games, we'll just have to publish them ourselves and figure it out. I'd got to know the buyer Lucy Benham at John Lewis, and she was brilliant. She gave us a first-year exclusive in stores for four of our titles. We really kicked on from there.
And you've continued growing steadily since…
Yeah – it was only supposed to be Tris, Ben and I, but Big Potato is a much bigger potato these days! There are 40 of us designing, selling and distributing our games. We wouldn't have it any other way.
So what advice would you give other people looking to start a game-publishing company?
Don't do it on your own! Big Potato worked in the early days because – between the three of us – we could all do a bit of something. When we look at how brilliant the people we have in place now are, it's funny to look back… There was a time when I headed up finance, Ben oversaw logistics and operations, and Tris was running our social channels.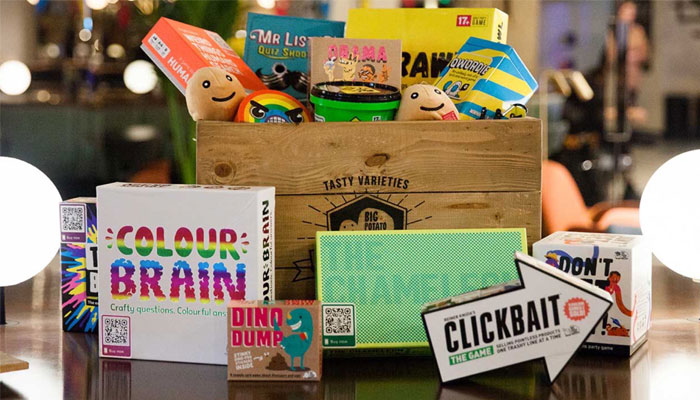 And I should, maybe, have asked at the start: what are some of your best-selling or best-known products?
It really depends on where you are! We have games on sale now in over 30 countries. Herd Mentality is our biggest in the UK. It really reached another level last year, and we're forecasting that it'll kick on again this year. In the US, Chameleon is amazing. It just rolls and rolls every year – it feels like it's reaching evergreen status there.
And are other territories different again?
Yes, we have some really interesting anomalies… 20 Second Showdown is doing really well in the Netherlands – and we can't keep up with Muffin Time in Australia. You also have games like Colour Brain which is consistent everywhere it goes. It's now in 11 languages, with three different formats: Family, Disney and Junior. You never really know what will blow up where. Our biggest blockbuster to date, though, is Blockbuster!
Well, let's talk about that. It's also one of your more recent hits. When you launched it, the Blockbuster brand had become somewhat dormant… So I'm curious: did you have the idea for a film-based game first? Or did you see the brand and then create the game?
In the early days of Big Potato, we published games and pitched licenses at the same time. If somebody wanted to take a license, we'd happily sell it and move on to the next game. Again, nobody wanted to buy them so a lot of ideas just went into the archives as we could only do three or four games a year.
Okay…
Anyway, we had this concept for a game called "Hollywouldn't" – it was a movie party game that came in a VHS case. We pitched it everywhere, but nothing happened with it. After we spotted the Blockbuster license, we went back to the old game and took another look.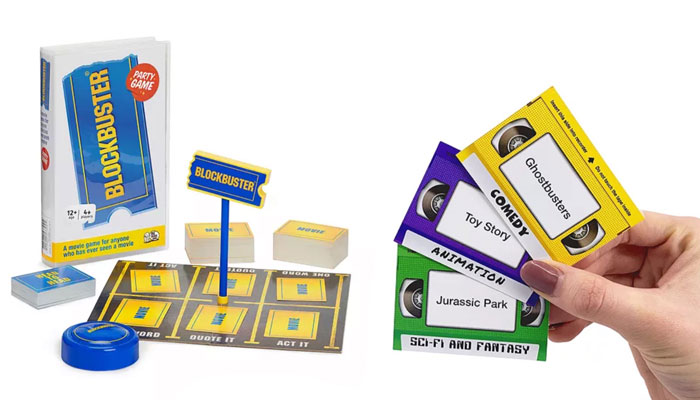 And is it the old game that got to market? Or did you tweak it?
No; pretty much the only thing we kept from Hollywouldn't was the VHS packaging. James Vaughan then created a whole new party game to work with the license.
Why did you think it would work?
It was the perfect combination of IP, execution and gameplay. Blockbuster is such a loved brand… People have such fond memories of going down to Blockbuster on a Friday night after school and picking out a movie for the weekend. The audience that grew up and had that affinity for the brand was then of the right age to be buying party games and entertaining in their own homes.
"The time was right, the license was great… And I think the execution was really good!"
Right. So the IP had ripened in a way…
Yeah; the time was right, and the license was great. But if I say so myself, I also think our execution was really good… Our designers and sourcing partners did a brilliant job. We were sure to weave in as many little brand artefacts as we could to make people smile. In other words, it wasn't a label slap!
It's been very well received when I've seen it played, That's for sure.
Also, I think people in the early days may have thought the whole thing was a cute novelty… So they were surprised, maybe, to find the game really stands up. We wanted it to be accessible, and the line we used when designing the game ultimately became the strapline: "A movie game for anyone who's ever seen a movie."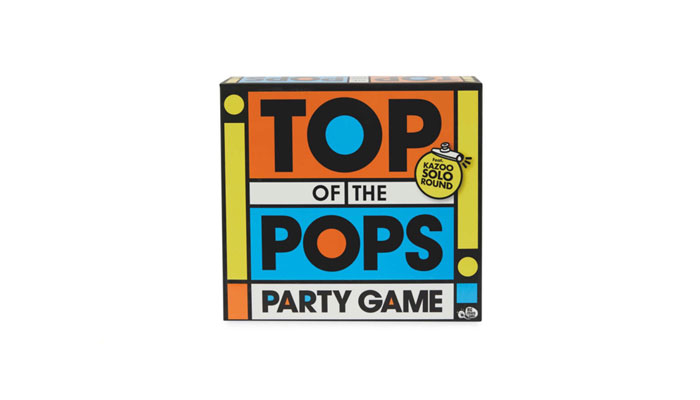 It's not your only license, though is it? You mentioned the Disney version of Colour Brain just now. What other licenses have you worked with?
We've worked on quite a few licenses now. One of my favourites is with TOTP – Top of the Pops – in the UK. Again, it was a dormant brand with a nostalgic following. The game play for that is the same as Blockbuster but all around music. It was nice to see the original Blockbuster insight replicated – and work. It doesn't always!
And where did you start with TOTP?
With that one, our team was only given a TOTP logo to work from! But that's fine: the licensor trusted us to create the rest ourselves. It was the same with Blockbuster. I think that's one of the key things, actually – being trusted to take the brand in a direction that we think's best for the game. We pride ourselves on being really easy to work with, and we're very respectful of the brand owners so I think licensors like working with us too… It goes both ways.
Wonderful! Dean, we need to start wrapping this up, but what's the one question I should've asked you today but didn't? –
What's the next big license?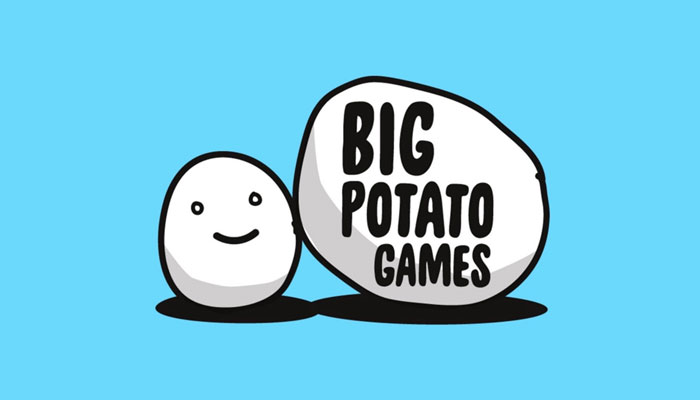 Great question. What's the answer?
None of us know! That's what I really like about this side of the business. It feels like we're all looking under the same rocks for that little something special. Sometimes it works, sometimes it doesn't. But when you get it right, it's really exciting and can take your business in a whole different direction.
You'd go so far as to say Blockbuster did that, would you?!
Yes! Blockbuster was definitely that for us. Also, I like that the biggest licensed games don't need to be the biggest globally recognised brands. Sometimes it's the smaller ones that have been forgotten that cut through.
Fantastic insight. Thank you. Final question: what's the most interesting object on your desk?
A small white barn owl snow-globe. Word got out that when I was little I used to collect small miniature figurine owls. I built up quite the collection back in the day. Anyway I now have a lot of owl stuff on my desk – I don't hate it!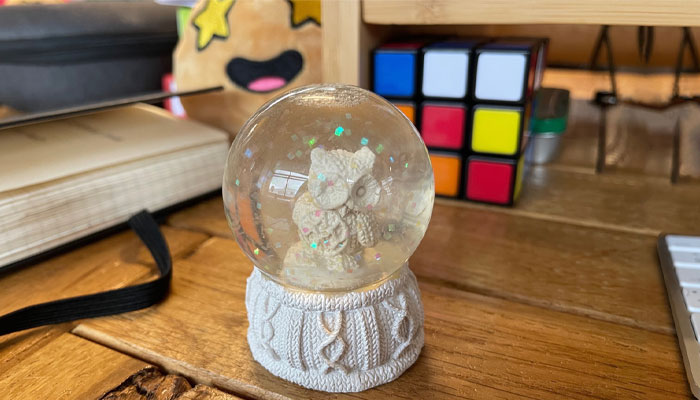 –
To stay in the loop with the latest news, interviews and features from the world of toy and game design, sign up to our weekly newsletter here