Design roundtable: Sweet Spot Studio, Bang Zoom and Open 2 Design talk industry shifts, creativity and recent successes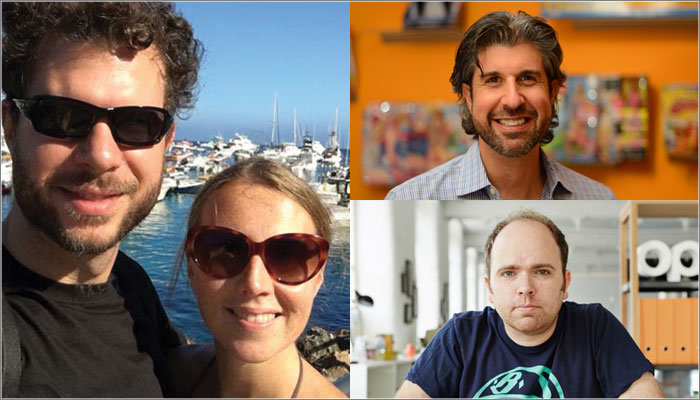 The secret weapon for toy and game companies, invention studios and design agencies are responsible for some of the industry's most successful, and creative, launches from the last 12 months.
We caught up with figures from Bang Zoom, Open 2 Design and Sweet Spot Studio Inc to learn more about how 2018 was for them and what they think of the state of play moving into this year.
How was 2018 for you guys?  
Steve Fink, Owner, Bang Zoom: Can't complain! We have been having a great time inventing in lots of toy and game categories.
Matt Burtonwood, Director, Open 2 Design: It's been a great year. We always start the year with the plan to pick up a couple of new clients and find some new people to work with and through a couple of things this year we've managed to do that. A big part of that was the Mojo Pitch event. We tend to just sit at our desks squirrelling away in the studio 99% of the time, so the chance to get out and meet people was really appreciated. It also helped us put a line in the sand on some of our inventor ideas and gave things a bit of focus.
Jon and Sarah Vanderbeek, Co-Founders, Sweet Spot Studio Inc: 2018 was even more pivotal than 2017 was for us. We've been able to spend more time on stuff that we consider important to the business. We're looking at big picture stuff and technologies with a level clarity that we haven't had before. There are other leading design agencies that are awesome, and previously we felt if we compete on their level, we lose. But recently, we're starting to realise that we can swing just as hard as companies that have previously been our heroes. We've built our launching pad and now is the time to get to work.
What's been some of your big successes (that you can tell us about!)?
Jon and Sarah Vanderbeek, Co-Founders, Sweet Spot Studio Inc: Our Thomas products with Fisher-Price hit the shelves in 2018. We picked up an award from Mattel for one of those. We've got a big thing coming up with Hasbro, we've licensed product with Moose and Spin Master for the first time. Up to now, we'd licensed to Hasbro, Mattel and a bunch of smaller companies, so we've probably more than doubled the number of companies we're working with over the last 12 months.
Matt Burtonwood, Director, Open 2 Design: We managed to get something picked up for development at the Mojo Pitch event. That felt like a big vote of confidence in what we do. Work for hire we always be the heart of what we do, but this year we wanted to start putting our toe in the water in the inventor space and see if we had something to offer. Like a lot of agencies, and creatives in general, we all think we're sitting on a great idea. So it was nice to put some time into a few things and see how they went down.
Steve Fink, Owner, Bang Zoom: Bang Zoom had some fun stuff shipping in 2018!  Treasure X from Moose is exciting because it's another boys brand we get to partner with the amazing players at Moose on. We are also proud to have Little Live Pets Hatching Dragon and Rollie My Kissing Puppy with Moose too.  One of my favourite Barbie dolls we have invented also shipped last year, Flying Wings Fairy (the wings fly off the doll like a real butterfly).  We also invented a new doll line, Hairdorables, by Just Play, is off to a great start.  Just Play really knocked the styling and design for these dolls out of the park.  A very BIG item we have out is the Jurassic Rex Imaginext set by Fisher Price…it's huge!  Then we have some new games, like Chow Crown and Speech Breaker, both by Hasbro. Chow Crown is crazy; it's like the weirdest, funniest food challenge game.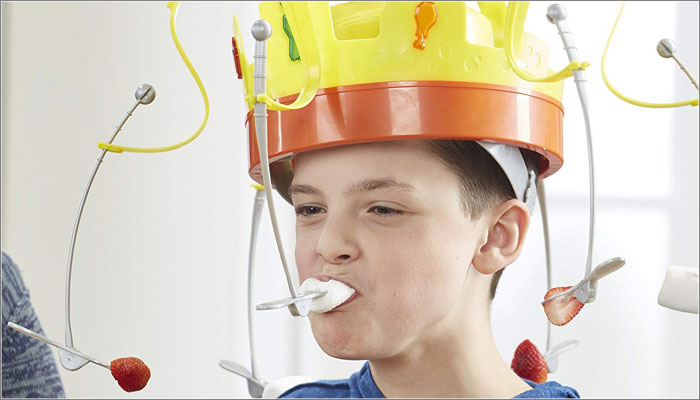 How do you assess the state of creativity in the industry at present?
Jon and Sarah Vanderbeek, Co-Founders, Sweet Spot Studio Inc: It seems that companies are playing it safe, but then in the games space, it feels like we're back in the Eighties with these crazy pooping games like Flushin Frenzy and Don't Step in It, which are really creative. So in games, there's lots of creative stuff going on. But the industry has to be super, super creative moving forward to get over the huge pinch of costs we're facing, because I think the industry is getting too expensive – you won't be able to do a $20 item soon with anything in it. So it is getting more creative in some ways, but safer in others.
Matt Burtonwood, Director, Open 2 Design: I'm really interested at how tech is finally starting to find its place in toys in a compelling way. Previously it's all felt a bit superficial. I wonder if the lack of physical shelf space in bricks and mortar stores has made it less of an issue for buyers to work out what aisle to stick the product in. I've seen two presentations from Tech Will Save Us this year and they have blown me away. I have kids at the right age so I'm looking for that kind of thing, but it's been hard to find things at the right age grade.
Steve Fink, Owner, Bang Zoom: Creativity-wise I assess it as "awesome to very awesome."  There's so much cool stuff out there, and seems to keep coming.  It's very exciting to walk the aisles of retail and see new things pop up all the time.  The Girls category in particular is a creativity festival!
What's been the biggest change to the way you work as an agency over the last five years?
Steve Fink, Owner, Bang Zoom: We are much more strategic and focused over the last five years. We are still all over the place and bouncing off the walls, but there's much more of a method to our madness vs. five years ago.
Matt Burtonwood, Director, Open 2 Design: We drink more coffee. My Cintiq has got bigger. I feel like not much else has changed! We still get up do the same thing and go home. It's an awesome job. I guess we're doing less by hand, more digitally. But essentially it's a swap of pens for stylus. The process is still much the same.
Jon and Sarah Vanderbeek, Co-Founders, Sweet Spot Studio Inc: We focus more and we're more selective in what we work on and who we work with. We started out in Halloween and giftware. We did severed body parts, packaging for first aid kits, anything to survive! After the first five years of doing anything, the next five years we decided to focus on the toy stuff that we were good at. Recently, it's become more targeted on Star Wars, Marvel, Thomas, vehicles and strategic partnerships.
Can you tell us about anything from you guys that'll be hitting shelves in 2019?
Steve Fink, Owner, Bang Zoom: We have some crazy sh*t coming out this year which I'd love to tell you about, but those darn attorneys made us sign NDAs.
Matt Burtonwood, Director, Open 2 Design: We have a cool ride-on thing coming out – I'm looking forward to seeing how that turned out. Then we have a couple of lines that are tied to TV show launches and hopefully a couple of our own things too. Fingers crossed!
 
Jon and Sarah Vanderbeek, Co-Founders, Sweet Spot Studio Inc: We have something very exciting coming with Hasbro. I can't say much about it other than they claim we've given them the 'Holy Grail' for Spider-Man. And it's a technology that can be licensed to the whole company and other brands. We also have an item with Spin Master as part of the Air Hogs line that's cool and a plush item with Moose. We'll have more out this year, with more companies, than we had in 2018, and then a lot more in 2020.